From an investment standpoint, the Canadian marketplace is known for its oligopolies in two particular industries: banking and telecommunications. Within each, there are a few dominant, established players who own a huge chunk of the overall market share available. Since Canada is a relatively small nation and due to these entrenched names, foreign competition has not truly challenged the status quo.
As a result, returns from these two industries have tended to be reliable year after year. In this article I will examine Rogers Communications Inc. (NYSE:RCI), which makes up one leg of the "Big Three" within the telecommunications sector.
On just Wednesday of this week when the company announced Q4 2015 results, RCI decided to forego increasing its dividend as it had been at this time of year going back to 2008 (with increases detailed back to 2003 on its site).
Some Background
RCI is the largest wireless carrier in Canada. As noted in the introduction, RCI faces competition mainly from the other two incumbents, BCE Inc. (NYSE:BCE) and TELUS Corporation (NYSE:TU) across its various business segments.
Where RCI really has been staking its claim over the past few years is with entertainment assets; sports in particular has become a focus of the company. The company either owns or has a significant interest in many of Canada's largest and most sought after sports brands, such as the Toronto Maple Leafs hockey club and the Toronto Blue Jays baseball franchise; the latter contributing directly to RCI's adjusted operating profit more than doubling within the media segment during Q3 2015.
Operationally, the company has seen customer complaints decline by 50% over the past two years which is a positive sign. Churn rates from dissatisfied customers are the bane of telecoms.
Mixed Signals: No Dividend Raise Amid Solid Results?
Given the importance investors place on a healthy and growing dividend, it is no surprise that CEO Guy Laurence referenced the dividend decision from the outset of the Q4 2015 Earnings Call transcript.
Laurence indicated that:
While we traditionally announce a dividend increase with year-end results, this year we have decided to keep the dividend at its current rate. Whilst we see continued growth in the fundamentals, we felt it prudent to maintain the current dividend until we have made more progress on our leverage ratio.
This sounds at the outset to be a prudent decision. After all, increasing the dividend while the debt burden piles up doesn't seem like a sensible solution. The problem is that the debt has gotten this far out of hand with the balance sheet leverage ratio currently at 3.1.
Leading up to and particularly since I established my position in RCI this September past, I have been following the company's filings regularly. Upon hearing the dividend hold announcement, I went back to see what I may have missed. The positive sentiment presented by the company previously regarding progress on its growth objectives and solid financial results only exacerbates the questionable nature of this dividend decision.
Back in the Q4 2014 earnings call, CFO Tony Staffieri did indicate that rising dividends will be influenced by management's "long-term outlook" and whether they feel over the long term that "cash flow will increase, then it makes sense to increase dividends." Given the decision now, a year later, to not make said increase, should investors not likewise take this as a sign of doubt?
It would be one thing if the company had been hinting toward an inability to raise its dividend or even suggested it had been struggling financially to meets its objectives. Rather, even in this quarter the call was largely positive on the note of its "solid" financial and operating results and ability to meet its guidance.
So, in the face of an apparently strong financial position with management's faith in the ability to continue improving through 2016, I find it difficult to choke on the lack of an increased dividend payout. Given the company's apparently solid financial footing, one wonders why the debt has been allowed to get in the way of shareholder returns.
My confusion on this point is simple: If the company is financially strong and moving in the right direction, why not increase the dividend even just a few percent to keep the dividend streak going to indicate strength? If, on the other hand, management is genuinely concerned about their leverage ratio, why not decrease the dividend and actually do something about it? Even a 5% dividend increase would only amount to around $50 million through the year, which itself will not cut the debt in as meaningful a sense as to warrant depriving shareholders.
The decision to maintain the dividend makes little sense no matter how you slice it; only either an increase or decrease based on the reasons management has provided would gel.
It is well regarded that dividend decisions signal levels of confidence to investors. If management actually believes in their ability to continue meeting targets and generating significantly rising free cash flow, rewarding shareholders through a rising dividend is the way to do it.
Investor Expectations
On Wednesday's conference call where analysts grilled management on several occasions regarding the dividend, CFO Staffieri indicated that the company currently has a 2015 payout ratio of 58%, which itself is quite reasonable. He went on to remark that the company's ratio is actually conservative in "relative to the other guys". Again, this confidence in the company's financial standing would only make sense if the dividend was actually on the rise and not stagnating.
Interestingly, RCI's own website cites "Growing Dividends" as one of the reasons to invest in the company. I would say whoever wrote that line on the website was on the right track as, speaking for myself, I fully expect a company such as RCI with stable earnings and prospects to continue boosting dividend payments like clockwork.
As an indication of just what investors thought of RCI's earnings, consider the following chart: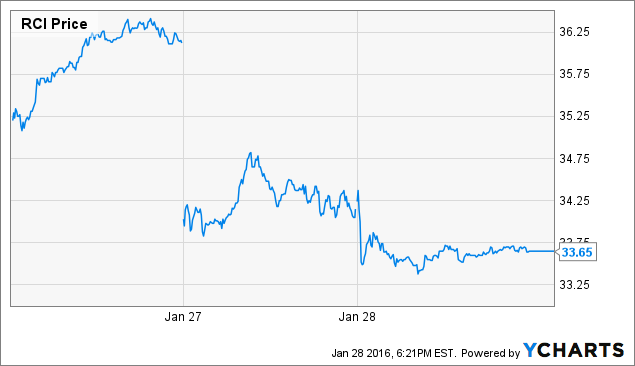 RCI Price data by YCharts
RCI was trading more than 5% lower on Wednesday following the earnings decision and dividend letdown.
Conclusion
Dividends are my favorite form of shareholder return. While buybacks can be squandered at high prices and capital gains are fickle, dividends provide a real source of cash flow that I can either reallocate or reinvest directly to compound my returns.
In tandem with RCI's decision to maintain its dividend, I will likewise be simply holding my shares and not adding to my position as I had previously considered. The lack of a dividend boost signals a lack of confidence on the part of management in the company's strategic direction.
It seems to me that RCI's management is talking out of both sides of its mouth when it comes to the company's financial strength. If the company genuinely has staying power and management is confident in its future prospects and ability to generate rising cash flows, then it really does not make sense to let investors down and fail to increase the dividend payment.
Thank you for reading.
Full Disclosure: Long RCI, BCE, and TU on the Toronto Stock Exchange in CAD.
* All figures in CAD as this is how RCI reports.
Disclosure: I am/we are long RCI, BCE, TU.
I wrote this article myself, and it expresses my own opinions. I am not receiving compensation for it (other than from Seeking Alpha). I have no business relationship with any company whose stock is mentioned in this article.