In my previous article, I wrote that if oil prices fail to recover this year, then ConocoPhillips (NYSE:COP) will have to sort out its priorities. This company has been all about maintaining the dividend, but the downturn may force it to increase its focus on preserving the financial health by curtailing cash outflows. And this might include a dividend cut.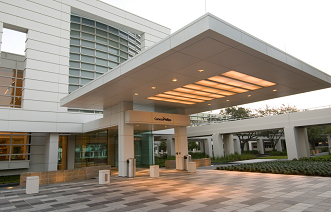 ConocoPhillips headquarters - Houston, Texas. Copyright © ConocoPhillips
A dividend reduction will be accompanied with a large cut in 2016 capital budget, whose most recent estimate is $7.7 billion. Both of these measures will likely take ConocoPhillips stock lower. The dividend cut, in particular, might have a significant impact, given ConocoPhillips offers one of the highest yields in its peer group and is favored by a number of income seeking investors. Meanwhile, the capex cut will wipe out the prospects of 1% to 3% production growth for 2016 from the stock price. Moreover, as the company braces for an even tougher oil price environment, it might also delay its target of hitting free cash flows by 2017, given that plan was based on oil averaging $60 a barrel.
The sub-$40 a barrel oil price scenario, however, is not sustainable, not even for most OPEC members who largely produce low-cost conventional oil and benefit from cheap labor. Eventually, the excess supply will dry out. Meanwhile, the demand for oil continues to grow, though at a slower pace. Data from International Energy Agency, OPEC and US Energy Information Administration shows that oil demand for 2016 could climb by 1.2 million to 1.4 million barrels per day. These factors should support higher prices. But it looks highly unlikely that crude will ever go back to $100 a barrel in the foreseeable future.
That's because China, the world's second largest oil consumer, has slowed down for good. The country, which posted more than 9% economic growth even during the global financial crisis, is going to find it difficult to hit 6.5% growth in the coming years. Similarly, Japan, the world's third largest oil consumer, isn't doing great either. The world's third biggest economy barely managed to avoid a recession in Q3-2015 and is projected to expand by just 1.1% in 2016. To boost the lackluster economy, the Bank of Japan has recently introduced negative interest rates and has said that it is open to further cuts in the future as the central bank tries to hit the 2% inflation target. The strength of the US dollar on the back of relatively stable US economy is also having a negative impact on prices of commodities.
Meanwhile, Russian Energy Minister Alexander Novak has recently revealed that OPEC has proposed up to 5% production cuts, without specifying exactly which member of the oil cartel has made the suggestion. Still, a 5% cut from Russia and OPEC members, particularly Saudi Arabia, could accelerate oil's recovery. However, considering the ongoing conflicts in the Middle East, it is highly unlikely that OPEC nations and Russia would agree on curtailing production. But even if a consensus develops, it is difficult to see how the production cuts could be implemented.
On top of this, there are some major known unknowns on the supply side that could keep a lid on any oil price appreciation, the biggest of which is how the increase in supplies from Iran is going to play out. The country, as well as some analysts, believe that it can increase its exports by 50% to 60% within months. This could, theoretically, offset the positive impact of decline in US production on global oil prices, but it remains to be seen whether Iran can actually increase its exports by around 500,000 barrels a day.
In the face of soft global economic growth and no meaningful let up in oil supplies, the world will have to adjust to a new normal oil price scenario for the long term. In a research report emailed to me this week, Oppenheimer's analyst Fadel Gheit and Luis Amadeo suggested that this might be in the $60 to $70 a barrel range by 2020.
This means that ConocoPhillips, which regularly reported realized oil price of more than $100 a barrel throughout 2013 and the first half of 2014, may never witness that kind of price environment again. And that's also true for every oil producer in the country. But what sets ConocoPhillips apart is that it already has the lowest wellhead break-even among independents and vertically integrated producers valued at more than $5 billion.
Moreover, ConocoPhillips has been preparing for a tough oil price environment by working on improving its cost structure. The company planned to slash its operating costs by $2 billion between 2014 and 2016, representing a decline of 20%. On a per unit basis, the company has been eyeing 25% reduction in this period. The company is also benefiting from headcount reduction, service cost savings, operational efficiencies. Deep-water transition should also help given it was responsible for $400 million of operating costs and had a high cost of supply in the $75 a barrel range. These factors have put ConocoPhillips in a position that it can cover its capital spending and the current levels of dividend in a $60 per barrel oil price environment.
Bottom-line
This might turn out to be the worst year ever for ConocoPhillips and it could be forced to slash dividends which may reflect poorly on the management. But ConocoPhillips is actually one of the few oil producers that can thrive over the long term in the new normal oil price environment of $60 to $70 a barrel.
Disclosure: I/we have no positions in any stocks mentioned, and no plans to initiate any positions within the next 72 hours.
I wrote this article myself, and it expresses my own opinions. I am not receiving compensation for it (other than from Seeking Alpha). I have no business relationship with any company whose stock is mentioned in this article.