The past six months on Wall Street could be described as "interesting times."
Hedge funds have underperformed the market - some "smart guys" have delivered near-catastrophic returns. Investors of all stripes are now clamoring to rebalance their portfolios. Everyone in the money management game is now facing up to the stark reality that has been altogether forgotten over the last seven years of "straight-up" euphoria:
Valuations Matter!
Yes, men with ponytails and screaming bald men on soapboxes have for years browbeat retail investors to buy stocks based on the principle that "they are high, so they have to be going higher," ignoring underlying valuations. When that party ends, it ends fast, and as you've noticed, they don't ring a bell.
Mr. Market has done a fine job in rebalancing a lot of the froth in the market. But we have identified one stock whose valuation - yes, valuation - is completely removed from reality considering the business risks and limited growth opportunities.
We reintroduce the investing world to an old name that is worth a second look - Monster Beverage (NASDAQ:MNST).
Shorts are sometimes right and sometimes wrong, but they are always early. The bear case thesis on Monster has been around for years. It used to focus on the headwinds of the energy drink business and the health risks of the product. All the while the price of MNST has continued to defy gravity - as if the stock drank four cans of its own product.
We believe now is the time for both long and shorts to consider the real facts surrounding the business and consider the price of the stock within the perspective of current market conditions.
Amped-up valuation: Over the past five years MNST's market valuation is up 500% while its revenues are up 90%.
Let us start with the facts.
Monster Beverage is not a technology company, nor is it scalable, and by no means can you ever call it disruptive (to your health maybe). Monster is not even the No. 1 player in the energy drink market. The Monster product is not even discernible to its customers as it is more about the marketing than the product... yet Wall Street has ignored reality.
Look at the basic comparisons below. Wall Street is valuing Monster like a tech company, when in reality, it is a single product company selling sugar and caffeine water among many competitors whose business is only as strong as its marketing muscle.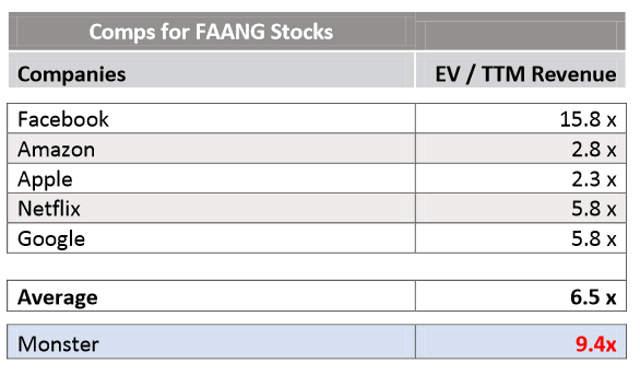 Click to enlarge
To illustrate how utterly ridiculous this is vs. other beverage companies, consider these comps.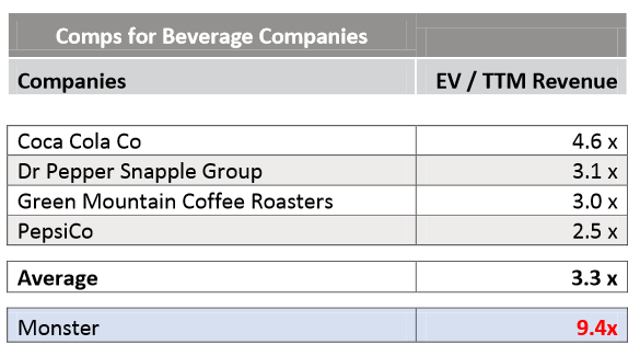 Click to enlarge
Dr. Pepper Snapple Group's valuation (NYSE:DPS) is 30% smaller than Monster's, despite boasting 100% more revenues and roughly 60% greater EBITDA than Monster.
Valuing Monster comparable to DPS's multiple would result in 48% downside to Monster owners.
We explain Monster's valuation disconnect with reality, demonstrating why Monster will trade down to $80.
I'm in Love with Coca (Cola)
Coca Cola's buy-in may have temporarily validated Monster, but at a second look it's not as sweet as investors had imagined. After years of controversy, Coca Cola provided some much needed short-term validation in 2014 with its investment in MNST and as usual Wall Street overreacted.
Since the transaction MNST stock price is up almost 100% while revenues are up only 10% (even less if you remove the Coca Cola energy drink brand revenues transferred to Monster).
Now let's get back to reality.
Coca Cola's investment is NOT the first step toward an eventual purchase. On the contrary, it's the opinion of Citron that this transaction eliminated the possibility of a future takeout and the premium that had always glimmered in the company's future. Coke used this transaction to quietly exit the energy drink business, distancing itself from the reputational risks of energy drinks to their own portfolio.
(One hypothesis is that Coke's portfolio of energy drinks was never successful because its marketing is limited by its engagement in "ethical" advertising).
This is how the transaction was structured. Coca Cola now has the benefits of participating in the energy drink business without the risk... something even Buffett and Ackman can agree on is a good thing. (Source)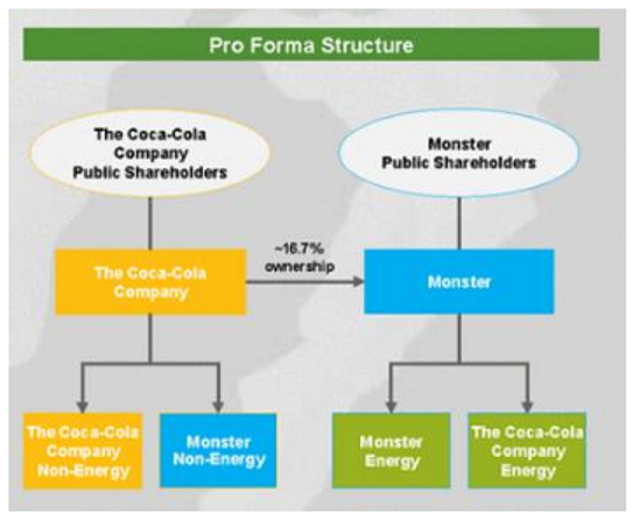 Click to enlarge
In fact, if you take out the Coke products, Monster's minimal organic growth is not supportive of a company with this multiple.
Here's the analysis in a single chart: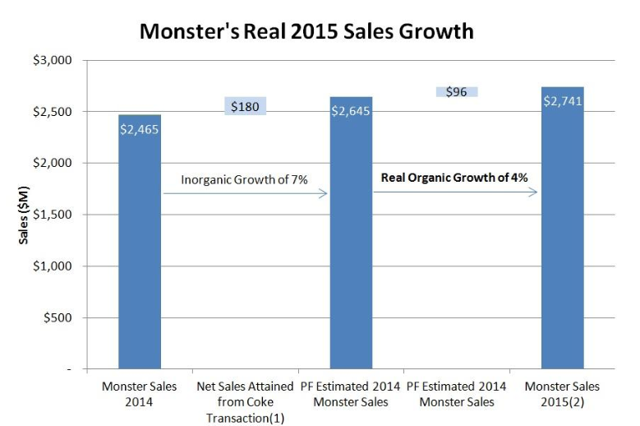 Click to enlarge
The single graph that should give every MNST shareholder nightmares: Deriving Monster's organic growth from Coke's disclosures.
(1) Net sales are based on 2013 figures of sales received from Coke energy assets less non-energy assets transferred to Coke - noted that 2015 growth rates would be lower if the 2013 Coke asset sales are given an assumed growth rate.
(2) Based on Bloomberg consensus estimates for 2015.
Why an $80 Short - Target?
In trying to find an honest comparable for Monster, Citron thinks Keurig Green Mountain Coffee (NASDAQ:GMCR) is the ideal candidate. Both companies are high growth beverage companies who attracted sizable investments from Coca Cola.
We would argue that GMCR is the higher quality business because it is the dominant leader in its category and its product produces recurring revenue through the sale of K-Cups. Given that powerful advantage to GMCR, below we present the comparison of MNST and GMCR on a pre- and post-takeout basis.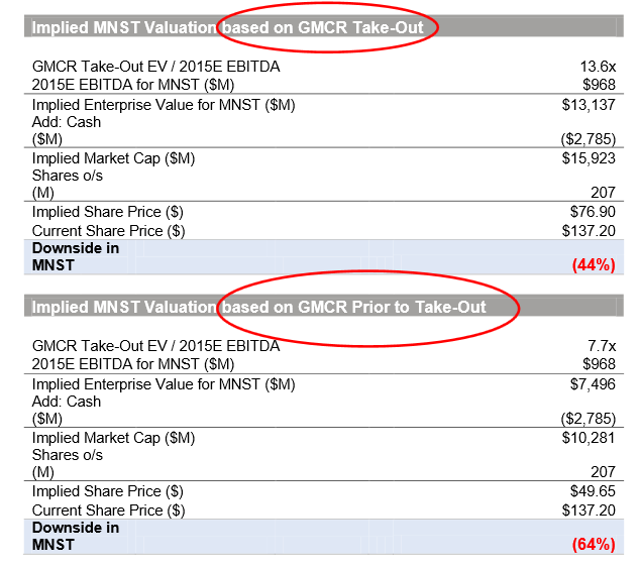 Click to enlarge
If we chose to value MNST vs. Dr. Pepper Snapple, a more direct competitor, it would result in a 48% downside to Monster owners. For the sake of the benefit of the doubt we used the post GMCR takeout value as a benchmark to get to $80 a share for Monster.
C'mon Citron, What about China? Surely China will Unleash Monstrous Growth
Monster has justified its double-digit growth story by teasing its next phase: China. Investor Meeting (Jan. 12, 2016):
"Reverting to probably what is our largest individual country opportunity is obviously the Chinese market."
Wow! It's 2016 and Monster in finally entering China. Note: Monster Energy is not Facebook! For Monster, entering China commits them to an expensive brand-building exercise from the ground up, while selling their product at a price with significantly lower margins than afforded in the US. And their primary obstacle is established branded competitor Red Bull, which has been in China for 20 years. Not to mention we are skeptical about how popular the Monster Girls will be with the Chinese Government. (Had to throw in the Monster Girls somewhere.)
In Monster's own words (Investor Meeting - Jan. 12, 2016):
"They (Red Bull) have very, very much the lion's share of the market... But their pricing is at basically about $1 a can."
Note to Monster management and analysts: The days of justifying a stupid stock price based on "entering" China is soooooo 2009. Just look to the past to tell the future. Coca-Cola provides a meaningful example here.
Coke bought Glaceau/Vitamin Water in 2008 as a U.S-only business. The rationale was their ability to leverage the asset with massive overseas market penetration, riding Coke's powerful distribution assets. Not to mention Glaceau had a wide array of energy drinks. But, despite Coke's distribution power, it has failed to grow its international market share for Vitamin Water meaningfully. International sales comprise only 12% of sales... after six years.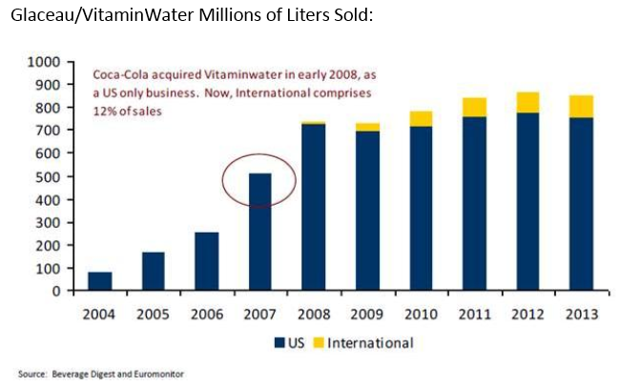 Click to enlarge
So how can Monster's road in China be anything other than: high brand-building expense, low margins, and slow growth? Where is the Great Leap Forward in this plan?
Margin Margin Margin!!!
If there is one counter-argument to this whole piece that the bulls will counter with, it is the increased margin Monster's turned in last quarter.
However, margins would not look so hot without Coca Cola's concentrate business: Here is a quick analysis for you bulls who will hold on to any outlandish justification for this crazy valuation.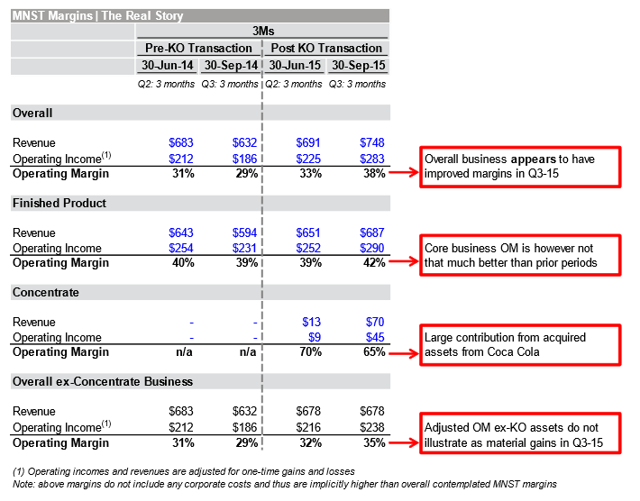 Click to enlarge
Note: the above margins are not adjusted for lower margin Monster non-energy drink assets, which were divested to Coke and are no longer a part of Monster's business (they are not disclosed). Refer to the important graph on 2015 Sales Growth to quantify the effect of the brand exchange with Coke, as derived from Coke's disclosures.
Based off of these assets transfers, plus a price increase on Monster Energy drinks in the U.S., Monster hit high EBIT margins of 38% in Q3 2015 for the first time, despite hovering around 29%-31% for the last few years. The only way for analysts to justify their stock target is to have this company expanding margins while going into China - not happening.
As we see the truth from Coca Cola.
"Gross profit will be negatively impacted, despite the structural benefit at net revenue, primarily due to the loss of concentrate profit on KO's legacy energy brand."
This statement from Coca Cola makes clear that it offloaded its more profitable energy drink assets for non-energy drink assets, and that Monster will receive a one-time benefit from Coca Cola's energy drink assets, which are wasting assets.
Future Products
Analysts want investors to get excited about new products being launched by Monster. But let's be honest here. Rob Gronkowski is a great football player, but an energy drink call "Gronk" isn't exactly going to move the needle for a $30 billion company, and probably won't sell well to Giants or Jets fans. All new products introduced by Monster simply cannibalize the existing product line - this is not exactly Mondelez (NASDAQ:MDLZ).
At the end of the day, Monster is not a product company with a broad suite of unique products. It is a marketing company that is trying to differentiate its brand from other similar products. As admitted by Goldman Sachs in a conference.
Coke says: "On the Monster program, we're extremely excited about that. I think Monster is a premier marketer." - Goldman Sachs Global Staples Summit May 5, 2015
So a solid marketing company is worth a valuation that "monsters"its competitors? NO!
Mandatory Reading For Shareholders
Fund manager John Davies wrote an insightful article on Seeking Alpha that describes the declining growth of Monster Beverage, drawing scary comparisons to the wine cooler craze of the 1980s. This is required reading for investors. In the article Davies notes:
From 2000 to 2010, the global energy drink market grew at 20% p.a.
From 2010 to 2015, the global energy drink market grew at 11% p.a.
From 2015 to 2019, the global energy dr ink market is estimated to grow at 7%- 10% p.a. (wide range of projections and we would take the "under" on any Hi/Lo proposition).
(Source)
Analysts: Read Before You Respond
For the past seven years, Wall Street research analysts have practiced the dark art of justifying a sky-high stock price by back-filling their model to try and support a current nosebleed price level. The beverage analysts are no different.
Not to pick on Goldman Sachs, but when you are the biggest, it is only inevitable. Last year Green Mountain Coffee hit the same exact stock price that MNST is currently trading (around $140). Goldman came out and stamped a $185 target on GMCR. Over the next nine months the stock plunged to $40 a share - 79% below Goldman's target, before a bail out by JAB at $90 (still over 50% below Goldman's peak target). Oh, by the way, the GMCR Goldman analyst is the same one covering MNST! The analysts could not have been more wrong. But we know ... this time it will be different. (Source)
The Headline Risk for Monster Beverage, 2016 Edition - Could MNST have a "Chipotle Moment?"
The stock price of Monster Beverage has climbed as if its business has rid itself of all of the risks in that have shadowed the energy drink market for years - but in reality it has only gotten worse. Citron is not going to dedicate too much time going over the danger of energy drinks - the risk is self-evident and something that the bulls and bears can probably agree on.
The risks are particularly high with respect to consumption by adolescents and young adults.
And just to prove that we are not just relying on cheap sensationalistic news blips, we defer to a brand new study - just two-months-old - from the Mayo Clinic, published in the JAMA, that shows the dangers of drinking even one energy drink.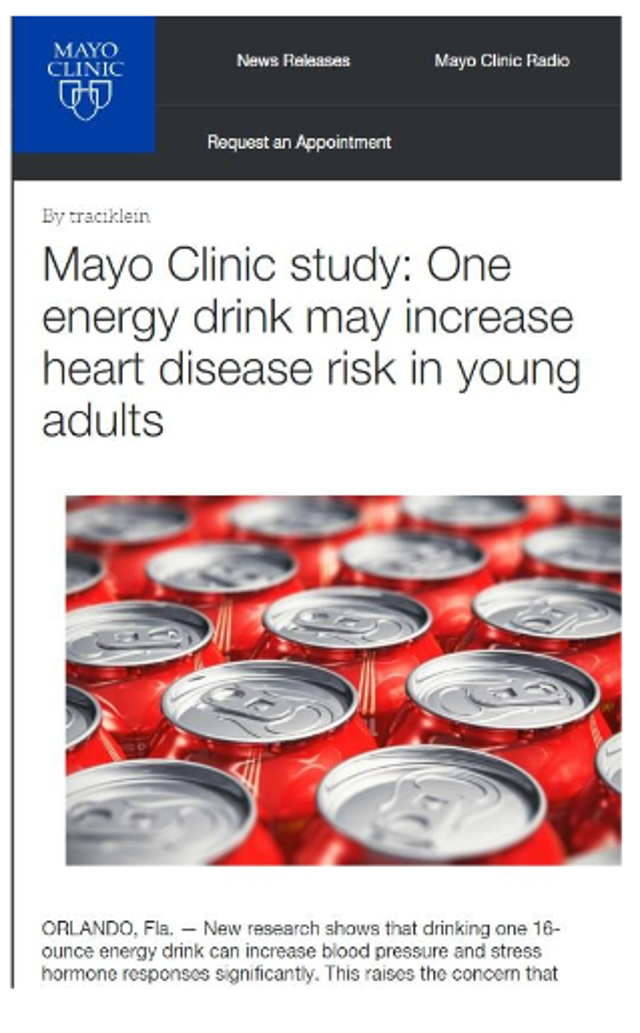 Click to enlarge
(Source)
The Senators that Forever Changed Big Tobacco are after Energy Drink Makers to Stop Marketing to Youth
"Overall, four out of 12 responding energy drink companies (Dr. Pepper Snapple, Red Bull, Monster and Rockstar) demonstrated significant gaps in making commitments to protect adolescents from targeted marketing campaigns. These four companies represent approximately 90 percent of US energy drink sales." - A report written by the staff of Senator Edward J. Markey (D-MA) in coordination with the staff of Sena tors Richard J. Durbin (D-IL), and Richard Blumenthal (D-CT.) (Source)
To read the findings of the investigations, see the appendix at the end of this story.
Meanwhile, despite the health risks and governmental focus, Monster has continued to market its products aggressively to teens because it knows they are the lifeblood of its business. This is a CURRENT marketing campaign from Monster's own website... who do you think this targets?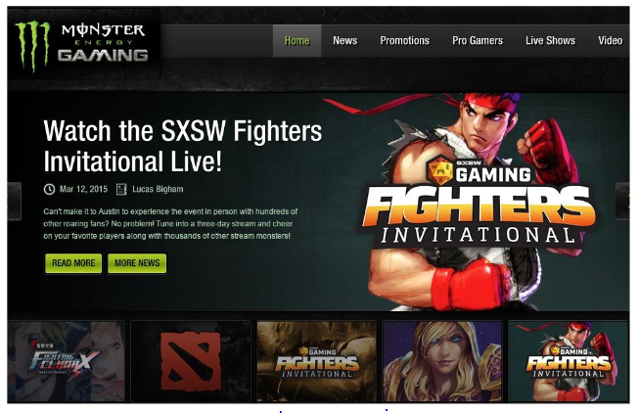 Click to enlarge
(Source)
For years, critics have thrown the concern about government regulation at Monster Beverage, and the company has obviously ignored the warnings. The fact that Monster continues this type of youth-oriented marketing only emphasizes how critically important the teen market is to their business model.
Citron has seen this story before: government action is slow, but when they come down, it is for real. Look at the impacts on former Citron subjects Apollo Group (NASDAQ:APOL), Valeant (NYSE:VRX) and World Acceptance (NASDAQ:WRLD).
Government regulation could take the form of one or more of these many actions, and they will impact Monster's bottom line:
Suspend sales to anyone under the age of 18, which is currently a bill in Massachusetts. (Source)
Regulate marketing to teens
Potential tax on all energy drinks (a risk disclosed in Monster's 10-K)
Regulation by FDA
Warning Labels as required by FDA if it were forced to revert its labeling to "nutritional product" instead of "food/beverage"
While it does not appear any of these risks will hit by tomorrow, it is naive for any investor to discount these risks to zero, blindly trusting multi-year CAGR and gross margin projections extended mindlessly into the future.
Health concerns have slowed Monster sales before:
"The softness in the energy drink market that I alluded to in my previous conference call on February 27, 2013, continued through the first quarter of 2013, we believe, partially due to the ongoing negative publicity that continues to appear in the media, questioning the safety of energy drinks and suggesting limitations on their ingredients, including caffeine and/or the levels thereof and/or minimum age restrictions for consumers. In some of our international markets, the energy drink category also appears to have slowed in the quarter. - Rodney C Sacks, Chairman and CEO, Monster Beverage Corp - Q1 2013 Conference Call May 8, 2013 (Source)
Conclusion
Citron is not saying that Monster misses its next quarter, necessarily. We're not even stating that the company's business isn't successful or valuable. We are just saying that it will never grow into its valuation.
That said, if anyone ever wanted exposure to Monster Beverages, why not just follow the biggest beverage company in the world? Buy Coca Cola; you get superior diversification, as well as a 17% position in Monster... without the reputational risk.
Cautious investing to all.
Appendix: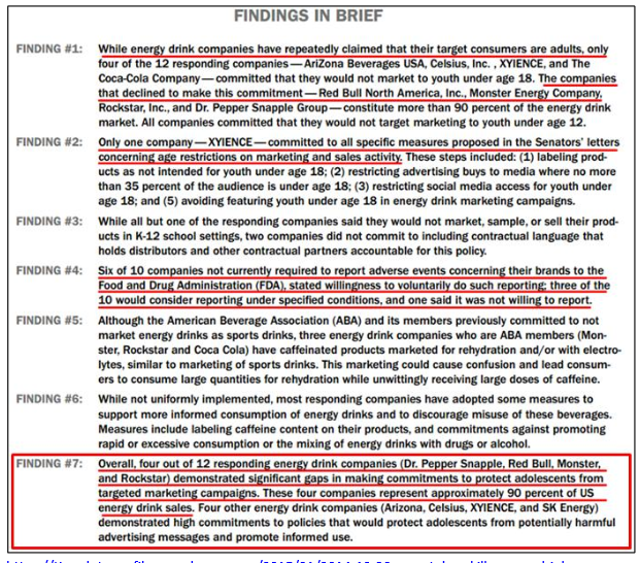 Click to enlarge
(Source)
Disclosure: Short MNST.