As we know, bond holders have higher priority in their claims to a company's assets over equity holders. This is why equity holders are given higher returns because equity holders assume a higher level of risk. When this principal is not adhered to there are often arbitrage opportunities available. Currently, the dividend yield for Arbor Realty's (NYSE:ABR) common stock is 9.52% (as of 1/28/16) and the yield to maturity on its 5 Year bond is 9.56%. For the sake of comparison, currently General Electrics (NYSE:GE) dividend yield is 3.26% and GE's 5 Year bond has a yield of 1.96%. We view Arbor Realty's distortion as a mispricing in the market and a buying opportunity. Arbor Realty Trust is a Real Estate Investment Trust with a diversified portfolio of multifamily (property with five or more residential rental units) and commercial real estate loans.
The U.S. Census report - Residential Vacancies and Homeownership in the Fourth Quarter 2015 - illustrates that the 2007/2008 subprime mortgage crisis led to a decline in the homeownership rate. Homeownership rates have steadily declined since this financial crisis and have reached lows not seen since 1995. This actually presents an opportunity for Arbor Realty, which is uniquely suited to benefit from this decline. The decline in the homeownership rates has led to a soaring demand for rental housing. Also detailed in the U.S. Census report is the steady decline in National rental vacancy rates since the subprime crisis. National rental vacancy rates have fallen from 10.1% in Q4 2008 to 7% in Q4 2015.
Falling rental vacancy rates benefit all players in the multi-family real estate loan market, so why is Arbor Realty uniquely suited. As of September 30, 2015, 43% of Arbor Realty's outstanding loans were concentrated in New York (29%) and California (14%). 27% of their loans were related to properties in Texas and Florida; with the remaining 30% in various other states (per the 9/30/15 10Q). Arbor Realty is uniquely situated because the regions with the lowest rental vacancy rates were the West (4.9%) and the Northeast (5.5%) for Q4 2015. As previously stated, 43% of Arbor Realty's loans are for properties in the West (California) and Northeast (New York); meaning the soaring multi-family rental demand will ensure the continued strength of Arbor Realty's portfolio.
Maturity: 05/15/2021
Par value: $25
Coupon Payment: $1.84375 (Total Annual Payment)
Current Price: $22.69 (as of 1/28/16)
Yield at Maturity = 9.56%
Ticker = ABRN
Link to IPO Prospectus
Financial Analysis
Arbor Realty Trust has a healthy balance sheet as detailed by the table below. Arbor has $1.85 Billion (abbreviated as "B") in assets supporting $1.28B in Liabilities. Arbor Realty has seen total equity grow by 5.6% from 12/31/14 to 09/30/15; which has been the result of using its operating cash flows to pay down debts (mainly its credit facility). We see this as a smart strategy which should further strengthen Arbor Realty's balance sheet in following periods.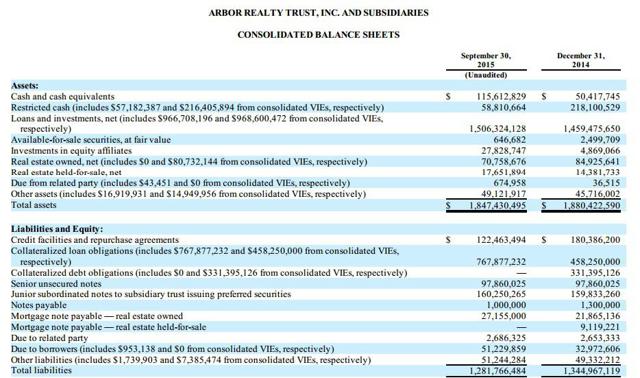 Arbor Realty has a $1.599B portfolio that is predominately Multi-family rental property loans. As detailed in the table below, as of 9/30/15, Multi-family loans made up 70% of Arbor Realty's portfolio (please note that Arbor has equity investments throughout these asset classes but they account for only 5% of Arbor Realty's portfolio). Additionally, 87% of Arbor Realty's loan portfolio are bridge loans which are traditionally repaid when a developer obtains permanent financing.

For the Nine months ending 9/30/15, Arbor Realty saw Net Income and Income from equity affiliates grow from $20.38 Million (abbreviated as "MM") to $27.99MM (compared with the nine month period ending 9/30/14). This represents a 37% growth in these income sources (Net Income being income from its loan portfolio). Top Line Revenue grew slightly from $110.48MM (09/30/15) to $108.29MM (09/30/14), representing a 2% increase in top line revenue.
As detailed in the table below, Arbor Realty had an allowance of $115MM for loan losses on its $1.599B loan portfolio. This therefore represented a 7.19% allowance at the beginning of the period; which is higher than other major players. Ares Commercial Real Estate Corp. (NYSE:ACRE), for example, had an allowance that represented slightly less than 1% of its loan portfolio (per ARES 10Q). The upside of Arbor Realty's loan losses is that currently 63.2% of its allowances are for loans related to Land. Land loans represented only 11.3% of Arbor Realty's total loan portfolio but 63.2% of its allowances. This means that Arbor Realty should probably stay out of business of originating loans for Land; but this also means that these losses are contained since Land loans only account for 11.3% of Arbor Realty's portfolio.

Unforeseen Subsequent Events
The two major risks related to an investment in Arbor Realty Trust is a downturn in demand for rental housing and an oversupply of multi-family rental properties. We see the greater risk as the oversupply of multi-family rental properties. An oversupply would lead to losses for Arbor Realty as developers may have difficulty refinancing their loans after construction to pay-off the bridge loans originated by Arbor Realty. Arbor Realty skillfully navigated the 2007/2008 credit crisis and we are confident that Arbor Realty would be able to navigate such an event.
Conclusion
Arbor Realty is a diversified REIT with a loan portfolio of mainly multi-family rental properties. The current price of ABRN is an inappropriate market pricing of the risks related to its debt relative to equity. This presents a unique opportunity to own a REIT with a 9.5% YTM maturing in a little over five years.
Disclosure: I am/we are long ABRN.
I wrote this article myself, and it expresses my own opinions. I am not receiving compensation for it (other than from Seeking Alpha). I have no business relationship with any company whose stock is mentioned in this article.
Additional disclosure: There is risk of loss in any investment and past performance is no guarantee of future results.