Stocks have traded in a range over the last 10 days, but they broke out of it today. There is a fundamental reason for it, and so there is firm support under it. However, another issue should weigh next week and may limit the duration of the bull.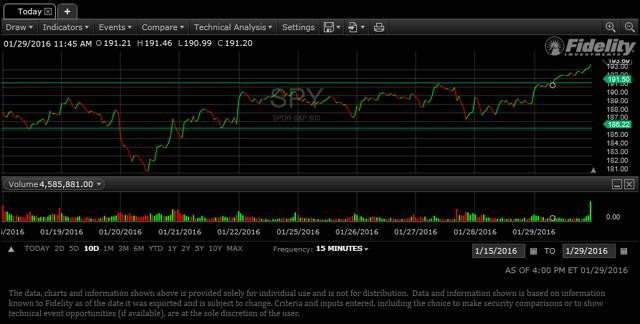 Click to enlarge
10-Day Chart of SPY at Fidelity
This chart of the SPDR S&P 500 (NYSE: SPY) illustrates the range the S&P 500 has mostly traded in over the last 10 days. Today, though, the SPY tested the ceiling of that range. The move has fundamental cause, and it might be solid enough cause for stocks to break out beyond just today.
The key factor at play for stocks today was the Bank of Japan (BOJ) monetary policy move to negative interest rates. The aggressive easing measure is supportive to global growth, which helps our economy as well, but that is not the main reason for today's stock action. Rather, the move by the BOJ has given the dollar a lift, as I anticipated it would in yesterday's report on gold.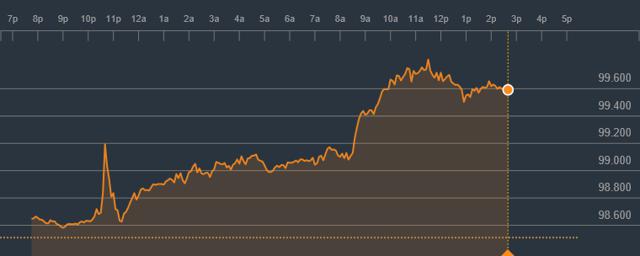 Click to enlarge
Dollar strength, as provided by the ECB's implied path and today's Bank of Japan maneuver seems to paint the U.S. Federal Reserve into a corner. The Fed cannot afford for the dollar to appreciate further, given its impact on the already teetering energy sector and the exports of U.S. multinationals. Since the Fed has in the past recognized dollar complications, and after just acknowledging global economic and financial concerns in its own monetary policy statement, the Fed seems less likely to raise interest rates in March.
This matters for stocks because higher interest rates weigh on the cost of capital for corporations. A higher cost of capital requires greater returns on invested capital to achieve the same level of economic value creation, upon which market value is built. So to put it simply, a lower rate outlook serves stocks, especially when they have been discounted down so far this year partly on the interest rate forecast. This is the sort of catalyst that can continue a run higher, if not for one important stumbling block.
That block is oil. I expect oil prices to come off their recent highs, as the nascent OPEC put is tested by skeptics. Please see my article, The OPEC Put Sets a Floor for Oil Prices for a full description of what I mean by OPEC put. It's a floor for the price of oil implied by where indications are that OPEC might step in and cut production. As speculation about an OPEC emergency meeting fades near-term, I expect oil to give back its recent gains. It should move toward the $30 level or through it, as the market tests OPEC for action.
If oil prices begin to fall off again, they may take stocks with them again, given concerns about repercussions to the economy. Briefly, the pace of oil price decline has been extremely disruptive to the energy sector and geographic regions of the country where energy is central. So lower oil prices may weigh against Fed expectations and revive volatility.
There's a possibility that the month-end gains in stocks were influenced also by institutional capital flows or a late push for performance by hedge funds judged on absolute returns (not comparisons to benchmark indexes). Stocks may also be benefiting along with oil on the capital spending cuts being reported by energy sector companies during earnings season. These cuts give hope to a future supply/demand balance for energy, which in turn supports higher prices. Finally, Friday's reported GDP growth for Q4 was bad at 0.7%, but it was not catastrophic, so the rally could partly be on relief.
Why don't you also weigh in via the comment section below this report as to whether you believe this is a bullish breakout or just bull. The value-added endeavor might help us best determine where stocks go from here.
Disclosure: I/we have no positions in any stocks mentioned, and no plans to initiate any positions within the next 72 hours.
I wrote this article myself, and it expresses my own opinions. I am not receiving compensation for it (other than from Seeking Alpha). I have no business relationship with any company whose stock is mentioned in this article.