The pain in the oil sector is becoming unbelievably bad for anyone or any country that has exposure to this sector. It is amazing to see that oil has now plunged to levels that are even below the Financial Crisis lows. This has caused some contagion fears as investors now shun high yield bonds and even bank stocks due to exposure to energy related investments. There is no doubt that too much oil is being produced and this is purely due to over-investment by the oil industry for the past few years when prices were well over $100 per barrel.
There are some analysts and investors who believe that Saudi Arabia has conspired to engage in a price war in order to decimate the U.S. shale industry as well as to punish Iran for pursuing nuclear programs, and Russia for getting involved with Syria, etc. I can understand this logic to a certain point, but there comes a time when you are only shooting yourself in the foot. What is the good of letting your enemy's house burn to the ground if the fire is likely to eventually burn your own house down later? If this is the real strategy being carried out by Saudi Arabia, then it is getting increasingly risky. If oil stays this low for a long time or goes even lower, there is a chance of a sovereign default. This could happen to countries like Venezuela, Brazil or Russia. This fear could be what has been spooking the stock and credit markets these days. A recent CNBC article states:
"Stuck in a recession and with no sign of a reprieve in the oil price, Russia could quickly descend into chaos if the money runs out, William Browder, a well-known critic of the Kremlin and chief executive of Hermitage Capital, told CNBC.

"I don't think you can underestimate how bad the situation in Russia is right now, you've got oil below any measure where the budget can survive and you've got sanctions from the West. Russia is in what I'd call a real serious economic crisis," he said on Thursday.

Speaking to CNBC in Davos where global business and political leaders are attending the World Economic Forum (WEF), Browder said the central bank of Russia was "running out of money."
So far, demand for oil has remained solid, but if OPEC allows oil production to remain out of balance and therefore allow the oil market to remain volatile and totally unstable, then the risk of a sovereign default could actually increase. If a default occurs, then there is major contagion potential and the chance for a significant global recession. If that happens, demand for oil will decline and only worsen the economic outlook for everyone and every country, including Saudi Arabia. A recent CNBC article details the risks facing Saudi Arabia which includes everything from social unrest to financial challenges, the article states:
"Saudi Arabia in particular, and many of the countries across the region, can't afford for prices to stay this low purely because the last thing they want is an Arab Spring," Su said.

Hit by a slump in oil revenues, Saudi Arabia reported a record budget deficit of 367 billion Saudi riyals ($97.9 billion) in 2015, or 15 percent of gross domestic product (GDP). The country also unveiled a radical austerity program as part of its 2016 budget, that included cuts in energy subsidies."
You would think that with a plunge from about $100 per barrel to just below $30 today, that there was a massive oversupply, but that is not really the case. The global economy currently requires about 100 million barrels per day, in order to keep operating and the excess supply is estimated to be somewhere between 1 to 2 million barrels of oil per day. That means it would only take around a 1% to 2% drop in production in order to balance out the market.
There have been calls for OPEC to have an emergency meeting to cut production, but so far this does not seem to be getting much traction. I believe Saudi Arabia fears that it will get burned if they agree to cut production while other members "cheat" by continuing to produce at higher levels. This has happened to Saudi Arabia in the past so they might only agree to cut production if other members are pushed towards feeling so much pain now, that they would truly think twice before cheating on production if OPEC did come together with a real plan.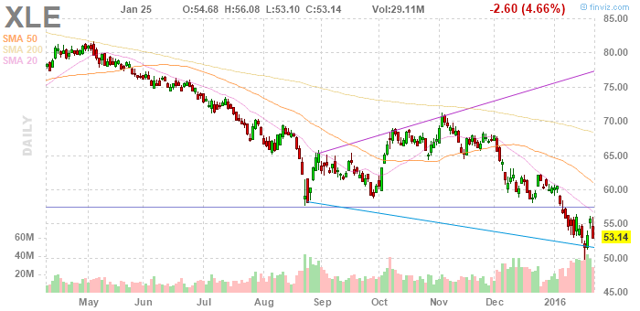 Click to enlarge
Take a look at the Energy Select Sector SPDR ETF (NYSEARCA:XLE) above, and you can see the carnage. At this point the Finance Minister of Saudi Arabia must be realizing that engaging in a price war for too long could create unforeseen and unknowable risks of contagion throughout the financial sector and the global economy. He must also be realizing that a significant oil production cut could spark a massive rally in equities and oil prices. It seems that the responsible course of action would be to cut production soon and it could also be a very wise decision in terms of finances. I would not rule out a production cut from OPEC sometime in 2016, and of course I would not be surprised if a select few who are "in the know" and/or are buying for their sovereign wealth funds happen to capitalize on this by accumulating equities before any deal takes place.
Disclaimer: Data is sourced from Yahoo Finance. No guarantees or representations are made. Hawkinvest is not a registered investment advisor and does not provide specific investment advice. The information is for informational purposes only. You should always consult a financial advisor.
Disclosure: I/we have no positions in any stocks mentioned, and no plans to initiate any positions within the next 72 hours.
I wrote this article myself, and it expresses my own opinions. I am not receiving compensation for it (other than from Seeking Alpha). I have no business relationship with any company whose stock is mentioned in this article.