Earlier this month, I decided to dig into data associated with the Eagle Ford, one of the largest oil plays in the U.S., and see what the future holds for the region in the current energy price environment. What I found is that, unlike earlier pieces I've written on the Permian, the Eagle Ford is in a state of significant decline. Now, with newer production data out from the EIA (Energy Information Administration), I decided to dig back in and see what the outlook for the region is moving forward.
A look at my previous analysis
In my previous piece on the region, I conducted a sensitivity analysis that makes various assumptions regarding oil output in the region. In that piece, I provided the following table, which projects what I believe the output of the Eagle Ford will be by the end of this year under a scenario where rig counts continue to fall by 7 units per month (a number I'm still using moving forward), given that rig productivity continues to rise by 3% per month and if the decline rate in the region hits one of three categories; conservative (7% monthly decline rate), moderate (12% rate), and liberal (17% rate).

Click to enlarge
*Source: Created by author with data from the EIA's Drilling Productivity Report
The assumptions I made were based on a very rational mindset. As an example, in the graph below, I charted out the historical (and most up-to-date) decline rate for wells in the Eagle Ford, ranging from January of 2007 through what has been estimated for February of this year. What we see is a world where decline rates soared through the roof in recent months, averaging about 12%. However, because the future is very much uncertain, I elected to look at an outcome involving not only a 12% decline rate moving forward but also ones at the 7% range (the historic average before the energy downturn), and 17% (what could happen if this trend continues).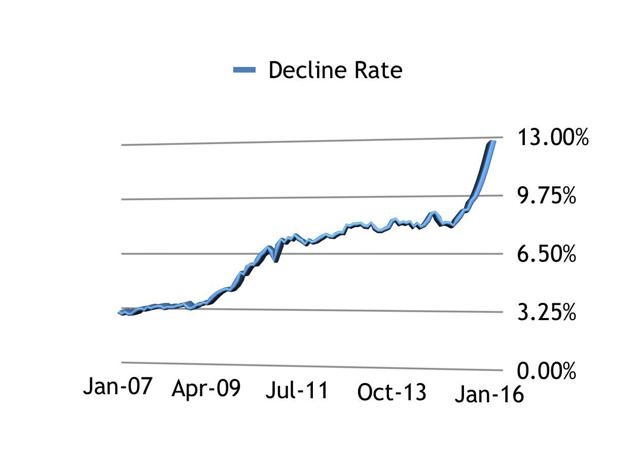 Click to enlarge
*Source: Created by author with data from the EIA's Drilling Productivity Report
Regarding rig productivity, I previously assumed a rate moving forward of 3% per month. Although this is more conservative, I decided today to change this to a 2% rate. You see, while it is possible that rigs could become more efficient in the months to come, the general month-to-month trend for oil rig productivity has been toward weaker improvements. If the EIA is correct, for instance, oil rigs will see a rise of just 1.13% in the month of February, this year, the worst improvement seen since November of 2014.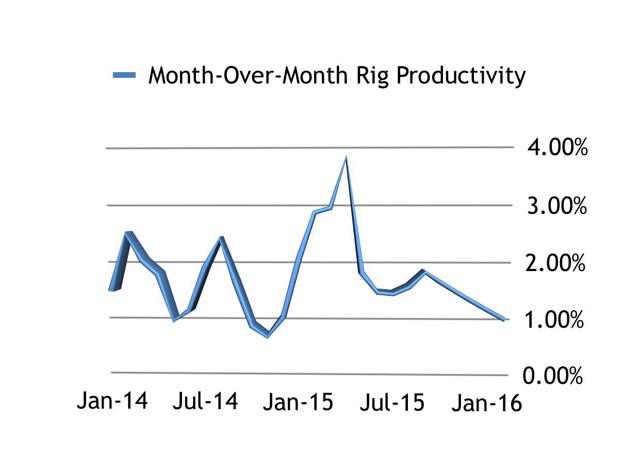 Click to enlarge
*Source: Created by author with data from the EIA's Drilling Productivity Report
Given these various assumptions, oil output for the Eagle Ford this December would have been between 268,937 barrels per day and 763,639 barrels under my previous analysis. This is far removed from the 1,292,933 barrels per day the EIA estimated the region produced during this past December and is largely reflective of the huge decline rates drillers have to contend with. However, I now believe these numbers were not entirely accurate.
What the future holds for Eagle Ford
In the table below, you can see an updated version of my analysis for the Eagle Ford. Although the decline rates I'm using are the same as in my previous piece and the productivity of rigs is a tad bit lower, I don't think my rig numbers are as correct as they could be. You see, for the January rig count, I had used data provided by Baker Hughes (NYSE:BHI) (a source used by the EIA) and applied the difference there to my work. Unfortunately, though, the EIA's final rig counts differ somewhat when it comes to the Eagle Ford and indicate that the number or rigs in December were about 15 units higher than what Baker Hughes forecasted. For the sake of conservatism, I am using the EIA's data after accounting for a drop of 7 units for the month of January for the region.

Click to enlarge
*Source: Created by author with data from the EIA's Drilling Productivity Report
On the low end, this implies that the amount of oil being produced in the Eagle Ford for December of this year should actually come out to roughly 837,123 barrels per day. Although this is higher than what I previously forecasted, it's still 455,806 barrels per day lower than what we saw in December of 2015. In the moderate scenario, where decline rates average 12% this year, oil production by the end of the year should hit just 535,272 barrels per day, a drop of 58.6% year-over-year. Meanwhile, the liberal forecast (one I don't think investors should hope for too much) suggests that the amount of oil being produced in the region should hit about 344,678 barrels per day, a drop of 73.3% compared to what was seen last year.
Takeaway
As of right now, it seems as though investors in the oil patch are very bearish regarding crude but I think the market is overreacting at this moment. Even under the revised conditions, which assume a higher rig count for 2016, it appears as though oil output in the Eagle Ford will plummet compared to where it was last year. Of course, there are some things that could make this forecast invalid (like a rise in oil prices that pushes production higher again) but that doesn't appear to be in the cards at this point in time. Absent this, long-term investors should be feeling quite bullish right now.
Disclosure: I/we have no positions in any stocks mentioned, and no plans to initiate any positions within the next 72 hours.
I wrote this article myself, and it expresses my own opinions. I am not receiving compensation for it (other than from Seeking Alpha). I have no business relationship with any company whose stock is mentioned in this article.