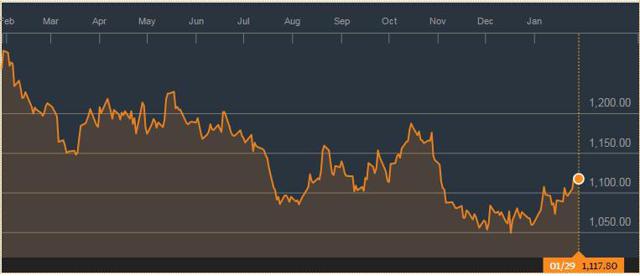 Click to enlarge
Source: Bloomberg
Gold prices rose more than 5% this year, amidst turmoil in the financial markets. The Chinese economy has still not stabilized and its hard landing could create further rout in equity markets. During the Fed's policy meet, Janet Yellen kept interest rates unchanged but gave no signal of retreating plans to raise rates gradually this year. The Fed funds futures indicate a single rate hike in H2 2016. I am skeptical about any rate hikes this year as it would lead to more capital outflows from emerging markets and add to volatility. The hike looks inappropriate at a time when the ECB and the Bank of Japan have gone for negative interest rates.
Indian gold demand
In the last one year, the Indian equity markets have corrected more than 15% due to global turmoil and slow reform process. The correction will continue if reform process gets stuck for a longer time. Despite interest rate cuts, the Indian real estate market has not picked up and home inventories continue to remain high.
Gold is the best hedge against the turmoil in financial markets. Indians have started showing interest in gold, with imports touching $3.8 billion in December. I expect Indian gold demand to remain high as the domestic equity and real estate markets are under performing asset classes.
Chinese gold demand
The Shanghai Gold Exchange (or SGE) withdrawal figures indicate that 2,596 tonnes of gold was withdrawn in 2015. It is 19% higher than the previous record of 2,182 tonnes in 2013. The SGE data remained a key indicator about Chinese gold buying in addition to data provided by the World Gold Council. Recently, Koos Jansen wrote on his blog that China stopped publishing SGE withdrawal figures.
The stock market crash in China is likely to propel domestic investors to buy gold in large quantities. It is possible that China doesn't want the world to know how much gold the Chinese are going to buy henceforth.
Final Thoughts
There is high possibility of no rate hikes this year amidst market volatility and weak global outlook. The Indian and Chinese gold demand support my bullish case on gold prices. I remain bullish on gold with a current year end price target of $1,300 per ounce.
Disclosure: I/we have no positions in any stocks mentioned, and no plans to initiate any positions within the next 72 hours.
I wrote this article myself, and it expresses my own opinions. I am not receiving compensation for it (other than from Seeking Alpha). I have no business relationship with any company whose stock is mentioned in this article.