The US IPO market froze in January.
Coming off the slowest December for IPOs since 2008, the US IPO market had the slowest January since 2009. No IPOs priced this month, down from 14 last year and 17 the year before. All told, January 2016 ended a 51-month streak of IPO activity that had gone on since September 2011, when the European debt crisis rattled US markets. To be sure, January is typically one of the least active months in the IPO market. After a difficult pricing environment in December, companies that had already put IPO plans on hold faced worse market conditions and higher volatility in the new year.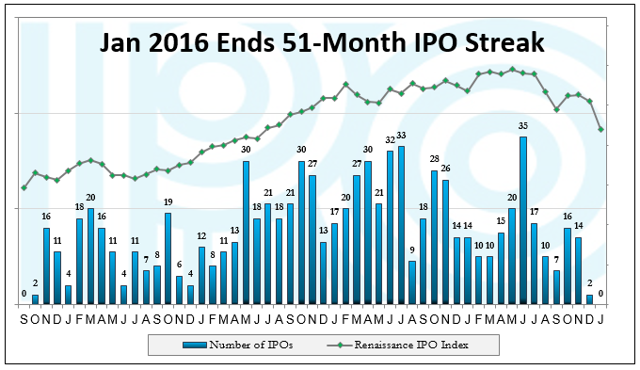 Click to enlarge
This week's Recap: Two more IPOs delay, and January goes 0/4
None of the four IPOs that attempted to price in January were able to do so. AmeriQuest (Pending:AMQ), which provides financial process services to the transportation industry, postponed its $74 million IPO this past week, while newly-formed Norwegian REIT Nordic Realty Trust (NASDAQ:NORT) stays on the IPO calendar as day-to-day. California-based Shimmick Construction (NASDAQ:SCCI) has been day-to-day for two weeks , and non-prime online lending platform Elevate Credit (NYSE:ELVT) postponed its offering earlier this month.
Yet the drought is nearly over. With four new biotechs on the calendar for next week - including heavyweights Editas (NASDAQ:EDIT) and BeiGene (NASDAQ:BGNE) - the sector that dominated IPO issuance for the past two years has come to the rescue. If markets stabilize, IPO activity from other sectors should pick up as investors pick out the winners within the wreckage and more exciting companies launch offerings. However, our IPO poll takers don't appear impressed with what's on the table.
IPO filing activity offered a promising sign. In the past 15 years, only 2014 (a mega year for IPOs) began the year with more initial filings as 17 companies joined the pipeline in January. The health care sector overwhelmingly dominated with 13 of the 17 filings (76%), mostly biotechs. The reception of next week's four biotechs should gauge whether IPO investors are still interested in the area, given that the Nasdaq Biotech Index has reached a 15-month low.
Notable 4Q15 IPOs unravel
Fourth quarter IPO returns were a bright spot at the end of 2015 thanks to broad valuation discounts, but tumbling US markets have more than wiped away those gains. Atlassian (NASDAQ:TEAM) was the only 4Q15 IPO to price above the range while Square (NYSE:SQ) slashed its proposed offer price to get done, but both high-growth VC-backed IPOs finished 2015 strong. They also both fell over 30% in January, ending the month below their offer price. The 16% drop by Pure Storage (NYSE:PSTG) - which began the month below issue - does not bode well for the large backlog of "unicorns" and other venture deals on file and on our private company watchlist. KKR's payment processor First Data (NYSE:FDC), the largest IPO of 2015 and a possible precursor for LBOs in the pipeline, declined 21% this past month.
IPO Market Snapshot
The Renaissance IPO Indices are market cap weighted baskets of newly public companies. The Renaissance IPO Index is down % year-to-date, compared to % for the S&P 500. Renaissance Capital's IPO ETF (NYSEARCA:IPO) tracks the index, and top ETF holdings include Synchrony Financial (NYSE:SYF), Alibaba (NYSE:BABA) and Citizens Financial Group (NYSE:CFG). The Renaissance International IPO Index is down 3% year-to-date, in line with the ACWX. Renaissance Capital's International IPO ETF (NYSEARCA:IPOS) tracks the index, and top ETF Holdings include Japanese staffing firm Recruit Holdings and European insurance provider NN Group.