Einhorn Versus Amazon
In a recent article ("Einhorn Shorted Amazon - You Shouldn't"), we noted that value investor David Einhorn had disclosed that he'd shorted Amazon (NASDAQ:AMZN) in the fourth quarter of 2015. We suggested investors avoid shorting the stock, and wrote that, if anything, they should consider buying it, given its high potential return as calculated by Portfolio Armor, provided they hedged to limit their downside risk.
Although Einhorn didn't give his short thesis for Amazon in his investor letter, we wrote that we suspected it was based on Amazon's high valuation according to traditional metrics such as P/E and PEG. We argued that the Amazon's high valuation was unlikely to be a negative catalyst for the stock, because the stock had long had a pricey valuation:
Yes, Amazon is a pricey stock, but that's not new, as the 5 year average P/E shows, so it's not something one would expect to tank the stock. The most likely catalysts for a significant pullback in Amazon shares would be a continuation of the recent stock market correction, or disappointing quarterly numbers (the company is expected to release its fourth quarter and annual numbers after the close on January 28th).
As it happened, the market rebounded last week, but Amazon did report dissapointing quarterly numbers on January 28th, after the close, and the stock dropped 7.6% the following day. In this article, we'll highlight the most important takeaways from Amazon's release, update our potential return for the stock, update the status of the hedge we posted pre-earnings, and consider courses of action now for hedged Amazon shareholders.
Amazon's Earnings
Amazon's revenues beat the company's guidance, but missed the consensus estimates of Wall Street and Estimize, as the chart from Estimize below shows. The company reported revenues of $35.7 billion, above its own guidance of $35.1 billion, but less than Wall Street's consensus estimate of $35.9 billion, and still less than Estimize's consensus estimate of $35.98 billion.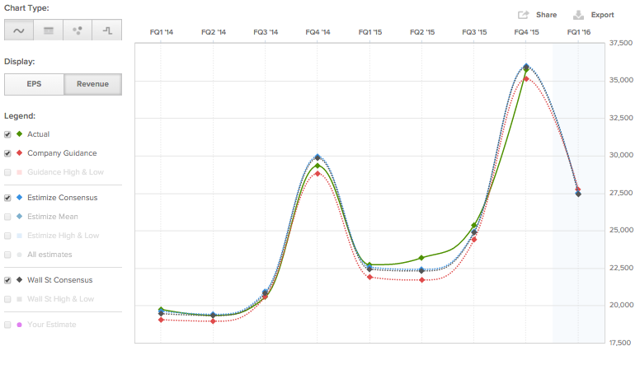 The bigger gaps between Wall Street's and Estimize's consensus estimates and Amazon's actual results were on the earnings per share numbers, as the next Estimize chart shows.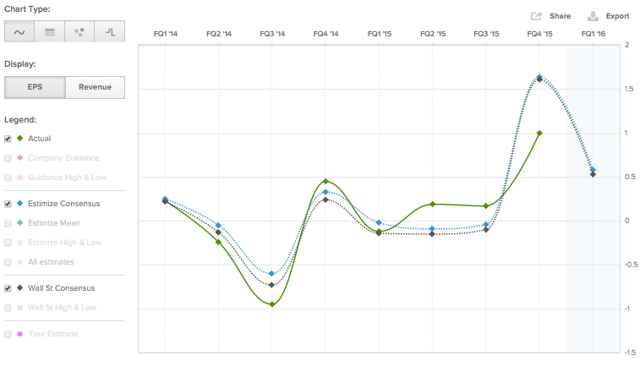 Although the Q4 earnings had more than doubled year-over-year from $0.45 per share to $1, Wall Street analysts had expected $1.61 per share, and Estimize's consensus estimate was slightly higher at $1.64. As Inc. noted, Amazon's ability to rein in costs was less than analysts had anticipated:
[I]nvestors were expecting a tighter hold on costs and even higher net income [...]

Amazon's strategy has long been to invest most of the money it makes back into its businesses, particularly by expanding offerings in its Prime loyalty program and its cloud-computing business, called Amazon Web Services. After operating at or near a loss for years, it has finally also demonstrated the ability to turn a consistent profit.

Yet it wasn't able to match investor expectations in the fourth quarter.
On Friday, Bloomberg reported another example of Amazon investing in its businesses by expanding its offerings, in the form of its new radio/podcasting service ("Amazon Hiring Comedians, Engineers, For Growing Audio Service").
Portfolio Armor's Updated Potential Return For Amazon
In our previous article, we mentioned that Amazon was the highest-ranked security in Portfolio Armor's universe when ranked by potential return, and had been one of the site's top-ranked names consistently since last August. As a reminder, potential return, in our terminology, is a bullish estimate of how a security will perform over the next 6 months.
Starting with every security (stocks as well as exchange-traded products such as ETFs) with options traded on it in the US, we apply two screens to eliminate the least promising ones, and then we use price action as well as option market sentiment to calculate potential returns. Essentially, we start with the assumption that a security's return over the next six months will begin to revert to its long term mean six-month return. Then, we test that assumption by looking at the prices of options on the security that expire in approximately six months. That test of option market sentiment gives a forward-looking element, because it represents the views of option market participants on where the underlying security is likely to be several months out.
We backtested this method by running our analysis every trading day from 1/2/2003 to 10/31/2013 and then looking at the actual returns of the securities with the highest potential returns on our daily scans over the next six months. Over that 11-year period, we conducted 25,412 comparisons of our calculated potential returns to actual returns, an average of 9.4 top-ranked securities each trading day. The average potential return we calculated was 22.4%. The average actual return over the next six months, unhedged, was 6.84%. Since the average actual return was 0.3x the average potential return, we use that 0.3x multiple to derive expected returns from our potential returns. While a potential return represents a bullish upside, an expected return is the more likely result. In our previous article on Amazon, it was the #1-ranked security in our universe, with a potential return of 30% over the next six months. Post-earnings, Amazon has dropped to #10 in our universe, with an updated potential return of 16%.
An Update On Our Amazon Hedge
The optimal collar below, calculated using the Portfolio Armor iOS app, was designed to limit an investor's downside to a drawdown of no more than 15% by mid-July, 2016, while capping his potential upside at 30%. The reason the cap was set as 30% was because that was the potential return calculated for AMZN at the time.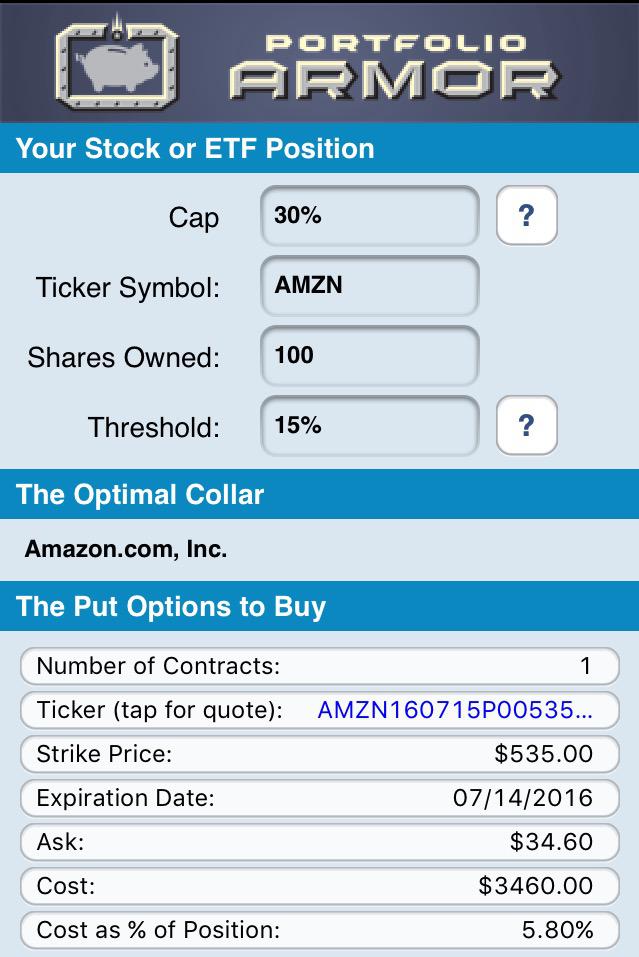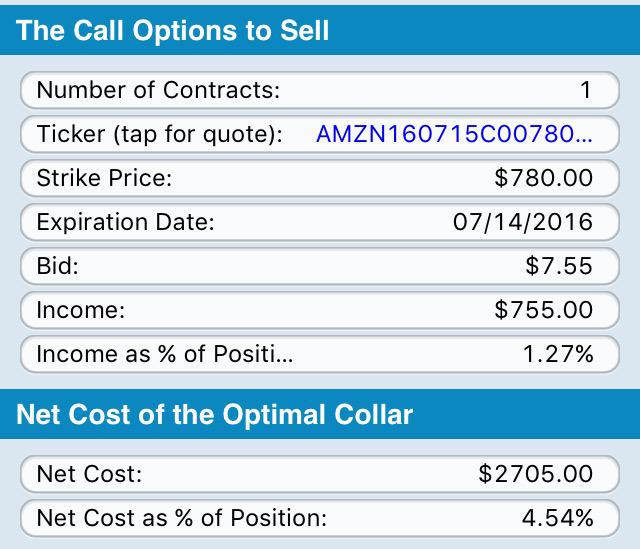 How That Hedge Has Reacted To AMZN's Drop
Here is an updated quote on the put leg of the collar as of 1/29.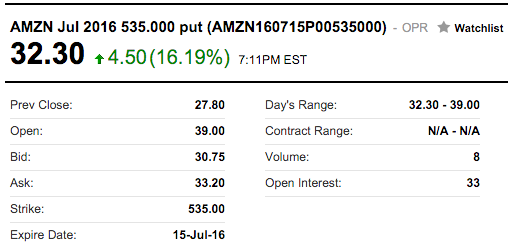 And here is an updated quote on the call leg: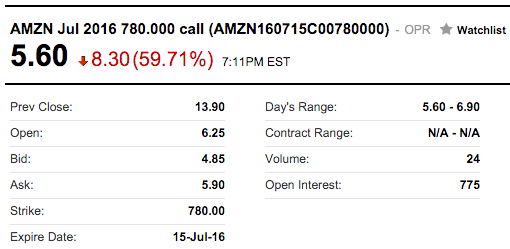 Hedged Versus Unhedged Performance Since 1/22
AMZN closed at $596.38 on Friday, January 22nd. A shareholder who owned 100 shares of it and opened the collar above then had $59,638 in the stock plus $3,460 in puts, and if he wanted to buy-to-close his short call position, he would have had to pay $755 to do that. So, his net position value for AMZN on January 22nd was ($59,380 + $3,460) - $755 = $62,085.
AMZN closed at $587 on Friday, January 29th, down 1.5% from its closing price on January 22nd. The investor's shares were worth $58,700 as of 1/29 and his put options were worth $3,230, and if he wanted to close out the short call leg of his collar, it would have cost him $560. So: ($58,700 + $3,230) - $560 = $61,370. This represents a 1.15% drop from $60,786.
Courses Of Action For Hedged Amazon Investors
As of Friday, an AMZN investor hedged with the collar above had several possible courses of action available to him, among them these:
If bearish, exit his position (stock + hedge) with a 1.15% loss.
If more bearish, do the same as the above, except hold on to the put leg of the collar, as a bet against the stock.
If bullish, stay the course.
If more bullish, buy-to-close the call leg of the collar to eliminate the upside cap.
In our view, and in light of Portfolio Armor's updated potential return on AMZN, staying the course would seem to make the most sense now. Since the hedge doesn't expire until July, you can hold the position through the next earnings release. Given that the cap on the collar is far above our updated potential return, it probably doesn't make sense to buy-to-close the call leg now. This is also consistent with our research as part of our backtesting the hedged portfolio method. We found that, on average, the highest returns came from holding securities for six months, or until just before their hedges expired, whichever came first. Essentially, this gave the underlying securities more time to recover from declines and generate better performance.
Disclosure: I/we have no positions in any stocks mentioned, and no plans to initiate any positions within the next 72 hours.
I wrote this article myself, and it expresses my own opinions. I am not receiving compensation for it (other than from Seeking Alpha). I have no business relationship with any company whose stock is mentioned in this article.