Click to enlarge
Source: Dallas Morning News
Baker Hughes (NYSE:BHI) reported Q4 earnings on Thursday. The company delivered revenue of $3.4 billion and a net loss per share of $2.35, including a $2.14 per share of impairment, restructuring charges and merger-related costs. Revenue was down 10% Q/Q and shy of the $3.47 billion analysts were expecting. I had the following takeaways on the quarter:
North America Remains A Problem
Oil companies continue to cut E&P in order to adjust to falling oil prices which fell below $30 earlier this month. Baker Hughes expects the global rig count to fall as much as 30% in 2016 as companies balance the maximization of production and the preservation of cash flow:
Looking ahead, we are forecasting rig activity worldwide to continue to decline throughout 2016. At current commodity prices, the global rig count could decline as much as 30% in 2016, as our customers' challenges of maximizing production, lowering their overall costs, and protecting cash flows are now more acute.
Though total revenue fell 10%, Q/Q revenue from North America was off 17%. The region also represents over 33% of the company's total revenue.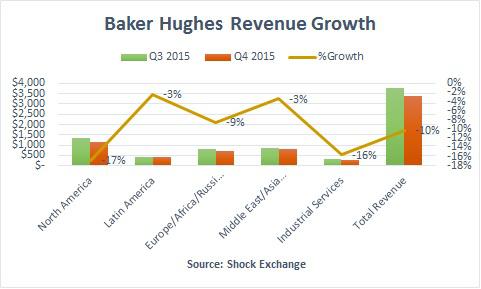 With high debt levels and high breakeven costs, North American shale play may have to cut spending on oil services and equipment just to survive. By drilling, yet not completing wells, they stem cash burn and maintain flexibility if oil prices rebound. If oil prices do not rebound, look for another double-digit revenue decline in the region next quarter.
Baker Hughes' EBITDA Margins Broke Support
Baker Hughes has been engaging in a true balancing act since oil prices diverged to the downside in Q2 2014. Heading into the quarter, the company's revenue had fallen over 40% from Q4 2014 to Q3 2015. Through headcount reductions and other cost containment efforts, EBITDA margins only declined from 15% to 14% over that period.
However, it is difficult to cut costs by double-digit percentages each quarter to keep pace with revenue declines. EBITDA margin fell to 8% in Q4 - the lowest since oil prices fell from their peak. As a percentage of revenue, cost of sales ticked up 3% and marketing expenses rose 1%. In my opinion, margins broke support this quarter and will likely fall further as revenue declines.
BHI appears to be less sensitive to earnings and trades more based on oil prices, its balance sheet and the likelihood of its merger with Halliburton (NYSE:HAL) being approved. The company has $2.3 billion in cash which will help sustain it during the industry downturn. Its implied merger price of $54 is about 25% above its current share price. If the merger doesn't go through, then the company is set to receive a $3.5 billion break-up fee. The additional capital could be used as an additional buffer to help fund itself in case of a protracted downturn.
Conclusion
I still believe the shares are overvalued and the merger is in jeopardy. However, it may take a few quarters before market perception and earnings fundamentals begin to coincide. For now, investors should continue to avoid BHI.
Disclosure: I/we have no positions in any stocks mentioned, and no plans to initiate any positions within the next 72 hours.
I wrote this article myself, and it expresses my own opinions. I am not receiving compensation for it (other than from Seeking Alpha). I have no business relationship with any company whose stock is mentioned in this article.