Overview
My original thesis predicated on two main themes; Flex Inc.'s (NASDAQ:FLEX) (formerly Flextronics) expanding margins by shifting its mix of business towards higher-margin and longer life cycle business within the HRS and IEI segments and away from CTG and INS, as well as continued strong free cash flow generation, with over 50% being returned to shareholders.
FLEX reported 3Q results and combined revenue for HRS and IEI now composes 33% of sales, compared to 29% last year, an increase of 11% YoY. Operating profit from the two segments is now 55% of total operating profit, an increase of 69% YoY. Management has done a fantastic job of growing the two high margin segments.
FLEX reported 3Q 2016 revenue of $6.8B, at the top range of guidance. Adjusted EPS grew 17% YoY and 30% sequentially, coming in at an all-time high of $0.35 with adjusted operating margins increasing 60 bps to end the quarter at 3.5%. ROIC was 22.4% for the quarter, above management's target of 20% and well above cost of capital.
Business Group Breakdown
High Reliability Solutions' (HRS) operating margin for the quarter came in at 8.1%, above management's target of 5%-7%. As I mentioned in my previous write-up, I believe there is a high probability that operating margins for HRS will stay above conservative targets. On the conference call, management was asked if there were any one-time items driving margins above the target. Michael McNamara, CEO, responded in the following way:
"We don't have any one-time effects boosting that up. This is basically how this group is performing right now. One of the reasons we like the way the group is performing is because it's actually been very predictable and very stable. And it's one of the reasons that we push so hard to try to tilt some of our acquisitions and as well a lot of the resources internally at Flex into these business groups. So it is sustainable. It doesn't move as much either up or down, quite frankly, across seasonality and it doesn't move that much year on year. So it's a very sustainable business. The HRS business coming in with 8% plus is sustainable. We believe it's sustainable, not one-time hit. It's actually a structurally improved business."
In fact, I anticipate management increasing the operating margin range at the next analyst day.
"And whether or not we'll change the range, we'll obviously talk a lot about it when we get to analyst day as to whether or not we'll consider moving that range, but we continue to be really excited about that business and the operating profit year-on-year grew like 48%. So it's a strong driver for us and very stable."
-- Michael McNamara, CEO
Source: 3Q16 Conference call
Industrial & Emerging Industries' (IEI) operating margin for the quarter reached 4.1%, hitting at the low end of management's 4%-6% target. Going forward, as macro headwinds subside, new business ramps increase and NEXTracker continues to perform, I anticipate margins increasing towards the higher end of the target.
"If it wasn't pressured by the macro, I think we'd be more - heading more towards the middle of that range."
Integrated Network Solutions' (INS) margins came in at 3.1%, within management's target of 3%-4%. Operating margins improvements were driven by improved utilization rates and execution of new program ramps. Telecom and the data center end markets were the primary drivers. Over the next few quarters, I expect to see INS growing their top line while operating margins will stay within the lower end of the target.
Consumer Technology Group's (CTG) margins came in at 2.4%, within the target range of 2%-3%. The strong performance in CTG was driven by connected home and wearables, as well as strong demand in gaming. CTG's product mix is moving towards more technology driven and sketch-to-scale business, which will improve the margin profile. CTG should see its margins improve towards the higher end of the range over the next several quarters.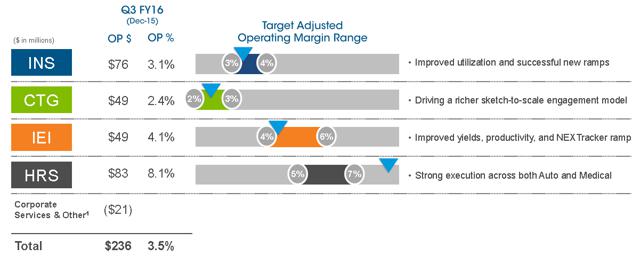 Click to enlarge
Source: 3Q16 Earnings Release
Conclusion
Flex's management is executing on all cylinders as evident by a fantastic quarter, reaffirming our original thesis. Flex is doing a great job managing net working capital, decreasing inventory days by 3 and decreasing the cash conversion cycle by one day, another confirmation of great execution. Capital is being invested in growing the automotive, medical and energy businesses, which should drive further margin improvements. As the business model evolves to encompass more of the sketch-to-scale mantra, and management continues to shift the business mix, margins will expand driving profitability growth at a faster pace than revenue.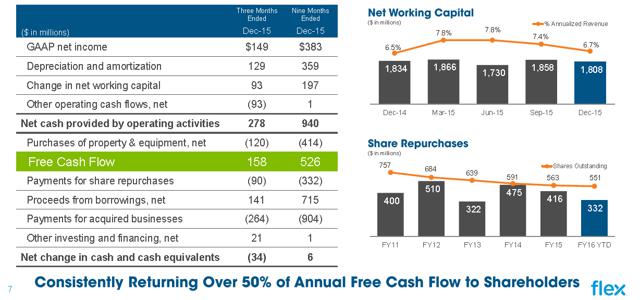 Click to enlarge
Source: 3Q16 Earnings Release
Cash flow generation remains very strong. Flex produced $158M of FCF for the quarter and $526M YTD. Management continues to return cash to shareholders, using $90M to repurchase over 8M of shares or 2% of outstanding shares. Using very conservative FCF estimates, and assuming 50% of FCF is returned to shareholders, share count will continue to be reduced by more than 6% per year.
Trading at a forward P/E of less than 9x and a FCF yield of almost 10%, Flex remains a compelling opportunity with a great management team driving the business forward and rewarding shareholders. Using conservative assumptions, I continue to believe Flex is worth at least $15/share, more than 40% above today's price.
Disclosure: I am/we are long FLEX.
I wrote this article myself, and it expresses my own opinions. I am not receiving compensation for it. I have no business relationship with any company whose stock is mentioned in this article.