Last week, we witnessed some strength in commodity markets, proving once again that markets rarely move in a straight line. It has been easy to forget this, given the action in many raw material markets in late 2015 and early 2016. We have entered the fifth year of a secular bear market in commodity prices. The slowdown in China and a strong dollar, which rallied last Friday and is closing in on the highest level since 2003, have weighed heavily on the raw material sector. There is an inverse relationship between the dollar and commodity prices as the greenback is the reserve currency of the world and the pricing mechanism for raw materials. The monthly chart of the dollar index points to one of the strongest arguments for a continuation of the secular bear market in raw material prices.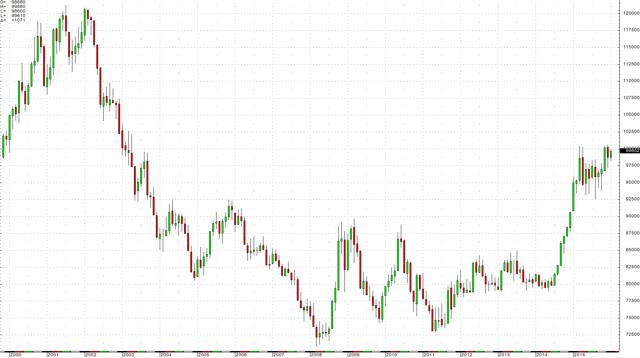 Click to enlarge
The trajectory of the dollar since May 2014 has been higher; last Friday, it was less than 1% away from 13-year highs. That is bearish for the price of many staples. All eyes will continue to be on the U.S. Federal reserve and interest rate policy in 2016; any further hikes in short-term rates will only serve as a factor that will ignite the U.S. currency. Even if U.S. rates remain where they are, they are attractive on a relative basis. Last Friday, the Japanese central bank adopted a negative interest rate policy. Some rates in Europe are already negative. The fact that the dollar has any yield is supportive for the greenback. This provides fodder for lower dollar-based commodity prices.
However, each commodity sector and individual commodity within those sectors has its own idiosyncratic characteristics. With prices far below levels seen in recent years, there are some bargains out there. However, one must be very choosy when dipping a toe in commodities these days. The bearish sharks continue to circle, and it is easy to lose an arm and a leg in many of these markets on the long side.
Metals and Minerals
The commodity sectors that are most sensitive to the Chinese economy are the ferrous and nonferrous metals and minerals. These commodities are building blocks for infrastructure and as China has shifted from heavy manufacturing to a consumer-based economy, the demand for these raw materials has decreased. Since 2011, the price action has been negative across the board. The price of iron has declined from $190 to $40 per ton. Copper is down from $4.65 to just over $2 per pound. Nickel has dropped from over $25,000 to under $5,000 per ton. It has not been pretty for base and ferrous metals over recent years, and China is one of the main reasons. Even though prices are weak, some remain above their 2008 lows. As an example, copper traded down to just under $1.25 per pound in 2008, and most metals remain far above price levels seen in 2000.
These metals and minerals will continue to be sensitive to economic conditions in China and the value of the U.S. dollar in 2016, and they will not move in a straight line. While I continue to believe that these commodities will make lower lows this year, recovery rallies are likely to be vicious. Therefore, while I believe we are in for lower prices, we will see more short-term trading opportunities in the form of recovery rallies. As an example, copper traded down to just under $1.94 per pound, the lowest level since 2009 on January 19, but since then, it has put in two bullish key reversal trading patterns on the daily chart. Copper closed last week over $2.06 per pound, and could have more room on the upside on a technical basis. These types of bear market rallies afford great trading opportunities, but one must have discipline when entering markets like copper on the long side. Tight stops and clear profit horizons on long positions are of paramount importance as all signs still point to a continuation of the bear market from a fundamental perspective. The example in copper is applicable to any other metal or mineral market or the stocks of producers in this sector, which are all likely to be highly volatile in the weeks and months ahead.
When it comes to precious metals, the bear market continues to be in place but we have to separate the action in gold and silver from platinum group metals. The latter reflect the same fundamentals as industrial metals. Gold and silver, which are both higher in 2016, have taken on a flight to quality flavor. Silver remains historically weak and has not been able to muster a significant rally, but gold remains strong against virtually all hard asset prices. While both are still in bear market mode since 2011, gold has outperformed virtually all commodities and has proven itself as the store of value it has been for thousands of years. While gold is not running away on the upside, and it may actually go lower in U.S. dollar terms, it is likely to hold its value better than other metals.
In all metal markets, short rather than long-term trading or investment opportunities are likely to dominate market action for the rest of this year. The long-term value proposition at this time does not favor an aggressive stance for any metals.
Energy
The energy sector has been ugly. However, this sector offers some of the best trading markets given the high degree of volatility. Crude oil moved from over $107 in June 2014 to just over $26 per barrel during the first month of 2016. The price decline in oil has been dramatic. During the course of the plunge, three price recoveries that have taken the price over 30% higher. In March 2015, crude oil rallied from lows of around $42 to over $60 per barrel over a nine-week period. In August, it exploded from $37.75 to over $50. Most recently, crude oil moved from $26.19 to highs of $34.40 last Friday, an impressive rally in less than two weeks. Given the political nature of crude oil, expect continued volatility in this commodity.
Natural gas has also been a beast of recent months. In December, it traded to the lowest level since the late 1990s when it plunged to $1.684 per million British thermal units. It then recovered to highs of $2.495 in less than one month - a move of over 48%. It closed last Friday at around the $2.30 per mmbtu level.
Energy has been in a brutal bear market. Today's low prices will eventually give way to lower supplies as the economics of production have deteriorated for producers. When it comes to crude oil, the fact that over half the world's reserves are located in the most turbulent region of the world, the Middle East, means that price shocks are likely in coming years. Today's lower prices make the oil market more susceptible to volatility not only from a fundamental perspective, but also from a geopolitical perspective.
Huge reserves of natural gas in the Marcellus and Utica shale regions of the United States will likely temper the upside price potential of this energy commodity. However, new technology such as liquefied natural gas for export and increasing usage of gas will increase demand verticals in the future.
Energy, at current low prices, will begin to offer some good long-term value opportunities for the years ahead. As the world population grows, demand for energy will increase commensurately. Therefore, use weakness in these markets to nibble at energy investments on a scale down basis for the future. The Energy Sector Select SPDR (NYSEARCA:XLE) closed on Friday at $57.73. This index has not reflected the carnage in the price of oil; major oil equities have outperformed the commodity. Therefore, patience is required when it comes to long-term energy investments in equities. They do not offer enticing value at this time. At the same time, the volatility in the crude oil and natural gas markets will remain high throughout 2016 and opportunities to trade these commodities using futures or ETF/ETN products over the coming year could yield exciting returns.
Agriculture looks most promising
The population of planet earth continues to grow on an exponential basis. As such, the demand for food is always increasing. Over the past three years, near-perfect growing conditions resulted in bumper supplies of corn, wheat and soybeans. There have also been ample supplies of other agricultural commodities like sugar, coffee, cocoa and cotton. The result has been lower prices for all of these agricultural markets. However, while demand is consistently growing, supply is a year-to-year affair.
Agricultural commodities differ from other raw material markets. These staples have limited shelf life. Unlike metals and energy, which can remain in storage for years decades or longer, grains and soft commodities spoil over time. Additionally, each year the weather determines crop yields, and crop diseases can influence the ultimate harvests. Given the rising population, the world has become accustomed to bumper crops each year. With lower prices, complacency has set in; consumers have not experienced price shocks. However, only Mother Nature knows what the future weather conditions will be, and each year it is possible that supplies can decline. The world has become dependent on fresh supplies, and in years when this does not materialize, prices will reflect the shift in the fundamental dynamic.
While the prices of agricultural commodities continue to reflect three years of surplus supplies, the prices of agriculturally-related companies have moved significantly lower. Seed companies, agricultural processing firms, farm equipment companies and fertilizer producers have all seen the prices of their stocks move appreciably lower. The price of farmland has been moving lower as lower crop prices have decreased the profit margins of the farming business. Companies in this agricultural sector are trading at P/E ratios that are below the average market level. Given that demand for food is consistently rising, this sector is cheap today and offers real long-term value. Buying companies like Monsanto (NYSE:MON), Archer Daniels Midland (NYSE:ADM), Bunge (NYSE:BG), Deere and Co. (NYSE:DE), Potash (NYSE:POT), Agrium (NYSE:AGU), Mosaic (NYSE:MOS) and others in this sector on a scale down basis at current valuations makes a great deal of sense for bargain hunters with a long-term investment horizon.
Debt rather than equity
Commodity-producing properties will always have value. However, in the current bear market for commodities, it is likely that some will change hands like hot potatoes. The higher-cost producers that have struggled to hang on may fall by the wayside. Strong, better-capitalized companies that can weather the current bearish storm will scoop up their commodity-rich assets. Additionally, massive commodity consumers like China will also look to buy these assets and producing properties on the cheap. When analyzing investments in the commodity sector these days, think like China. Look at debt investments rather than equity. In bankruptcy, the equity holders get nothing, while debt holders are first in line to reap rewards when others step up to buy a company's assets. If the bear market in commodities continues, there will be opportunities to pick up debt at pennies on the dollar.
Best bets in raw material markets
I believe that the best bets for the long-term future today are in the agricultural and energy sectors. We are now in the fifth year of a secular bear market in commodities. This bear market could last for a long time. While prices have been making lower lows and lower highs, there will be recovery rallies that can be explosive at times, even if the bear continues to claw away at these markets and send them lower. There will be short-term trading opportunities. When markets look their worst and they extend to the downside, it is generally the best time to look for a recovery. We saw this three times in crude oil and once in natural gas in 2015 and the beginning of 2016. Long options could be excellent vehicles to position with as they have limited risk, the premium, and unlimited reward potential. When seizing short-term opportunities, remember to establish a risk-reward profile before entering into trades or investments. Make sure that the odds are always in your favor and that your reward potential is a multiple of risk taken. Most importantly, take profits because in these volatile markets, profits can turn to losses in the blink of an eye.
When it comes to long-term investing, do not put all your eggs in one basket. Look for value in beaten-down sectors, stocks that are cheap when compared to the rest of the market. Agriculture offers some great long-term opportunities for the future today. However, buy scale down and leave plenty of room. Even the most successful investors in the world do not know where market bottoms or tops will be.
Commodity markets are cyclical. They rallied from 2002 through 2011 and have been falling since. Eventually, the bear will turn back into a bull. In the meantime, volatility will present short-term opportunities; the bear market will make some commodity-related companies, and raw materials themselves, so cheap that they provide excellent value propositions for the future.
As a bonus, I have prepared a video on my website Commodix that provides a more in-depth and detailed analysis on the commodity markets to illustrate the real value implications and opportunities.
Disclosure: I/we have no positions in any stocks mentioned, and no plans to initiate any positions within the next 72 hours.
I wrote this article myself, and it expresses my own opinions. I am not receiving compensation for it (other than from Seeking Alpha). I have no business relationship with any company whose stock is mentioned in this article.