The great bear market in commodities that commenced in 2011 did not exclude grains. All commodities have their own fundamentals. Grains suffered from many of the same global macro issues that affected metals, minerals and energy markets. A bear market in commodities commenced at highs in 2011. In the grain sector, it all started in 2012. The 2012 crop was weak; a drought caused the price of soybeans and corn to move to all-time highs. Wheat rallied to the highest level since 2008, another drought year, in 2012. Since then, it has been nothing short of a perfect bearish storm for grains. In addition to global macro weakness weighing on raw material prices, perfect growing conditions resulted in a succession of bumper crops. The years that followed 2012 seemed to set a new record for crop yields, and inventories rose while prices fell.
Each year is a new adventure when it comes to grains. Now that we are in the heart of winter, it is a good time to start focusing our attention on the possibilities for this crop year and beyond.
Grain prices
For the longest time, every rally in the grain sector has been a sale; lately, these markets have gone nowhere fast. It has been a rough time for the agricultural commodities for a number of reasons. The stronger dollar has been a negative. The overall bear market in commodity prices has weighed on the sector, but most importantly, three straight years of near-perfect growing conditions has resulted in a triad of bumper and record crop yields for corn, soybeans and wheat.
Soybeans traded to highs of $17.9475 per bushel in 2012; last week, they were trading at less than half that price.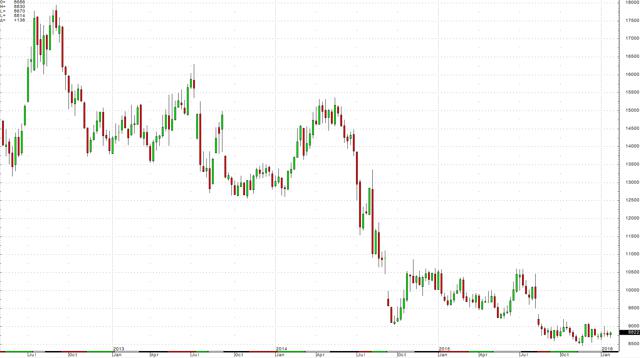 Click to enlarge
With soybeans at the $8.80 per bushel level, beans in the teens are a distant memory. The prices of soybean products have fared even worse. Soybean meal and oil, the products of crushing beans, have moved lower with a vengeance.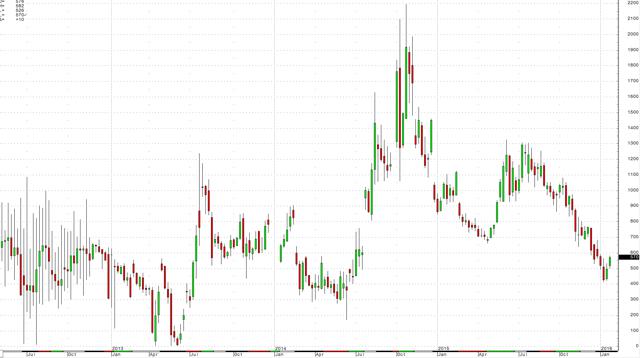 Click to enlarge
The synthetic crush spread has moved from $21.94 per bushel in 2014, which were all-time highs, to lows of $4.14 at the beginning of January 2016. It has only recovered to $5.66 recently, which is still way below the 2014 highs. The highs were the result of a lag between the price of soybeans and the price products. Since then, crush spreads have followed raw soybeans lower. The price of both soybeans and products is indicative of increasing supplies and inventories of the grain and its products.
The price of corn has also moved lower since making highs in 2012.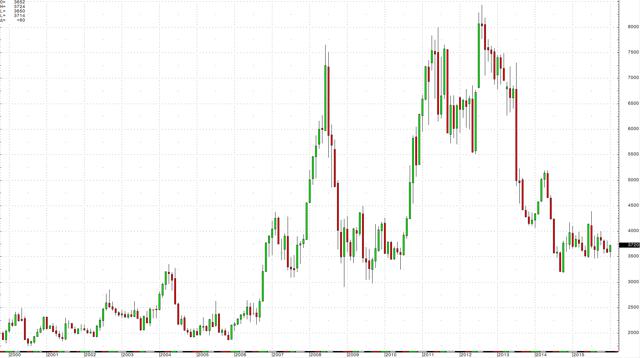 Click to enlarge
The monthly chart of the corn price highlights that all-time highs in August 2012 at $8.4375 per bushel gave way to a vicious bear market. Corn was trading around the $3.72 level last week, like beans at less than half the price less than four years before. In the U.S., ethanol is a corn product and ethanol prices fell alongside the grain.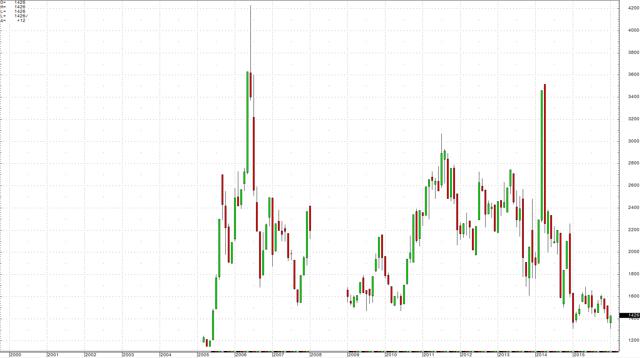 Click to enlarge
The price of ethanol, a corn product, fell from $3.578 per gallon in 2014 to its current price of around $1.42 per gallon. The lag between the highs in corn and highs in ethanol is due to strong oil and gasoline prices in 2014. Recently, there has been a divergence between gasoline and ethanol prices. While ethanol is weak, gasoline prices are weaker, trading at around $1.13 per gallon on March futures last week. Ethanol commands close to a 30-cent premium to gasoline, thus the divergence. While corn prices are low, the danger of ethanol correcting to towards gasoline prices presents the opportunity for corn prices to head even lower, perhaps to the $3 level if there is another year of bumper crops in 2016.
Price carnage over recent years did not exclude wheat.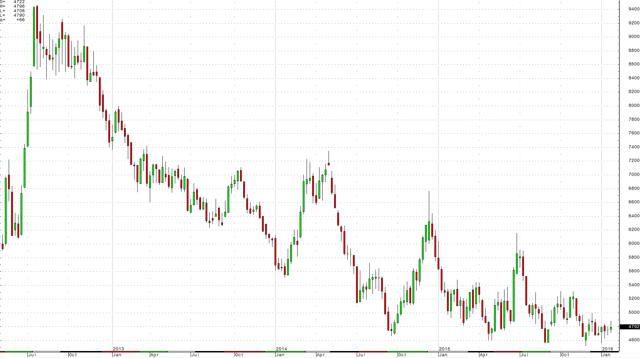 Click to enlarge
While corn and soybeans were at highs in 2012, the highs in wheat actually came in 2008 when the grain traded to $13.345 per bushel. In 2012, wheat was at highs of $9.4725; last week, it was half that price. While the U.S. is the largest producer and exporter in the world when it comes to corn and soybeans, wheat is a different story. As the key ingredient in bread, wheat production occurs all over the world, and the U.S. is only one of many producers. World weather has been a positive for wheat production and the price has moved lower over recent years. In the U.S., winter wheat production has been so bountiful that Kansas City hard red winter wheat, which traditionally trades at a 20-30 cent premium to Chicago Board of Trade wheat, is currently at a 7-cent discount, which has created a bifurcation in the wheat market. Two years ago, the Kansas City wheat traded at over a $1 premium to the Chicago wheat. The KCBT discount together with the nominal price action in wheat points to ample supplies, for now.
While lower energy prices have decreased the cost of production for grains, as well as many other commodities, farmers are suffering as prices have dropped. These grains are currently not offering farmers returns commensurate with their investment and in many cases; prices are approaching the cost of production. This sets up an opportunity for the future. When the price of a raw material falls to a level where the economics do not justify certain production, output falls. This is a precursor for higher prices in the future in any commodity market. As farmers suffer with low prices, other related businesses in the agriculture sector have been having a tough time as well.
Grain processors
Processors of grains have seen a reversal of fortune in recent years. The two biggest publicly traded companies, Archer Daniels Midland (NYSE:ADM) and Bunge (NYSE:BG) have seen their market caps shrink as not only has the bear market in grains affected their business, but the margins on processing spreads have declined dramatically. These companies thrive on volume, and one thing that bumper crops provide is volume. However, with processing spreads declining, so have their profit margins. I have highlighted the decline in the soybean crush spread and the price of ethanol. Both ADM and BG depend on these processing spreads for profits.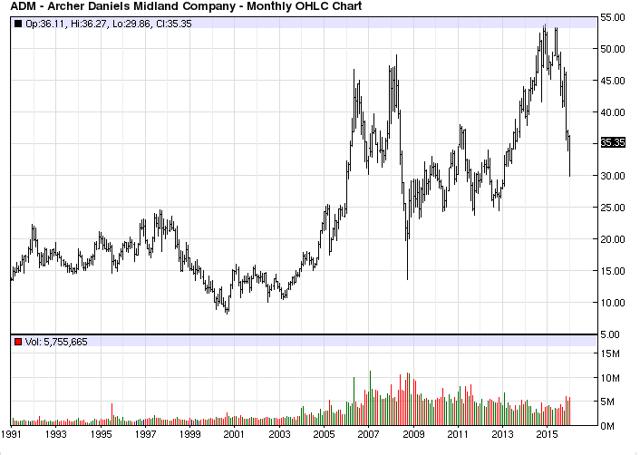 Click to enlarge
Last year, ADM was trading north of $50 per share. Last week, the stock was around $35. The current P/E of ADM is 12.21.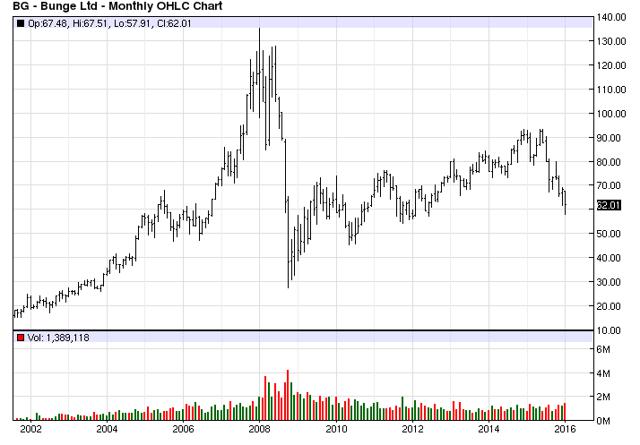 Click to enlarge
Last year, BG was over $90 per share; last week, it was around $62. The current P/E of BG is 18.49. Both of these companies have lost around one-third of their values. The reason is not so much the bear market in grain prices as it is the decline in processing spreads - the crush spread in soybeans and the ethanol processing spreads in corn in the U.S. and sugar in Brazil.
Farming equipment and farmland
When farmers suffer, they spend less money on infrastructure. In the world of farming, this means lower expenditures on farm equipment. Shares of both Deere & Company (NYSE:DE) and Caterpillar (NYSE:CAT) have declined; the companies suffering alongside the farming community.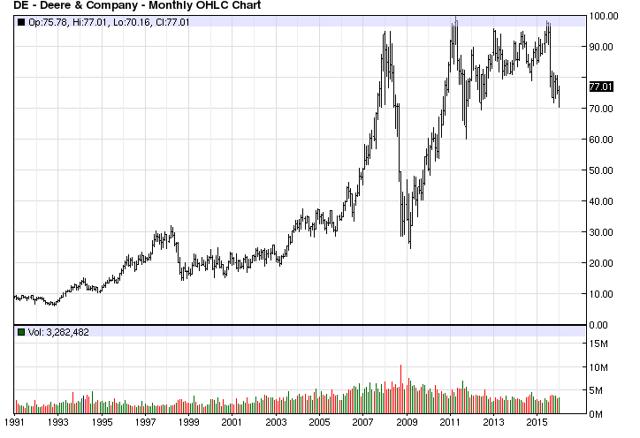 Click to enlarge
In January 2015, DE was trading above $90 per share; last week, it was just above $77. The current P/E of DE is 13.35.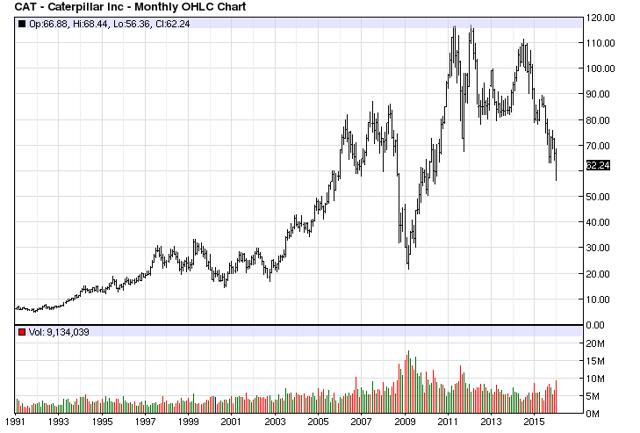 Click to enlarge
Last year, CAT was over $90 per share, and last week, it was around $62. The current P/E of CAT is 12.82. While these companies also manufacture other heavy equipment, the slump in the farming sector has weighed on profits for both companies.
Lower grain prices have a direct effect on the price of farmland. The economics are simple; the higher the price of crops, the more income that agricultural land generates. The price action of farmland these days reflects the bear market in grains.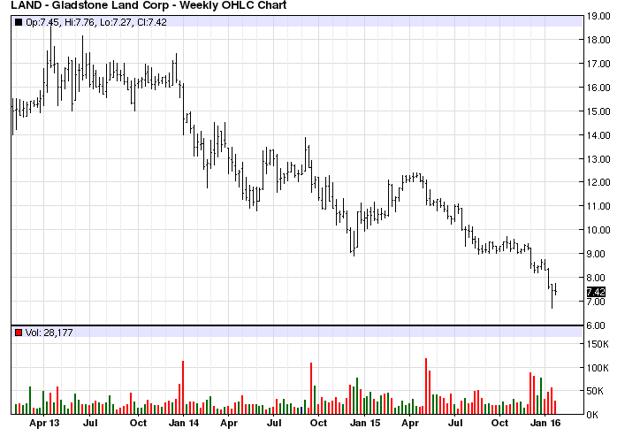 Click to enlarge
Gladstone Land (NASDAQ:LAND) is an externally-managed agricultural real estate investment trust that owns and leases farmland to corporate and independent farmers in the United States. The decline in LAND over recent years is a perfect pictorial for the decline profitability of farming given the bear market in grain prices.
Seeds and fertilizers
Monsanto (NYSE:MON) provides agricultural products for farmers around the world. The company is a huge supplier of seeds that grow into crops like corn, soybeans and wheat. The plight of Monsanto is yet another reminder of the bear market in grains and the current state of farming businesses.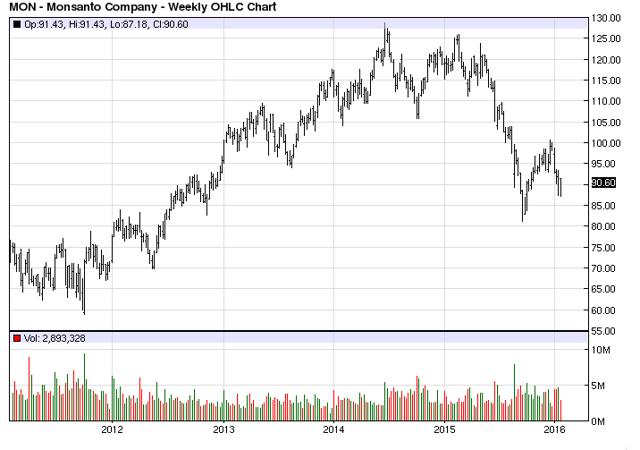 Click to enlarge
MON has dropped from highs of over $120 per share in 2015 to its current price of around $90. The current P/E of MON is 23.56.
Another sector that is a key component of farming is the fertilizer businesses. One of the most important components of fertilizer production is energy; therefore, the cost of production for fertilizers has dropped with the prices of oil and natural gas. However, the slump in farming has over-compensated for those savings, and shares of the three major fertilizer companies have swooned over the past year.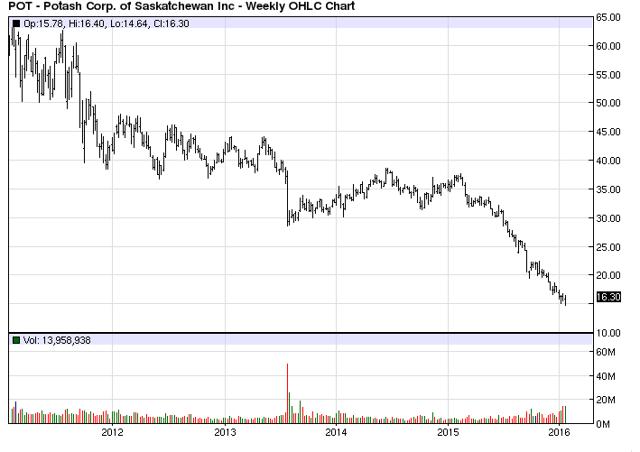 Click to enlarge
Shares of Potash Corporation of Saskatchewan (NYSE:POT) are half the price they were last year. The P/E of Potash is 9.21.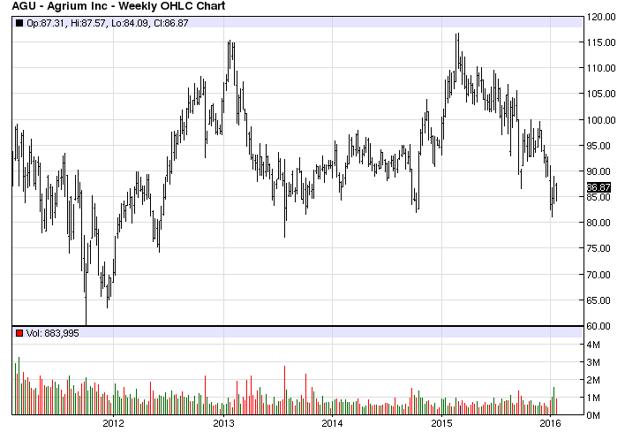 Click to enlarge
Shares of Agrium (NYSE:AGU) dropped from over $115 per share in early 2015 to around $87 last week. The P/E of Agrium is currently at 14.92.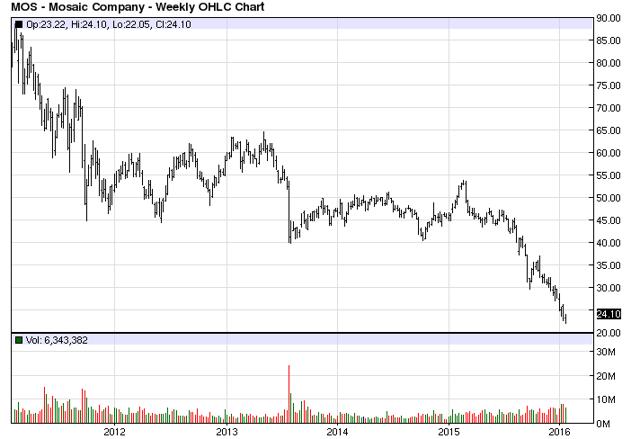 Click to enlarge
Finally, shares of Mosaic (NYSE:MOS) have dropped from over $53 per share last year to $24. Mosaic has a P/E of 7.31.
Each of these agriculturally-related companies is trading at price to earnings ratios that are below the average P/E for the overall stock market today. Only Monsanto is trading at a P/E above 20. These stocks are cheap when measured against the other companies that trade on public equity exchanges in the United States.
Fundamentals differ from other commodity sectors
Commodity markets are entering their fifth year in a secular bear market, and frankly, the overall global economic environment looks like we are in for another year of lower highs and lower lows for most raw material markets. However, when it comes to the agricultural sector, some factors separate it from the rest of the pack.
Weather will ultimately dictate the direction of prices. If the current El Nino, the strongest since 1997, disrupts weather patterns in growing regions, we could see problems with crop yields. Moreover, if a La Nina develops, it could cause drought conditions, which would limit this year's crop size and push prices higher.
While there are currently plenty of inventories of grains in silos and terminals, they have a limited shelf life before they rot, deteriorate or lose important nutritional value. Grains are different from other commodities. Oil, metals and most minerals can remain in storage for years if not decades. When it comes to agricultural commodities, this is not the case. The world has come to depend on fresh supplies each year.
Each year, population increases mean that there are more mouths to feed on planet earth. The weather or crop diseases can always change crop yields each year, but demographic effects of a growing world population have been an exponential constant. Therefore, demand is constantly rising, while supply is subject to sudden and dramatic changes on an annual basis.
The prices of grains have moved appreciably lower over recent years. Farmers are struggling and so are the companies that depend on the agricultural sector. There are many bargains out there these days. Stock prices in the companies in this sector have fallen to levels that make them dirt cheap when compared to other companies trading in the equity markets.
Given the volatility in the stock market so far in 2016, investors and traders must exercise more caution these days. Those looking for bargains would do well to look to these companies for long-term investments. Eventually, there will be a year where crop yields fall short of expectations and requirements. When that happens, this sector will take off and it will be too late to hop on board. Many of these companies have limited downside risk and explosive potential for the years ahead.
As a bonus, I have prepared a video on my website Commodix that provides a more in-depth and detailed analysis on the agricultural markets to illustrate the real value implications and opportunities.
Disclosure: I/we have no positions in any stocks mentioned, and no plans to initiate any positions within the next 72 hours.
I wrote this article myself, and it expresses my own opinions. I am not receiving compensation for it (other than from Seeking Alpha). I have no business relationship with any company whose stock is mentioned in this article.