Most investors know that they can access "short interest" data from NASDAQ and other venues. Short interest is the amount of shares held short in a stock. These numbers are reported bimonthly on a 10-day delay, and many investors watch them carefully.
What most investors do not know, however, is that they can access actual day-to-day short sale data. As in, how many shares were shorted on any given session, without weeks of delay. Exchanges sell this data, and of course, it costs thousands of dollars.
But you can have your cake and eat it too!
As it turns out, you don't need to shell out thousands of dollars for short sale data, because every day FINRA's TRFs report not just any short sale data, but short sale data from dark pool venues.
Here's a sample from Thursday, just to give you a sense of what it looks like:
Date|Symb|ShortVol|ShortExmpt|TotalVol|Mkt

20160128|SPY|16475183|39161|26496032|Q

20160128|SPY|2073845|0|3423709|N
Dark pools?
In case you aren't up to speed, dark pools are private exchanges that account for over 30% of all market transactions, including a substantial amount of shorting and block trades. For this reason, they can be a wealth of investor information, especially when you want to get an idea of what the "smart money" is thinking on a day-to-day basis.
What we want to know:
What is the market sentiment in dark pools right now?
So what happens when we look at five years of dark pool short selling in the ultra-liquid SPDR S&P 500 Trust ETF (NYSEARCA:SPY) with this question in mind?
A peek behind the veil.
To get a sense of sentiment, we want to look at short selling on a relative basis. Relative to what? Relative to normal "long" buying and selling volume, of course.
So what we'll do is create a ratio of short-to-long transactions for every market day and compare them to see how those daily ratios change across five years.
But first, to establish a baseline, what's the five-year average ratio of short-to-long transactions for SPY in the dark pools?
The answer? 58%. That means that a majority of dark pool transactions in SPY are short sales. This is in keeping with our understanding of dark pools as a venue for more sophisticated investors.
Charting it.
In the chart below, the top frame plots price and the bottom frame plots the average short ratio, the daily short ratio, and a 90-day moving average of the short ratio.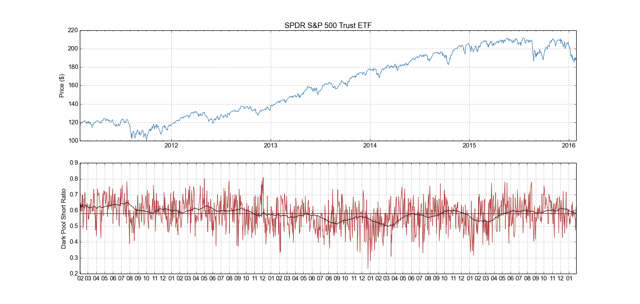 Click to enlarge
It is perhaps unsurprising to see that the middle of the bull market in mid-2013 to early 2014 was a period of significantly lower short selling activity, averaging at times just 0.50, or 50% shorting.
It may also be unsurprising to see the (warranted) bearish reluctance of mid-to-late 2011, where the average ratio rose to ~66% and only dropped when price sharply corrected.
What is disappointing, however, is that it's not entirely clear what's going on right now.
Zooming in
When we focus more on recent events, what might stand out is the apparent rapid shift in sentiment following the August 24th correction. As a ratio, shorting went down very quickly alongside price.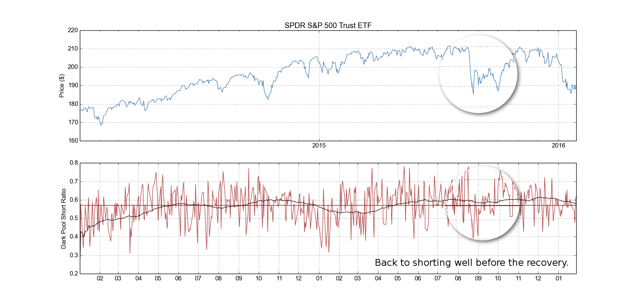 Click to enlarge
But what we find more interesting is that the buying, or short buybacks, or whatever took center stage and lowered the short ratio, didn't last all that long.
Look closely: By the next time the index was threatening to head toward 1800 (late September), shorting was back in season.
And why shouldn't it be?
As far as we can tell, market sentiment hasn't been this poor in years. What this actually means for the indices - and for ETFs like the SPY - is not entirely clear, but we think that this data qualifies as one more angle clarifying, and perhaps justifying, market uncertainty.
What now, then?
You'll notice, of course, that no "rush to buy" or "rush to cover" seems to have occurred as the SPY fell to its recent lows in the last few weeks like it did in August. Does this mean that the shorts are more entrenched?
If we were to rely in this data alone, we'd say that things are looking sideways at best.
---
But then, we wouldn't just rely on one set of data - and neither should you! Even (or maybe especially) if that data is coming from your friendly neighborhood market regulators. On that note, all data and charting is our own or FINRA's.
Still more questions than answers? Read this for some context, or drop us a line at info@sqzme.co.
Matt
Disclosure: I/we have no positions in any stocks mentioned, and no plans to initiate any positions within the next 72 hours.
I wrote this article myself, and it expresses my own opinions. I am not receiving compensation for it (other than from Seeking Alpha). I have no business relationship with any company whose stock is mentioned in this article.