This last week, we found out that New Home Sales, as reported by the Census Bureau, grew to a seasonally adjusted annual rate of 544,000 for December. That's a 9.9% increase versus the December 2014 estimate of 495,000.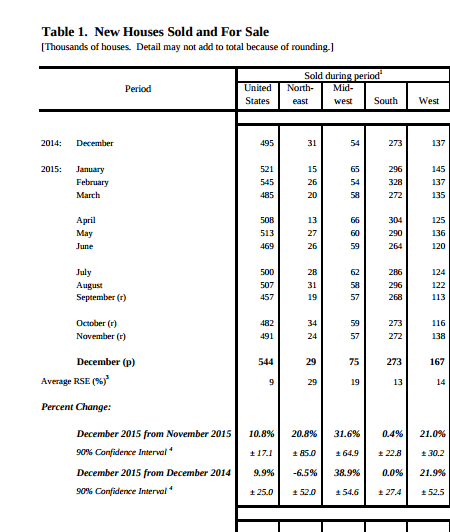 Sounds like good news, but take a look at this chart. According to this historical data, we'd need a 50% increase to reach new home sales levels from the years 2000 to 2002. That's about 800,000.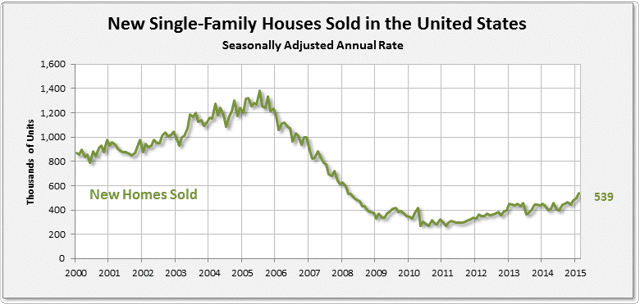 Click to enlarge
Sure there was a supply glut after the mortgage crisis bubble burst, but we are still a ways away from normal production. That should be good news for investors in the iShares U.S. Home Construction ETF (NYSEARCA:ITB). This exchange traded fund has heavy exposure in this sector.
Meanwhile, the top holdings of this ETF are trading like cyclicals at the top of the cycle. DR Horton Inc. (NYSE:DHI), Lennar Corporation (NYSE:LEN), and NVR, Inc. (NYSE:NVR), top holdings in the iShares ETF, all have PEG ratios below 1.0. According to legendary investor Peter Lynch, a stock with a PEG of 1.0 is fairly valued and anything less than 1.0 is a value stock.
Lynch also said not to buy cyclicals with a low P/E at the top of the economic cycle. The market appears to believe this bullish homebuilding cycle is over. This is despite the fact that we are nowhere near the relatively normal new home sales levels of 2000 to 2002.
Investors may be drawing the conclusion that the bull market for housing stocks is over because the sector has recovered so nicely from the housing crisis. However, as you can see from this chart, the equities in this ETF have a long way to go before reaching previous market tops.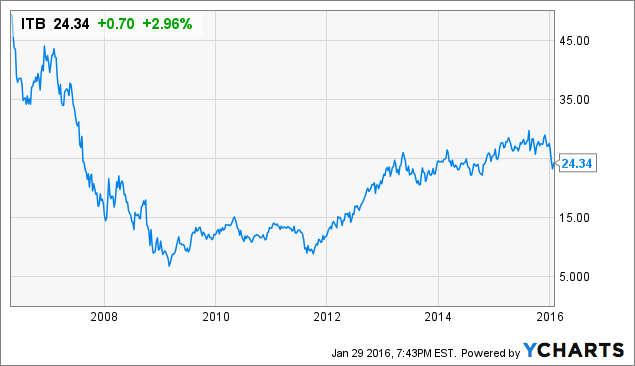 One more factor, Trulia publishes a Rent vs Buy index. In most of the country, the monthly cost of buying a home is still competitive, or favorable, to renting. This indicates that housing prices have not reached a top yet either.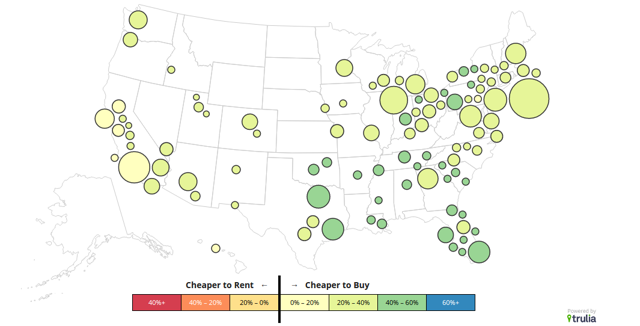 Click to enlarge
Conclusion
Buy the dip with housing related names. There is still some upside ahead. Diversify your position with an ETF like the iShares US Home Construction ETF to ride the macro trend and average into a position over a few months to limit your downside.
Disclosure: I/we have no positions in any stocks mentioned, and no plans to initiate any positions within the next 72 hours.
I wrote this article myself, and it expresses my own opinions. I am not receiving compensation for it (other than from Seeking Alpha). I have no business relationship with any company whose stock is mentioned in this article.