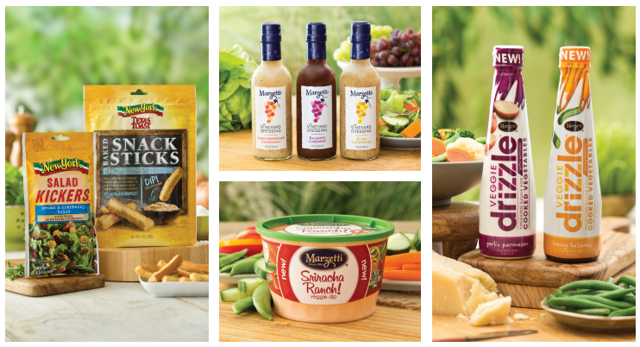 Click to enlarge
Lancaster Colony (NASDAQ:LANC) released its Q2 2016 results on 28 January followed by an earnings call. The resulting response to the share price has been a couple of days of sharp declines. After closing around the $116.50 mark on 27 January it has dropped significantly: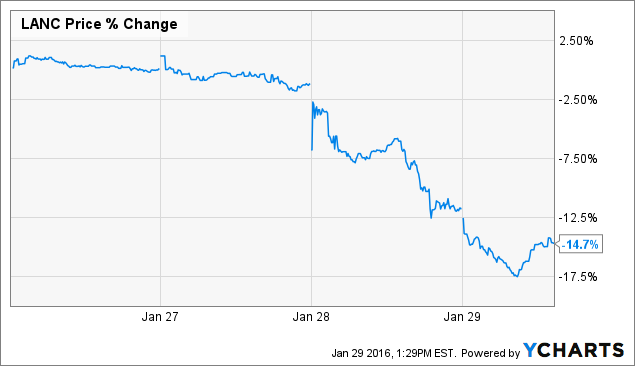 LANC Price data by YCharts
I have not looked at Lancaster Colony since I reviewed it in December as the first part of the "Food Fight" series comparing it with its food sector peers which has now hit its sixth instalment.* The Q2 results and the reaction to them seems an ideal time to take a fresh look.
Second Quarter Results
So what has happened in the Q2/H1 results? The highlights were for Q2:
Net sales increased 7%. Net sales excluding Flatout flatbread sales (only purchased in March 2015) increased 4.2%;
Diluted EPS grew from $1.20 to $1.25;
Retail sales (excluding Flatout) were flat, whilst foodservice sales continued growth.
For H1 2016 they saw:
Net sales increase 9.8%. Net sales excluding Flatout flatbread sales increased 6.2%;
Diluted EPS grew from $2.04 to $2.26;
Lancaster Colony's chief executive officer, Jay Gerlach, described the 4.2% Q2 sales growth as "a bit disappointing" but highlighted that this was chiefly fed by:
Declines in our frozen product lines, which were impacted by a sizable level of frozen inventory reduction activity by one of our large retail customers in December.
Adding that "continued softness" in the Sister Schubert frozen rolls business kept a lid on faster growth.
Growth in Q2 was clearly slower than Q1 which was not expected. The consensus estimate for EPS in Q2 had been at $1.33. Lancaster Colony's declared $1.25 was clearly below this. Hence the rather negative response by the market. This was no doubt fed by a bubbly optimism in the company of late, especially around results time.
In recent quarters Lancaster has made a habit of beating estimates:
Q1 2016: $1.01 beats by $0.10.
Q4 2015: $0.93 beats by $0.08.
Q3 2015: $0.75 beats by $0.01.
Since then it has been on a pretty solid share price lunge. This was turbocharged with the announcement of the $5 special dividend for December 2015 paid on the 31st. Investors largely seemed happy holding on to the company after the payment. The missed results seems to have shaken a few of those investors out.
But let us take a deeper look to see if it is all doom and gloom.
Revenue and Income Continues to Grow
Growth was still forthcoming for Lancaster Colony at H1 time:
| | | |
| --- | --- | --- |
| $m | Income (before Taxes) | Revenue/Sales |
| 2014 (FY) | $153 | $1,041 |
| 2015 (H1) | $85 | $563 |
| 2015 (FY) | $155 | $1,105 |
| 2016 (H1) | $94 | $619 |
This is a great performance and continues the strong revenue performance we have seen of late. The more pronounced growth in income is even more encouraging. Hopefully this will continue to be reflected in FY results.
So far, so good.
Cash Flow
Cash flow still remains extremely strong. Lancaster Colony's chief financial officer, Doug Fell, explained that:
Other notable items impacting the change in our cash position for the first half of fiscal '16 includes cash generated by operations of approximately $74 million reduced by ... property additions of $7 million.
This meant that FCF remained robust at $67 million. This is lower than the same time last year when--despite CapEx being nearly twice that of this year due to a factory expansion--operating cash flow was at $84 million. This left FCF at $70 million last year. Nonetheless, free cash flow generation remains very strong indeed.
Gerlach, added that:
Capital investment for ... our full year outlook looks to be in the range of $15 million to $20 million.
This would be largely in-line with recent CapEx totals in 2014 ($16 million) and 2015 ($18 million).
CROIC: Cash Return on Invested Capital
This strong cash flow position also continues to feed its strong cash generating efficiency as gauged by the CROIC metric (FCF/(Total Debt + Shareholders' Equity).
Lancaster Colony has strong form for outperforming its peers with regards to this efficiency metric. Indeed, over the last five years (at end of year time) they have easily surpassed their peers: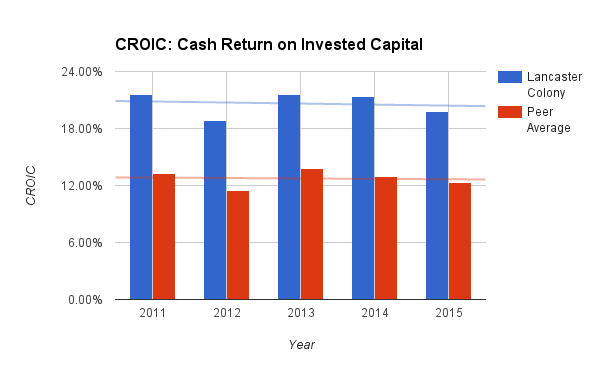 At Q2 2016 time, they had managed to achieve a CROIC of 13.88%. Much higher than the 12.46% achieved this time last year.
Judged from the Q2 results so far, I would expect to see Lancaster Colony again topping this with CROIC probably in-line with its performance in 2013 and 2014 (that is, around the 20% to 21% mark). Although, if headwinds continue to mount it may end up closer to last years' 19%.
Still, this represents a very efficient business with it likely to throw back about $0.20 for every $1 invested in the business.
Strong Operating Profit Margins
Its margins remain strong as well. Again ordinarily Lancaster Colony has produced impressive operating profit margins against its food sector peers: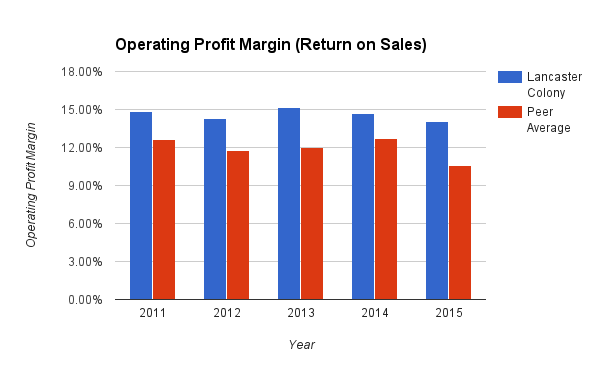 These results show little threat to this. Indeed, the 15.18% margins at Q2 2016 time are nicely ahead of the same point last year (15.05%). Indeed, Gerlach stated that:
As we move into our third quarter ... we anticipate pricing actions taken during the first half of our fiscal year will fully offset higher egg costs with egg prices now trending down from their recent peaks. Other commodity costs are expected to remain modestly favorable in the third quarter, as are freight costs.
All in all, then things look as though they will provide stronger margins at year end barring any deterioration in one way or another.
Conclusion
The business looks to be in rude health still. Despite a slowdown in growth in Q2, it is still churning out impressive growth rates and robust cash flows.
What is more, the reality is that debt remains at $0 and the ordinary, quarterly dividend was hiked a further 8.7% to $0.50. This, for interest, marked the 53rd consecutive year of increases.
Its continued financial strength suggests that there is still plenty of scope for further generous shareholder activity such as additional special dividends, share buybacks, further ordinary dividend hikes or more. In the meantime, the business looks set to continue to shove sales a little higher each quarter.
Admittedly, it still seems to be a little overpriced at present even with is strong cash flows and in-tact growth profile: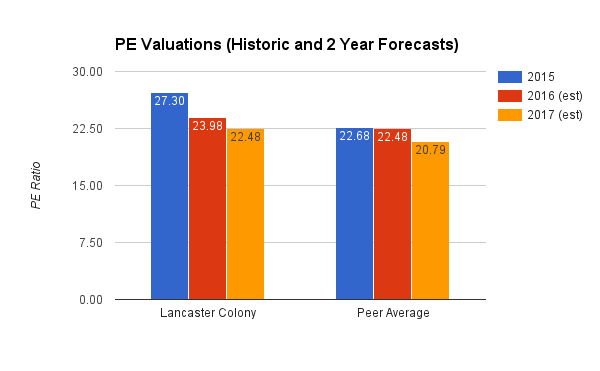 Nonetheless, the share price declines have made the yield look more tantalizing: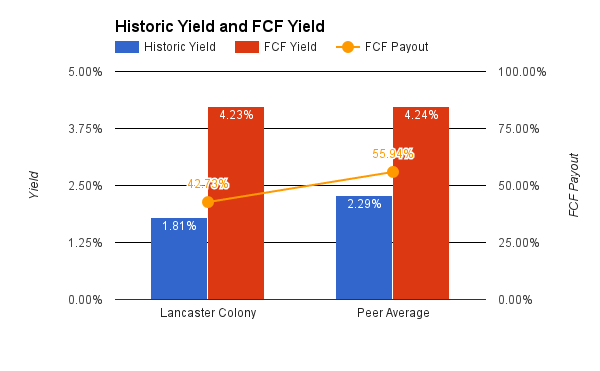 Now it is no longer too far off the peer average and looks stronger going forward with FCF set to continue to grow in line with sales. Nonetheless, I stand by my original price target of around $93 which would see a yield of around 2%.
This is a great company, with an excellent future ahead of it. However, despite the lukewarm reception to the Q2 results, I am still looking to sit on the sidelines for a little longer in the hope that further share price pressure will push it closer to my target. The share price still seems a little too optimistic, but a fairer price may not be far away.
Notes
* The companies compared are: McCormick & Co (NYSE:MKC), Unilever (NYSE:UL), Hormel (NYSE:HRL), Campbell Soup Company (NYSE:CPB), Mondelez (NASDAQ:MDLZ), Tyson Foods (NYSE:TSN), Hershey (NYSE:HSY), Nestle (OTCPK:NSRGY), Kellogg (NYSE:K), J. M. Smucker (NYSE:SJM), ConAgra (NYSE:CAG), Mead Johnson (NYSE:MJN), Danone (OTCQX:DANOY), Tootsie Roll (NYSE:TR) and General Mills (NYSE:GIS). In each comparison, the company being specifically analyzed is not included in the peer average.
Unless otherwise stated, all graphs and the calculations contained within them were created by the author. Image reproduced from Lancaster Colony 2015 Annual Report.
Disclosure: I am/we are long UL.
I wrote this article myself, and it expresses my own opinions. I am not receiving compensation for it (other than from Seeking Alpha). I have no business relationship with any company whose stock is mentioned in this article.