The Wall Street Journal published a front page story on January 29, 2016 highlighting CEOs' use of company shares as collateral for personal loans, speaking almost exclusively about Jerry Moyes, CEO of Swift Transportation (NYSE:SWFT).
Quick overview
The article states that of the 60.3 million shares Mr. Moyes controlled as of October 31 of last year, 37 million were used either as collateral on margin loans or complicated loan-like contracts with banks. This number represents over 61% of his holdings and an extremely large proportion of the shares outstanding of the company.
Due to the fall in the stock over the last year Mr. Moyes has had to pledge more shares as margin calls came. The proportion of his holdings that are pledged as collateral is much larger than the board-set limit of 10%, and the board has granted Mr. Moyes several extensions to comply with rules.
Conflicts of interest
Though I am not saying Mr. Moyes is in the wrong or doing anything unethical, I do believe this practice is atrocious from a governance standpoint and concerning for long term investors. This presents an obvious conflict of interest between the leader of the company and long term holders of the company's stock, which Boards normally would like to minimize. Short term movements to the downside could force Mr. Moyes have to either sell SWFT stock at inopportune times or sell other business interests to pay his debts.
Earlier this week after the company released better-than-expected earnings Mr. Moyes stated that he suggested the board adopt a new $200 million share repurchase program, which sent shares up over 20%. Was this move in the interest of long term holders or was it a move to buoy the stock's current price?
Swift trades at discounts to peers such as JB Hunt Transportation (NASDAQ:JBHT), Landstar System (NASDAQ:LSTR), and Werner Enterprises (NASDAQ:WERN) based on a price to earnings and enterprise value to EBITDA.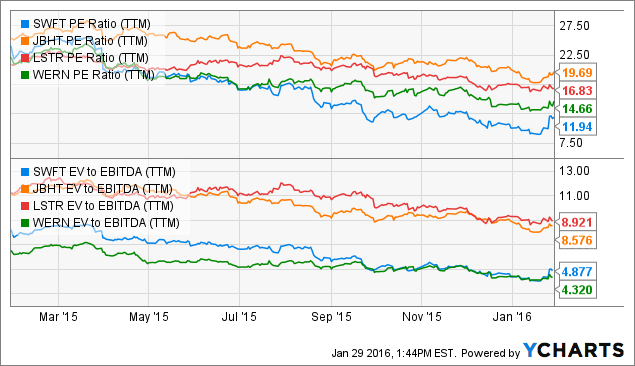 SWFT PE Ratio (TTM) data by YCharts
Also, Mr. Moyes suggested two caveats to his repurchase program in which he would like the company to first reinvest in its fleet and pay down $30-50 million in debt before more shares are repurchased.
It appears that the buyback could be a prudent use of cash, but Mr. Moyes personal financial situation will continue to make me wonder.
Conclusion
Though there may not be any problems with the operations or long term prospects of Swift, the management and board should do a better job eliminating conflicts of interest. Businesses should be run for long term maximization of profits and having the company's leader have to worry about short term stock price fluctuations could cause Swift to potentially lose market share and competitiveness in the long term.
As an investor, I plan to stay away from the shares of this company until these problems are addressed and fixed in a reasonable manner.
Disclosure: I/we have no positions in any stocks mentioned, and no plans to initiate any positions within the next 72 hours.
I wrote this article myself, and it expresses my own opinions. I am not receiving compensation for it (other than from Seeking Alpha). I have no business relationship with any company whose stock is mentioned in this article.