SoundBite Communications (NASDAQ:SDBT) reported earnings tonight of $0.06 per share or $1 million on record revenue of $12. million vs the estimate of $0.01 on revenue of $11.3 million. SoundBite's growth is being fueled by the company's mobile communication and marketing services. The company's clients are a who's who of B2C companies.
The application for this service ranges from Best Buy letting you know that your reward points are expiring to Bank of America kindly encouraging you to pay your credit card bill. The global market for this type of service is massive, as it evolves from strictly a blanket ad platform to a customized, targeted, and valuable consumer-by-consumer communication channel.
The most important factor to SDBT's shareholders is the sequential growth of the mobile marketing business. It is approaching half the company's revenue and growing at a rate of 66% per year. As this business continues to develop and consumers become more accepting to mobile communication from business the growth potential is obviously very large.
Companies that utilize mobile marketing to communicate with their customers are advancing past just advertisements but to customer specific information that is pertinent to individual customers. Since SDBT has the blue chip companies as existing clients, they are excellently positioned to capture new market share in this fast growing market segment.
The technology that powers these communication experiences is in high demand by many large mobile content providers. As the platform war between Android and Apple continues on a global scale, the mobile channel between B2C companies and their customers will continue to become more and more valuable. The existing technology and client base make SoundBite a perfect expansion of platform for many mobile content companies and providers.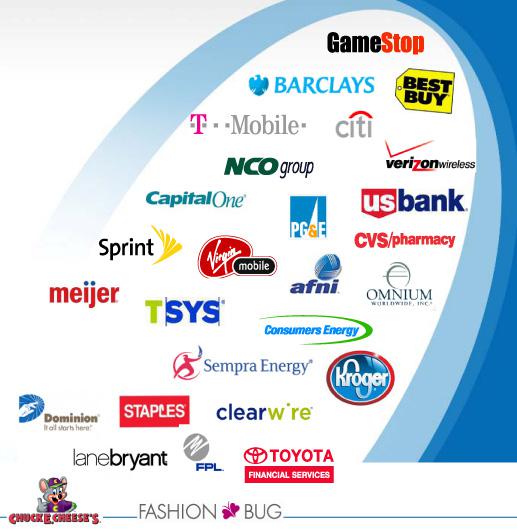 SoundBite Communication client base (image from SoundBite Communication)
This is an industry in its infancy. With any new industry, the lines of legality are not black and white, and the company has faced legal challenges from two separate class action suits. These have the possibility to be material, but they are covered under the company's insurance. As the mobile advertising market matures and these (and similar cases) are litigated the lines of legality will become clearer. These ongoing cases will be a distraction, but in the long run, help to clarify the future rules of the industry.
SoundBite also provides hosted call center automation software through a cloud-based service. This business has been stagnate over the last few quarters but now is showing signs of returning to growth. This service allows call center operators reduce head count while increasing the productivity of employee operators. This business segment has helped to contribute to the huge cash position of the company, $28.7 million or $1.75 per share.
With the company trading near cash, growing sequentially throughout 2011, growing year over year in 2012, and expecting sequential growth quarter over quarter throughout 2012, this stock has a tremendous upside. Management has proven to consistently beat guidance in the past and the outlook provided is typically conservative at Q1 2012 of $10.2 million - $11 million in revenue and a slight loss of $0.01 to $0.05.
This quarter was the breakout for the company. I expect the stock will benefit from the rise in earning and a significant multiple expansion as the true growth of the mobile marketing business is uncovered.
Disclosure: I am long SDBT.