I want to start this article with two statements:
1. I am a huge fan of manufacturing companies
2. Emotions don't matter in the investment business
That said, I want to use this article to share my views on Cummins (NYSE:CMI) and tell you what I like about the company. I noticed that there are a lot of articles published on Seeking Alpha telling investors to buy CMI because it's a bargain at these prices and to have some 'patience'. I partially agree with this statement but want to give you my own opinion and advise when it comes to trading this heavy machinery company.
About Cummins
Cummins was founded in 1919 by Clessie Cummins. In the beginning they focused on the Diesel engine invented by Rudolf Diesel about 20 years earlier.
In 1933 Cummins introduced the Model-H which was used in small railroad switches. Cummins' breakthrough began post WWII with the introduction of the N-Series which made Cummins the market leader for heavy truck engines by covering more than half of the market share.
Nowadays Cummins is serving over 190 countries around the world.

As seen in the picture above, the main stream of revenue comes from the engine business (54.7%) followed by distribution (33.6%).
North & Central America and Europe, the CIS countries and China are responsible for over 76% of Cummins' revenues.
Challenging Market Conditions
Cummins is as a heavy machinery company highly correlated to the sales of heavy trucks - for obvious reasons.
The sales of heavy trucks are correlated to the ISM Manufacturing Index, which is one of the most important leading indicators for the US economy and the stock market.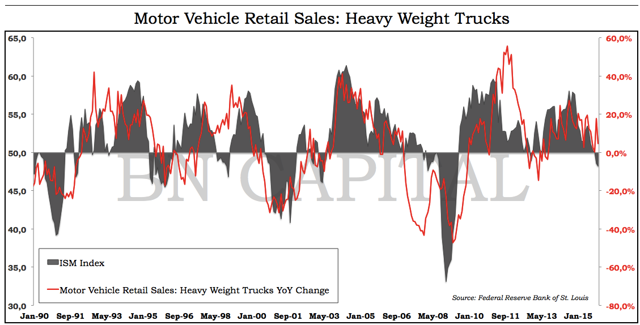 As seen in the graph, the ISM index is below 50 for the second time in a row putting more downward pressure on heavy truck sales.
Furthermore there is a huge amount of credit used to finance motor vehicles. The graph below shows consumer motor vehicles and is therefore not extremely reliable since almost 100% of Cummins' sales are business to business sales. Nonetheless it shows the reason behind strong car sales.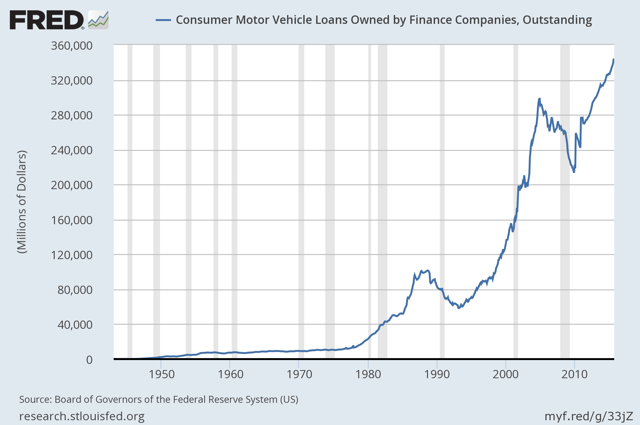 Since the ISM Index is a good leading indicator for heavy duty trucks, it also is a good leading indicator for Cummins' share price. Using the ISM Index is a better indicator to analyze Cummins than heavy duty sales because heavy duty truck sales are a coincident indicator. In other words this data denies or backs the ISM forecast. In the graph below the correlation between Cummins' share price performance and the ISM Index is clearly visible.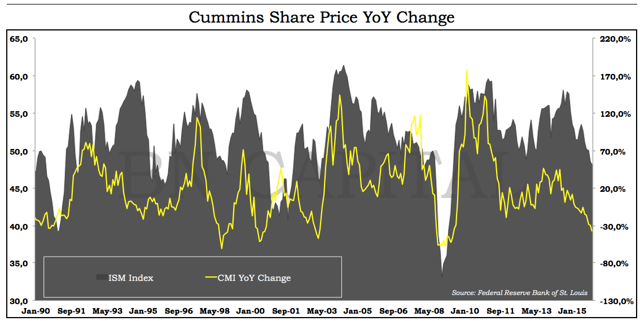 Cummins' share price delivers an amazing performance in times of growth (ISM > 50) and terrible returns in times of growth slowing and contraction.
According to the leading indicators Cummins is the place to be in times of growth and a stock to avoid in bad times.
In a recent article I discussed the current state of economy and gave an outlook. Please read it if you are interested in trading industrials like Cummins (or stocks in general).
Earnings Growth
As mentioned before Cummins is an amazing performer in good economic times. Net income soared almost 800% during the last 5 years. Net income had its best performance between 2010 and the all-time high in 2012 where it soared almost 1000%. Current net income is about 15% under the all-time high.
Growth expectations are not spectacular. That is not a surprise since the economy is slowing and manufacturing has entered a recession.

Earnings expectations are negative for 2016 and positive for 2017 and 2018 resulting in 5.8% growth expectations on average for the coming five years.
However, these forecasts will be revised if the economy keeps contracting. Just for this year five analysts cut expectations. These figures are not useful to back a strong bull case for the stock but show us that Cummins is stronger than competitors. Expectations for stocks like Manitowoc (NYSE:MTW), Terex (NYSE:TEX) and Joy Global (NYSE:JOY) are way lower.
Profitability
The evolution of Cummins' margins during the last decades is shown below.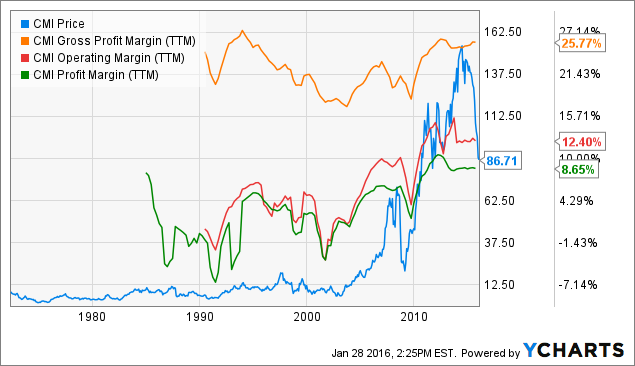 CMI data by YCharts
And the comparison with Cummins' peers is seen below. All companies below are part of the diversified machinery industry.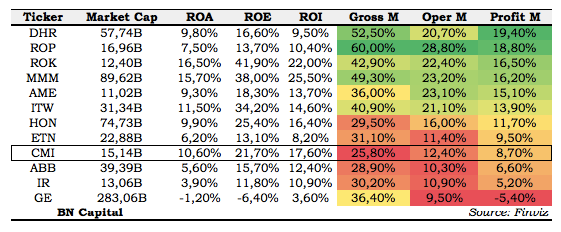 Cummins is no outperformer when it comes to profitability. Although in all fairness it is important to note that many of these companies produce different types of machinery and are somewhat difficult to compare.
Financial Stability
This subject is key when it comes to picking stocks to buy after a correction or economic downturn. Many companies get beaten up in harsh economic times and rally when hard times are over. Other companies go under when the economic pressure grows.
The financial stability of companies determines if they have a change to survive when demand shrinks and debt payments still need to be serviced.
Cummins' assets and liabilities overview is seen below.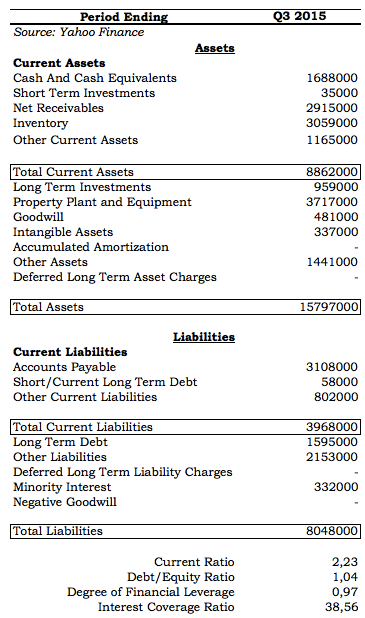 The financial ratios are impressive. Cummins does not have any difficulties on the short term nor does it have problems coping with long term debt. The current ratio is above 2.2 while the interest coverage ratio is at 38. Both low interest rates and a low debt level give Cummins room to invest in growth and increase dividends over time as well as protecting the company against difficult economic times.
Even more impressive is the valuation of Cummins' bonds. Despite growth slowing which started in 2014, bonds maintained a healthy price. Many companies, especially the ones in the energy sector, are way down. Some bonds even trade at above 20% yield to maturity levels. CMI is not an energy company but the message is clear. Investors trust the company despite beginning of an economic downturn.
The reasons are the healthy balance sheet and diversified portfolio.

Dividends
One of the reasons investors love this stock is the high dividend yield. CMI is currently yielding at 4.6% making it an attractive investment for long term investors. The graph below shows that CMI increased dividends gradually during the last decade.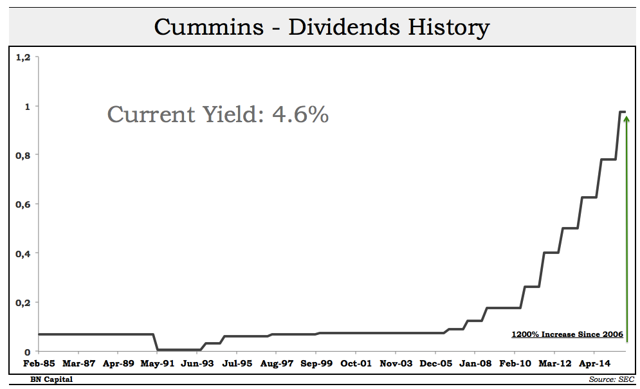 Interesting to see is that CMI did not cut dividend spending during the last financial crisis but maintained a steady level. Long term investors who bought during the crisis made a home run the following years.
I do not expect CMI to cut dividends anytime soon but rather a few quarters without higher dividends if the economy keeps contracting.
Summary
I like Cummins as a company because they have a proven track record of innovation, growth and devotion towards investors.
However, if I combine my analysis of Cummins and my article about an economic downturn, I strongly advice traders not to buy Cummins but wait for better prices. CMI stock had a terrible performance in 2015 and is down about 3% this year. Wait until leading indicators show improvement and coincident and lagging indicators confirm it. This could be in 2016 but also during 2017 or 2018.
In other words: my advice is patience too. But patience to me means waiting till you buy the stock rather than buying now and waiting till the stock is up.
I hope my opinion and advice is helpful to you.
Disclosure: I/we have no positions in any stocks mentioned, and no plans to initiate any positions within the next 72 hours.
I wrote this article myself, and it expresses my own opinions. I am not receiving compensation for it (other than from Seeking Alpha). I have no business relationship with any company whose stock is mentioned in this article.