This article was written by Tyler Shaw, Bernardo Teixeira, Madigan Chrystie, Calvin Tse, Matt Fahey from the NU Student Value Fund
For the past couple of months, our group of students from Northeastern's Student Value fund analyzed the Blackstone Group (NYSE:BX) through a deeply fundamental approach. In this article, we would like to share what we think are Blackstone's most important catalysts, some of the company's key idiosyncratic risks, and an estimation of the firm's intrinsic price.
Catalysts Highlights
Strong Liquidity Position
Blackstone has amassed billions of dollars in "dry powder," or money that it has committed to investment opportunities in the future. Additionally, the company has focused on raising tens of billions in new capital that it charges management fees on. This added income serves as a buffer against the inherent volatile nature of its performance fees, which continue to be the central driver of the business. Even if Blackstone's asset performance falls short, it makes enough off of those management fees to offset the vast majority of the losses. This capital is also locked up for at least 10 years, ensuring that this buffer is maintained over the long term.
2. Aggressive and Innovative Buying Tactics
BX employs an innovative investment tactic wherein it shifts focus to developed markets that are economically beaten down, finding investment opportunities at cheap prices. It operates based on a long-term (10 years or greater) "buy it, fix it, sell it" basis, which has historically worked well for them. Additionally, it has increased exposure in emerging markets, finding many opportunities in economies that other financial institutions tend to veer away from. BX believes that Americans will shift from buying homes to renting homes, and has bought up over $10 billion in homes in an effort to reap profits based off that bet. Additionally, Blackstone has expanded its operations into lending operations to midsize landlords as part of a larger push in private equity firms to grow its lending businesses.
3. Long-Term Focus on Growth and Profitability
One of the biggest opportunities we see for Blackstone is the disparity between management's long-term focus and the short-term outlook of today's investors. With increasing market volatility, investors have become much more hesitant to invest in the company due to a variety of major macroeconomic factors. However, management has a strict long-only strategy that has historically outperformed the market by a significant margin. Many investor concerns with the company have been overreactions to market events, and once the market corrects itself, we believe Blackstone's value will increase significantly.
Noteworthy Risks
Economic Slowdown in China
Blackstone's $5B Asia Property Fund has a 40% exposure in Chinese assets, primarily in the shopping center space. As Chinese consumer spending and economic growth slows, the market value of those shopping centers will decrease, which could pose a sizable threat to its investments there. Additionally, if a rate hike occurs when China's economy is struggling, it will be very difficult for Blackstone to realize significant profits from its real estate assets.
2. Bearish Outlook Towards Real Estate
Currently, the US is anticipating a decline in the real estate market, as many believe, we are getting close to another real estate bubble. If this is realized, BX could see large losses in its real estate segment, from which it derives a large percent of its overall profit from. Additionally, BX management believes that in the event of an interest rate hike by the Fed, they could be adversely impacted should the economy be slowing down by the time of the interest rate increase. However, management believes that should the US economy be doing well at the time of the increase, the economic growth will outweigh any adverse effects from the rate hike and they will not be negatively impacted.
3. Carried Interest Legislation
Carried interest, Blackstone's largest source of revenue, has been widely contested in recent years due to the fact that it is taxed as a capital gain rather than ordinary income. Increasing pressures from lobbyists and politicians will threaten the profitability of all private equity firms. Experts suggest that a bill will be passed to increase this parity, but the extent to which carried interest will be taxed remains to be seen.
Catalyst #1: Strong Liquidity Position
Despite its large amount of illiquid assets, mostly in the form of real estate holdings, Blackstone has managed to maintain a strong liquidity position over the past few years of operation. Blackstone manages to maintain its liquidity position through its stockpiled funds in the form of "dry powder," billions of dollars of raised capital, and the security of its future cash inflows.
Amassed "Dry Powder"
As of BX's Q3 2015 earnings report, the company has amassed around $85 billion in "dry powder." Dry powder refers to funds that are kept on hand to be committed to future obligations and investment opportunities. This provides a safety net for Blackstone should it experience a drastic underperformance or need short-term cash quickly. This provides BX with an advantage over its competitors, allowing it to maintain aggressive buying tactics should it come across an investment opportunity that is time sensitive.
Recent Capital Fundraising
Over the past year, BX has raised billions of dollars of capital, without its real estate or private equity sectors being in the market for fundraising. What this essentially means is that BX has managed to raise billions of dollars in all five of its business segments without actively trying to raise capital for a new fund in the real estate or private equity sector, which are its largest segments in both AUM and revenue.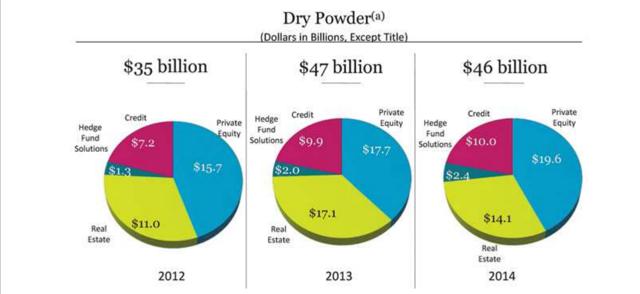 Click to enlarge
Source: Market Realist
Secure Revenues via Management Fees
All of the capital that BX raises is subject to hefty management fees that BX can bank on over the long term as this capital is locked up for at least 10 years. This added income serves as a buffer against the inherent volatile nature of its performance fees, which continue to be the central driver of the business. Even if BX's asset performance underperforms, it makes enough off of management fees to offset its losses.
Catalyst #2: Aggressive and Innovative Buying Tactics
Blackstone's investment philosophy is one that not only positions it well throughout many different markets, but also protects it against any economic downturns. Blackstone has three key types of real estate funds: BREP, BREDS, and BPP funds. BREP funds, or Blackstone Real Estate Partners funds are primarily focused on global opportunistic investments. These funds zero in on assets that it can purchase at a significant discount, fix them up, and sell them for a profit. The typical holding time for these assets is 3-5 years. BREDS funds refer to Blackstone Real Estate Debt Strategies funds, which target high-yield debt opportunities primarily in the U.S. and Europe. BPP funds refer to Blackstone Property Partners funds, which make up Blackstone's Core+ investments. These buy up global stabilized retail, industrial, and office assets, aiming to hold these assets in the long term. Together, these three types of funds allow Blackstone to have many different dimensions and outlooks in regards to the real estate market and ensure that it is getting the desired profit from each different type of fund. Additionally, the fact that some funds are intended for long-term holding periods and some are intended for short-term holding periods provides somewhat of a safety net for the firm, as they generally will hold rather "safe" assets as part of their Core+ investments.
In addition to adopting many different investment philosophies depending on the type of fund, Blackstone has also amassed a large amount of dry powder, which it keeps on hand to use when it sees fit. This allows Blackstone to remain a stiff competitor should an investment opportunity requiring quick action become available.
In terms of Private Equity, Blackstone has done a good job of diversifying its PE investments, with 18% being in European markets, 7% in Asia, and 74% in North America. Although BX does not have as much exposure to emerging and foreign markets as it does in its real estate sector, it maintains a philosophy that invests in solid, revenue-generating businesses.
Investing in Depressed Markets
Blackstone has shown a consistent ability to reap the benefits of a depressed real estate economy. Shortly after the burst of the housing bubble around 2006/2007, BX bought up around 50,000 homes throughout the United States with the intent to renovate and rent them, totaling to around a $10 billion expenditure and naming them the largest private sector landlord in the U.S. Blackstone was able to purchase thousands of homes in public foreclosure auctions and turn them into rental homes, the market for which has consistently gone up in recent years. It did so successfully as the occupancy rate for these homes was 94% in 2013. This was done based off an assumption that the market for renters would go up as less people would want to become home owners. While BX continues to see profit from renting these homes currently, it will likely sell off these homes when it deems that the housing market has recovered enough to realize the profits it was intending to see from its investments.
Increased Lending to Small/Midsize Landlords
In addition to buying up its own assets, BX also provides a lending service to small-to-mid-sized landlords, a service that was started only a few years ago. BX essentially lends money to mid-sized investors who purchase rental homes, the loans for which are packaged into a marketable security.
Catalyst #3: Long-Term Focus on Growth and Profitability
The conflicting focus between Blackstone's senior management and individual investors is an integral part of why Blackstone's stock trades with more volatility than its competitors (such as Apollo (NASDAQ:AINV) or KKR (NYSE:KKR)) and the rest of the market. While other private equity firms do have a long-term focus, Blackstone's more aggressive techniques do present significantly greater risks than its relatively conservative competitors. As mentioned previously, the company is searching for assets whose values have been directly affected by market volatility with the expectation that the market will correct itself in the long-term in order to realize profits. While management does believe in the intrinsic value of its real estate and equity purchases, the increased time horizon for which Blackstone hopes to realize a profit does not resonate well with today's investors who are looking for quick turnarounds on their investments. CEO Schwarzman explains, "As evidenced by the recent declines in stocks including Blackstone's, it is clear that the public markets really don't take the long view. At Blackstone that's all we do and I believe that's why our firms have outperformed the public markets since inception typically at about double the S&P return in our high performance products."
However, Blackstone's investments have caused the public markets to assume that Blackstone is riskier than it probably is. Its exposure to volatile markets such as oil and China has caused concerns among some investors that Blackstone is making too risky investments. Contrarily, Blackstone has actually offloaded much of its exposure to oil while holding assets that are primarily oil-price agnostic. In terms of China, Blackstone's primary investments (40% of its Asia Property Fund) have been in the shopping mall sector, which still reports strong consumer spending despite slowing growth. While a majority of its shareholders desire these more volatile assets, as of now, the general bearishness on oil, real estate caused Blackstone's shares to decrease from a high of $44 in May to $31 today.
Blackstone posted its first loss in Q3 2015 along with most other private equity firms. Violent swings in public and capital markets tends to have these kinds of effects on these businesses, though they do open up new opportunities for growth. While Blackstone was significantly impacted by the volatility and will likely post much lower numbers than in 2014, the company is looking to take advantage of these swings.
In terms of profitability, Blackstone has been helped significantly by its ability to tax carried interest as a capital gain as opposed to traditional net income, which has allowed it to realize extraordinarily higher profits over the last several years. While potential legislation to resolve this issue poses a serious threat to BX's profitability, this appears to be at least several years down the line, allowing BX to prepare for such a change.
For a company that has generated such consistently high returns relative to its competitors, we would expect that the company would be trading at a premium. However, BX has historically traded at a discount compared to Apollo, KKR, and The Carlyle Group (NASDAQ:CG) by a significant margin. In 2014, BX traded at a P/E of 18.31, while CG traded at 206.79, Apollo at 25.54, and KKR at 18.39. This bodes well for the future of investors, as Blackstone is relatively cheap considering its current price and earnings.
Risk #1: Economic Slowdown in China
As the world's second-largest economy, any downturn in China's economy is going to have ripple effects on other economies. Throughout the last year, China's economic growth has slowed, coming in at 6.9% for Q3 2015, falling from 7% in Q1 and Q2. In addition, the Shanghai Composite Index halved in about 2 months from June to August 2015, having huge effects on the U.S. and other markets. Although this is something to watch, many believe that this slowing of growth was not unforeseen, as the growth rate China had previously had was not sustainable forever and was bound to fall at some point. We believe that this is a market overreaction to the economic slowing in China and will not have the disastrous effects on Blackstone or the economy that many anticipated.
Currently, investments in China make up about 40% of BX's Asia Property Fund, which has about $5 billion AUM. The majority of this stake is composed of shopping centers, which many are concerned will decrease in value as a result of the economic slowdown in China. Although the economy is only growing at about 6.9%, Blackstone's Chinese properties are still doing well and reporting around a 15-16% growth as consumer spending is still healthy, insists BX CEO Schwarzman.
Although the health of the Chinese economy is extremely important for the overall health of the world economy, we believe any pricing of this into BX's stock is likely a market overreaction.
Risk #2: Bearish Outlook Towards Real Estate Market
Although the housing market has made a significant comeback since the financial crisis hit in 2008, many are anticipating a decline in the housing market in months and years to come. The key driver behind this speculation is the likelihood that the Fed will raise interest rates in the coming months, making borrowing more expensive, and therefore, homeowner's loans more expensive. Seeing as mortgage rates are highly correlated with interest rates, this would make it more difficult for new homeowners to purchase homes and consequently, harder for homeowners to sell at fair-value price. Although this could have negative impacts on Blackstone's current holdings and make it more difficult to sell off assets, this also presents a window of opportunity for Blackstone. We believe that similar to the slowing economy in China, any pricing of this into BX's stock is a market overreaction as even though interest rates will rise, they will still be very low, allowing for many to still purchase homes.
Risk #3: Carried Interest Legislation
Carried interest is the primary source of revenue for private equity companies and is taxed as a capital gain rather than traditional income. It is usually structured as a percentage of the realized income from the fund (around 20%). Because this carried interest is taxed as a capital gain, it sees a significantly lower tax rate of 20% compared to that of ordinary income (35%). In recent years, legislation in Washington has threatened to even the tax rates between these two forms of income, which could pose significant threats to Blackstone's future profitability. The rate was already raised recently from 15% in addition to the 3.8% surcharge applied to wealthy taxpayers as part of Obama's healthcare bill.
When the government inevitably begins searching for new sources of revenue, policymakers expect that carried interest will be high on the list of things to target. Congress estimates that changes to the current taxation of carried interest could yield more than $17 billion over the course of 10 years. While some argue that there is no legitimate reason why carried interest and ordinary income should be taxed differently, private equity firms have vehemently defended the difference due to the fact that managers have money at risk and consistently reorganize the investments of companies.
A significant point of contention if legislation makes its way through Congress is the percentage of carried interest that will be taxed as a capital gain. Some lobbyists are calling for a 100% conversion of carried interest into ordinary income and others are proposing anywhere between 50-75% of total gains.
Private equity firms continue to lobby for the continuation of the current tax rate, as it is saving them billions of dollars every year. They are pursuing every possible delay to the bill in order to maximize profits. Another point of conflict will be the taxation of profits that come from partners selling their shares in their own firms, known as enterprise value. EV is also taxed as a capital gain, which will also likely see modifications in upcoming years. This is particularly important for Blackstone, considering much of its staff is above 65 years old; when they retire, they will benefit much more from the lower capital gains tax rate than they would if it was paired with ordinary income.
Most experts predict that the passing of future legislation to modify the tax rate is inevitable, and when it is passed, Blackstone will be hurt significantly in addition to its major competitors. It will be extremely important to consistently evaluate the status of these potential bills moving forward into 2016.
Excess Returns Valuation Model
As stated by value investor/professor Aswath Damodaran, there are four primary reasons why discounted cash flows or other traditional valuation metrics cannot be used for financial services companies:
Financial services firms are regulated heavily by governmental agencies in the way they retain and manage capital
Accounting rules differ for financial firms' assets than that of traditional companies
Debt can be likened more to a raw material than an official source of capital
Cash flows cannot be calculated without estimating reinvestment, and reinvestment cannot be estimated without knowing the future cash flows
For firms like Blackstone, debt is used more like a raw material than as a source of capital. This is because financial services firms use the debt that they raise and mold it into investments that eventually earn them a higher return. As such, capital can only be defined as the equity capital in a firm.
Finally, cash flows are nearly impossible to estimate because financial services firms oftentimes invest in intangible assets as opposed to traditional capital expenditures. Consequently, we cannot predict a company's cash flows without knowing its reinvestment for future growth, and we cannot estimate the amount reinvested without knowing the cash flows.
We used an excess returns model to value Blackstone, which calculates the value of a firm as the sum of the equity capital currently invested and the present value of the future expected excess return to equity investors. Firms that earn the fair-market rate of return on its investments will eventually yield a future equity value equal to the current amount of equity currently invested. Conversely, for companies that earn below the fair-market return, the equity value will diminish over time and thus lead to a depressed stock price.
We used the current book value of equity as the basis for the equity capital currently invested at Blackstone, which is $14.891 billion. To calculate the excess equity returns, we used Blackstone's historical returns on equity and its current cost of equity, which we calculated to equal 8.95%.
In Q3 2015, Blackstone's earnings were slammed by increased market volatility, and the company reported an Economic Net Income of -$416 million, its first quarterly loss since 2011. Based on the struggles in this quarter, we assumed that the ROE for 2015 will be significantly less than years past, which we estimated would be around 8%. We predict Blackstone's revenues to be about 25% less than in 2014.
In terms of the dividend payout ratio, Blackstone announced in its Q3 2015 earnings call that it was committed to paying out 85% of its Distributable Earnings to shareholders, which we held constant throughout the next five years of the company's operations. However, we believe that the unprecedented market volatility seen over the summer of 2015 will not repeat itself in the immediate future as investors are starting to gain a better understanding of the fallout of some of these critical events. For example, even though China is reporting growth of about 6.9%, its lowest ever since the global financial crisis in 2009, investors are more generally aware of what will happen in the future than they might have been 6 months ago when the slowdown was first reported.
The beginning book value of equity each year is grown by the addition to retained earnings from the previous year, while the net income for a future year is calculated by multiplying the beginning BV of equity by the ROE for that year. We believe that 2013 and 2014 are more representative of Blackstone's future operations due to the effects of the financial crisis that were still bleeding into operations from 2010-2012, which is why we estimated the future ROE to hover around 12-13%. This is about equal to Blackstone's recent historical average.
In terms of the stable growth rate, we used analyst growth estimates over the next five years to get a stable growth rate of about 10% in the immediate future. This figure represents the industry-wide growth estimate, and because Blackstone has historically performed much better than its competitors, we feel very confident in this figure.
Adding up the book value of equity currently invested, the excess equity returns over the next five years, and the terminal value of those excess returns, the model yielded an equity value of $22.271 billion and a target value per share of $39.88. This represents a 52% potential upside from Blackstone's current stock price of about $26.25

Click to enlarge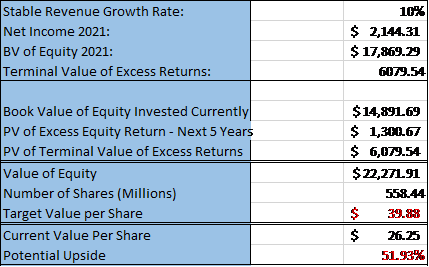 Source: Produced by the author using public available information
Disclosure: I/we have no positions in any stocks mentioned, and no plans to initiate any positions within the next 72 hours.
I wrote this article myself, and it expresses my own opinions. I am not receiving compensation for it (other than from Seeking Alpha). I have no business relationship with any company whose stock is mentioned in this article.