Starbucks (NASDAQ:SBUX) recently reported earnings on the 21st, which were great, just not really great... and thus the stock initially slipped only to rebound by the end of the next day, and has rebounded further since that time. However, the continued growth story and leadership of its CEO, Howard Schultz, (as seen the day after earnings on CNBC) reminded me of why my family now has three generations invested in the stock, including my sons' long-term portfolio. But it also made me realize what would cause me to reassess my long-term bullish stance: when Howard Schultz leaves, who will replace him? Will it be similar to the 2000 to 2009's over-expansion that saw the exuberant rise and drastic decline that required his return, or will the company put a similar visionary in his place?
Soon after these thoughts, I found myself reading Karen Webster's article about Apple (NASDAQ:AAPL) vs American Express (NYSE:AXP) which went live roughly a day before AAPL announced its own earnings. While I struggled a bit to correlate the relationship between the two stocks, several of the points in that article about AAPL rang true - specifically the times when Steve Jobs has been missing from the company, and how its performance has lagged without him. While I own some AAPL and am long the stock over the long haul, I have to say her comments matched the theme we saw in its recent ER - while flagship products are still selling very well, innovation seems to be a bit stagnant these days. I am not as pessimistic as Paulo Santos recent piece, but I am also not seeing AAPL as a growth stock any longer - it appears to have gone more the way of Microsoft with slower growth, steady sales, and a dividend that will increase with time.
But rather than consider AAPL and AMEX as the comparison, Ms. Webster's article made me think of SBUX and AAPL, which have gone through similar turbulent paths, mainly due to the departures and returns of their respective visionary CEOs. Both of their backgrounds are well known - they laid the foundation of their respective companies, and eventually left…one under calm circumstances, one under not such a peaceful situation. Both came back when the boat was rocking violently because they understood that each company had left its common values and vision.
Schultz's performance has been nothing short of spectacular. Under his lead, SBUX has rewarded shareholders immensely over these past decades, far exceeding the market for those who jumped in early, or jumped in April of 2009 when the stock fell to what today would be a split adjusted $4/share. That year, when Schultz returned from his nine year hiatus, was for SBUX, like an alcoholic hitting rock bottom. Hyper growth initiatives had driven store expansion to the point of lax due diligence on new store locations, and further resulted in lost barista and store management standards; an abundance of close-proximity stores also cannibalized fellow stores and led to further decline. The company had become more about expansion and profit and forgotten its roots. The chart below, courtesy Yahoo Finance, details the immediate rise after his departure and the fall when the realities of this flawed expansion plan hit home.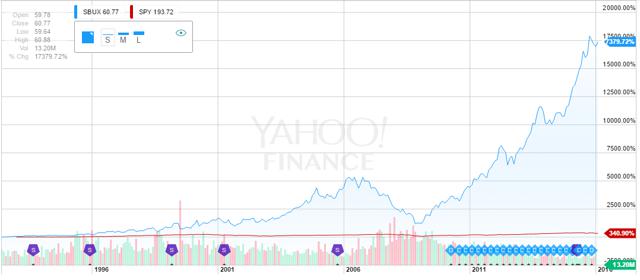 Schultz returned and turned SBUX around. The current performance that has brought the stock back to the post-split price of over $60, and the recent ER shows the company is continuing to grow and expand in a strong, yet measured manner. He is one of the few CEOs who can handle the media with ease, understands how to push out his message to the public, investors, customers, and employees, and he has a vision of an innovative company that sells far more than coffee. But he also knows it comes back to the coffee... You can't serve an inferior product and expect loyal customers.
Betting against him is not necessarily the best choice, but as my title says, all good things must come to an end. He is not Mr. Burns from the Simpsons, and thus can't stay in the pilot's seat forever, no matter how much great medical care he can afford. Thus, eventually the controls have to be passed along to a new leader. CNN Money published a piece after this last ER pontificating if that next leader will be the COO, as SBUX wants to re-brand as Tech Company. Kevin Johnson's background is very impressive with a lot of background in technology and likely a solid understanding of how to implement efficient and "cool" processes into the business.
But I have to ask if this is the right choice? Remember that while SBUX is not all about the beans, it is still about the beans. My concern is that SBUX will consider moving to an outsider who may lack an understanding of the SBUX vision and obvious mission - a great beverage and a great experience. Would a tech-focused CEO lose track of what matters by delving too much into improvement in technology - i.e., focus on the experience and forget about the beverage?
And while pulling from inside the company would likely meet this intent of understanding this vision and focus - as the previous COO, Troy Alstead, was expected to take the reins - one only needs to return to AAPL's current predicament and wonder if Tim Cook was the right choice. He clearly knows operations, but few people have the exceptional gift Steve Jobs demonstrated. Schultz is a similar case - few have what he has to be the CEO and lead SBUX into the future.
Thus, this is where I raise my biggest concern for SBUX in the long-term. Leadership matters in any company in which you invest, especially one that is stellar and must continue to be the industry leader. SBUX must look at the over-encompassing vision and goals of the company for the future…and never forget that it all comes back to the beans that go into the cup combined with the experience. Investors must keep an eye open for how and when SBUX replaces Schultz. And while a new CEO will likely have an off quarter or two, room for error will be extremely small with a high-growth company like SBUX.
I remain long SBUX, and buy weekly for my sons as the third generation of shareholders. I currently have no issues with the company's performance, but am eagerly watching the company closely as it draws closer to choosing a new King to reign over the Siren.
Disclosure: I am/we are long SBUX, AAPL.
I wrote this article myself, and it expresses my own opinions. I am not receiving compensation for it (other than from Seeking Alpha). I have no business relationship with any company whose stock is mentioned in this article.