Cheniere Energy, Inc. (NYSEMKT:LNG) has received a debt upgrade from B+ to BB-, shortly after announcing plans to refinance $2.52 billion in debt. This debt upgrade came amongst several months of delays in commissioning, reportedly due to faulty sensors in the cold box. With all compressors offline and minimal feed gas intake, the expected delivery is now in March. Cheniere Energy seems to be having the same problem as Australia's APLNG project, and both issues are resolvable - they just need time.
So why has Cheniere Energy received a debt upgrade despite the issues they are facing? There are two main reasons.
With Souki no longer at the helm, and as discussed in my article here, Cheniere is expected to slow the ascent of its debt and have more manageable financing allowing cash flow to be focused on paying down debt and rewarding shareholders
Construction has completed on train 1, and although there have been delays in commissioning, the significant risks associated with a delivery of the first train have been completed. Successful construction of each train decreases the follow-on risk to the other trains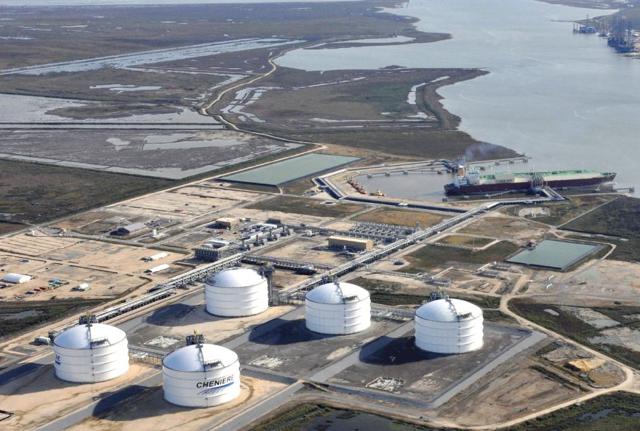 Click to enlarge
Reduced Capital Expenditure
Charif Souki was a self-admitted builder and wanted to expand Cheniere's capacity over the next decade. He ran Cheniere Energy like a software startup, albeit with the high capital costs of LNG. This environment resulted in lots of interest in the company, an excessive remuneration scheme, and a poor debt rating for the company despite guaranteed cash flows by some of the world's largest companies. Icahn has been open about his plans to slash the capital expenditure profile of the enterprise, and this will result in confidence from analysts for the outlook on Cheniere Energy.
Construction Completed For Train 1
Cheniere Energy has been commissioning for train 1, with some tail ends left over from construction. However, the significant risks have been mitigated from a project management perspective. With Bechtel's experience in constructing LNG plants, the biggest risks for the engineers likely came from procurement. We have seen all the compressors and turbines running to date, which would have the longest lead times and the highest concerns, and the issue found was faulty instrumentation as Cheniere lead into commissioning. While this slows down the commissioning process considerably, it is rectifiable, and Cheniere Energy looks towards its first shipment in March. Several months of delay do not influentially change the net present value of shipments over the next two decades.
An Upgrade From B+ to BB- Is The Start Of Several More Upgrades
An S&P analyst commented on the rating, pointing towards the reduction of risks for the company.
"CEI has improved its business risk profile through good performance in managing key risks for successful construction and operation of its primary LNG liquefaction project, Sabine Pass Liquefaction LLC [SPLIQ], and by the successful debt and partial equity raise to build its other LNG liquefaction project, Cheniere Corpus Christi LNG LLC [CCLIQ]; reducing these risks is imperative, in our opinion, because of the inherent volatility in receiving residual cash flows,"
If S&P is looking for construction and operation risks besides financial risks, then we can expect Cheniere's outlook to rise predictably over time:
We will see Cheniere deliver an LNG cargo in the next two months from a wholly constructed train, and then we will see train 1 reach full capacity. Both of these events together are likely to trigger another debt upgrade
The onsite workforce will have delivered a completed train, and will be able to apply that experience and the lessons learned to subsequent trains
Commissioning delays for future trains will be reduced, increasing the certainty of cash flows
As the oil supply and demand equation moves into balance, we can expect to see oil prices in the $40's by year end, increasing the value of spot LNG contracts that Cheniere Energy's marketing arm depends upon for profiting from the global price arbitrage
If the oil prices bottoms, and begins to rise, and we see that none of Cheniere's SPA's are begin reneged upon, we gain more certainty in cash flows
With debt upgrades, Cheniere can gain access to better debt arrangements, interest rates, and payment terms (albeit amongst a backdrop of rising interest rates), leading to debt upgrades
All of these will figure into Cheniere Energy's rating and share price. As the share price appreciates and the company becomes a more stable earnings provider, so will the debt rating.
Conclusion
Has Cheniere Energy reached a bottom? It is hard to say, Cheniere seems to fall hard as the oil price does. I don't expect a bottom in oil yet, and, therefore, don't expect a bottom in Cheniere yet. However, with so many factors in play for a boost in the share price (debt refinancing, train one commissioning, positive construction guidance) it very well could be the bottom. Many investors with short interests in the company argue that the contract parties will exit the SPA's; once it becomes apparent that they aren't, we could see a short squeeze on over 20 million shares.
Disclosure: I am/we are long LNG.
I wrote this article myself, and it expresses my own opinions. I am not receiving compensation for it (other than from Seeking Alpha). I have no business relationship with any company whose stock is mentioned in this article.
Additional disclosure: This article is not investment advice and should not be construed as an accurate picture of the company's circumstances.