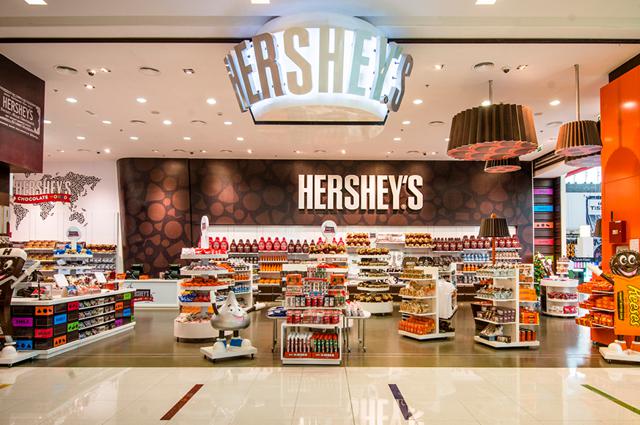 It has been a rocky month since we last spoke about The Hershey Company (NYSE:HSY) thanks to the volatile markets. The company's shares have been bounced around all over the place and ended up more or less right back where they started as you can see on the chart shown below.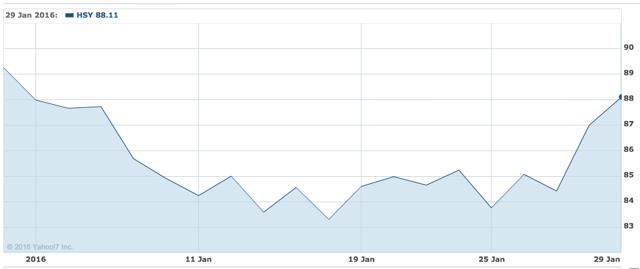 Source: Yahoo Finance
Being back where they started isn't necessarily a bad result when you consider that the S&P 500 (NYSEARCA:SPY) is still down by over 5% for the same period. Ideally, we would have liked to have seen, and expected to see, gains during this time for Hershey's but when the markets behave as they have done recently there's not much hope of that happening.
At the end of December, we gave our opinion that Hershey's was going to have a great 2016, thanks in part to its expansion of its distribution in China. We do still expect this to happen, but have been pleased to learn about a new focus, that we skimmed over previously, that gives us even more encouragement for future growth.
Let's take a step back very quickly. This week Hershey's reported its full-year earnings this week and let's take a quick look at the results.
There was a beat on earnings with the company reporting earnings per share of $1.08, 3 cents ahead of the $1.05 consensus estimate, but revenue was lower than the consensus estimate by $60 million when it came in at $1.91 billion. Sales in the United States disappointed slightly, China remained weak, and FX headwinds persisted.
So is this still going to be the Year of the Monkey as we called it a month ago? On the earnings call, the company advised that it is expecting the acquisition of Shanghai Golden Monkey to complete during the first quarter, pending approval from the Chinese government. We think when this goes through and Hershey's owns 100% of Golden Monkey, things will start to improve and the slower than expected level of growth the company has experienced will start to pick up.
What we like about the Golden Monkey acquisition is the access it gives Hershey's to what are classed as Tier 2 and Tier 3 cities. Hershey's presence in China is heavily weighted toward the Tier 1 cities like Shanghai and Beijing. But, for us, the real opportunity lies in the Tier 2 and Tier 3 cities. These cities are by no means small and Tier 2 cities include Chengdu, Chongqing, Qingdao, Tianjin, and Wuhan to name just five. There is enormous growth potential in these markets and rising income levels and a taste for western foods puts Hershey's in a promising position. The existing distribution channels that Golden Monkey possesses will be a key benefit.
Moving away from China, we are encouraged by the company's plan to look beyond chocolate and put some focus on the snacks offering. Who doesn't love to snack? Technology and lifestyle changes allow us to be on the move far more than ever, and snacks are increasingly popular.
Datamonitor believes that in the United States, there are 44 million millennials which have around $1.1 trillion of spending power combined. Not all of that is going to be spent on snacking, but a small percentage of it still makes for a big market.
Snacking, in our opinion, goes far beyond chocolate and sugary items which we believe is seen more as a treat. We see it as relatively healthier options that taste good and complement an active lifestyle. Such was the effect of growing up in an age where obesity was always in the news, we believe that a large portion of millennials have grown up with the intention to eat and live well ingrained in them.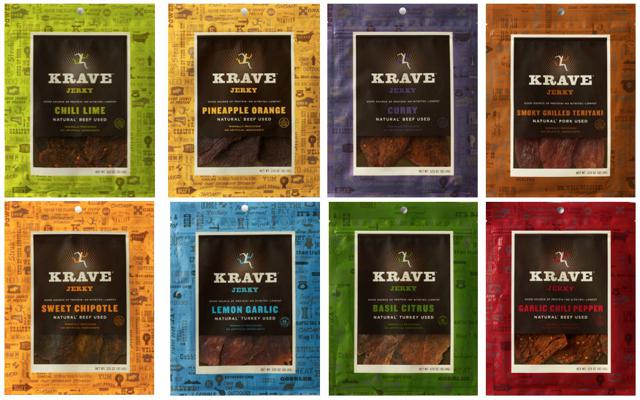 Well, Hershey's has gone after this market with the Krave jerky brand it acquired last year, and we are very excited about this. We are big fans of jerky and see it as a high protein healthy snack that has a lot of growth potential in this age of active lifestyles.
We think the branding is fantastic, the flavors intriguing, and taste is delicious. If you love jerky, you're going to find it hard to not try all of the varieties. The company has a great ambassador for Krave by the name of Vernon Davis, and we see this link-up working very well. According to management, Krave's sales doubled in 2015, which we find highly encouraging.
Euromonitor's research has shown that jerky sales account for around half of the $6 billion revenue in the snacks market. We expect this market to double within a few years and Hershey's could profit greatly.
Despite there being a number of downgrades for full-year earnings, we still maintain our $4.40 earnings per share forecast. This 6.8% year-over-year earnings growth is supported by our belief that the company's excellent product offering will give it an edge in the all important Easter holiday period, Chinese growth will pick up, and sales in the US will be boosted by the snacks market.
For this reason, we still maintain our one-year price target of approximately $100, representing a fantastic return of 13.5% from the last close price of $88.11.
Disclosure: I am/we are long HSY.
I wrote this article myself, and it expresses my own opinions. I am not receiving compensation for it (other than from Seeking Alpha). I have no business relationship with any company whose stock is mentioned in this article.