In its recently released Short Term Energy Outlook, the EIA (Energy Information Administration) claimed that it's likely the oil supply imbalance could last through 2017, a situation that would mean lower prices until at least 2018 and suggests that the oil glut may not be resolved until that year or even later. If, indeed, the EIA's projections do pan out moving forward, this would imply a great deal of trouble for long-oriented investors in this space, as well as many of the businesses that operate in it, like Exxon Mobil (NYSE:XOM), Chevron (NYSE:CVX), ConocoPhillips (NYSE:COP), as well as the small players like Linn Energy (NASDAQ:LINE) / LinnCo (NASDAQ:LNCO), and BreitBurn Energy Partners (NASDAQ:BBEP), the last two of which would certainly go bankrupt long before then. While this scenario could, in theory, play out, I believe the odds of it happening are slim at this point in time.
A look at projections
According to the EIA, global oil demand (crude plus petroleum products) should come out to 95.2 million barrels per day in 2016, up from nearly 93.8 million barrels per day in 2015. In 2017, the forecast is even more bullish, with demand expected to hit about 96.6 million barrels per day. Of course, there are a number of factors that could change these forecasts, such as stronger economic growth, weaker economic growth, changes in technological innovation, etc... so all we can say is that, while demand will likely be higher during 2016 and 2017 than it was last year, there's no telling exactly what the outcome will be.
Now, in this tough energy environment, many investors are likely thinking that crude production cannot continue to rise. After OPEC decided to raise output last year and as signs suggest that output in the Permian Basin is about to peak while Eagle Ford production is likely to take a massive beating this year if the price of oil doesn't improve materially, the likely trend for crude production, in my eyes, is nowhere but down. It would seem, to some extent, that the EIA agrees with me.
Based on their own data, they expect domestic production in 2016 to average 8.73 million barrels per day, down from an average of 9.43 million barrels per day in 2015. In 2017, they expect production to fall to 8.46 million. Personally, from the data I've seen, I suspect output will fall much quicker than that if prices don't recover (I'm expecting output to fall close to the 8 million barrel mark by year-end). One category I believe they are sorely mistaken on relates to output in the Gulf of Mexico, which they believe will rise from 1.55 million barrels per day last year to 1.68 million per day this year and 1.81 million per day during 2017. With the rig count in that region down to 27 units from the 53 we saw the same period a year ago, I have a hard time believing output can rise by that much if at all. Most of any change, however, will come from places like the Eagle Ford, Bakken, and Niobrara regions.
Despite these falloffs, the EIA thinks that total oil supply this year will grow from 95.7 million barrels per day to 95.9 million. If this comes to fruition, the next stop is for oil supply to hit 96.7 million barrels per day. In the event that energy prices temporarily recover to a large degree, this isn't tough to imagine but I believe the current environment makes this untenable. What is even more surprising is where the organization anticipates the extra oil to come from during this timeframe.

Click to enlarge
According to their projections, production should decline not only in the U.S. but also in places like Mexico, the North Sea, and Eurasia, with other regions like China and Canada reporting just modest increases in output. The bulk of this decline is actually expected to come from none other than OPEC. If the EIA turns out to be accurate, output from the group will grow from 31.65 million barrels per day (I'm excluding liquids such as lease condensates and focusing solely on oil) to 32.16 million barrels per day in 2016 and 32.72 million barrels per day in 2017.
To me, this doesn't make any sense. Yes, OPEC wants very much to kill shale producers who they feel has threatened their market share, but the group doesn't want to flood the market with oil longer than it has to since it brings far more damage to them than it does to us. If you remove the assumed increase in oil output from OPEC during this timeframe, as well as its increased liquids excluding oil, the glut would shrink by 0.17 million barrels per day and would result in a shortfall of 1.62 million barrels per day in 2017, which would clear out the global oil glut (assuming it's about 300 million barrels in size) by around June of 2017. I don't suspect for this to hold perfectly (some increase in output will likely happen), but it's only with something like this playing out that the members of OPEC can come out of this energy downturn looking positive.
One argument that some investors are likely to make relates to the fact that Iran seems intent on increasing its own output in order for it to regain market share. While I do suspect the country's output will rise (though I don't know by how much), it's probable that many players in OPEC would prefer to cut without Iran in order to keep prices from falling much further because, ultimately, lower prices cost these nations more even if output rises.
Besides the logic behind not continuing to increase output at a time when energy prices are trading as low as they are, there's also the fact that OPEC isn't known for aggressively expanding its market share even though the group has some of the lowest production costs in the world. Rather, it seems as though they've had a history of preferring to maximize profit over volume. In the graph below, you can see precisely that.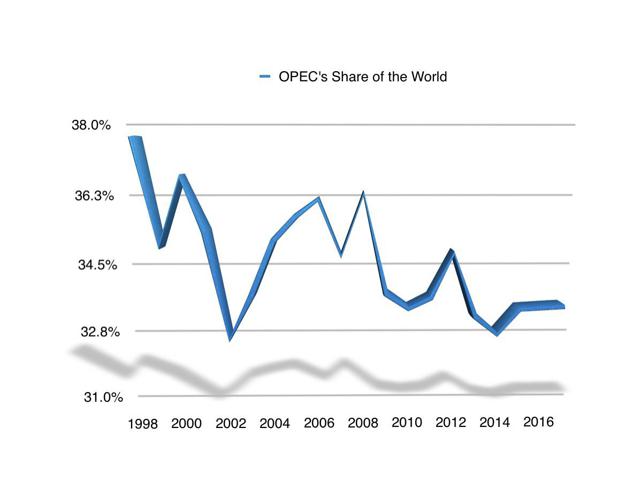 Click to enlarge
Looking back to 1998, I charted out OPEC's (using their estimates of supply and demand over the EIA's in this circumstance) historical market share of the global oil industry. What we have seen is that, as global demand has soared by 19.1 million barrels per day (or 1.12 million barrels per day annually), OPEC has increased their production by just 3.4 million barrels per day (0.2 million barrels per day annually). If you break this down as an annual percentage gain, OPEC has increased its production by 0.68% annually, compared to the total global increase of 1.36% per year.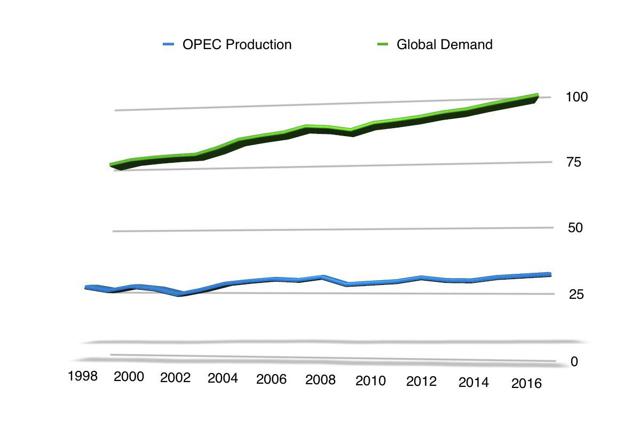 Click to enlarge
Takeaway
If the EIA is correct and OPEC does manage to raise its output by the roughly 0.51 million barrels per day in 2016 and 0.56 million barrels per day in 2017, then its market share will remain unchanged at 33.6% during this timeframe, up from the 33% it held claim to during 2014. However, I can't see this happening unless output in the U.S. falls at a much quicker pace than what the organization thinks it will because allowing the glut to continue to grow will only push oil prices to stay low. With member countries like Venezuela and Iran unlikely to survive this downturn if prices don't rise materially, the prospect of the group keeping the same strategy intact for two full years heading into the future looks improbable.
Disclosure: I am/we are long LINE, BBEP.
I wrote this article myself, and it expresses my own opinions. I am not receiving compensation for it (other than from Seeking Alpha). I have no business relationship with any company whose stock is mentioned in this article.