By Kristina Hooper, Steve Malin and Greg Meier
A Fragile Recovery
Growth in the US slowed further during the fourth quarter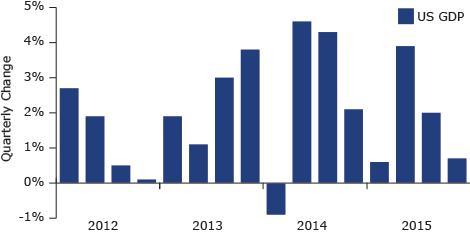 Sources: US Bureau of Economic Analysis; Allianz Global Investors. Data as of 1/29/16.
Friday morning's advance print on fourth quarter GDP underscored the headwinds buffeting the US economy as 2015 shuddered to a close. Real output expanded at a meager 0.7% annualized rate, missing the heavily-downgraded 0.8% Wall Street consensus forecast. Weakness was broad-based, with all of the major economic sectors showing deceleration, contraction or both. Five takeaways stand out:
1. Consumers disappoint - Hopes for a strong holiday-inspired end to 2015 were dashed. While consumer spending expanded at a 2.2% annual rate - contributing 1.5% to growth - this marked the worst fourth quarter showing since 2012.
2. Exports fall - America's export sector dived into contraction territory. Weighed down by weak foreign demand and the strength of the US dollar - which hit a 12-year high in December - foreign sales tumbled 2.5%. Outside of the first quarters of 2014 and 2015, both of which were impacted by severe weather, this marks the worst performance in three years.
3. Business investment sinks - Gross private domestic investment fell 2.5%, matching the worst showing since the first quarter of 2014. The retrenchment was tied to a decline in spending on structures and equipment - down 5.3% and 2.5%, respectively. The latter drop reflects the general slowdown in US manufacturing, as shown earlier last week by disappointing durable goods orders data. Inventories continued to fall - subtracting 0.45% from growth - another prospective sign of weak demand abroad.
4. Public spending and investment slows - Government output grew at a 0.7% annual rate, a sharp slowdown from 1.8% growth in the third quarter and 2.6% in the second quarter. While federal output rose 2.8%, that gain was more than offset by a 0.6% drop at the state and local level, where investment - particularly on structures - is falling.
5. Inflation remains soft - Price dynamics were largely unchanged. The widely followed core personal consumption expenditures (PCE) deflator rose at a 1.2% annual rate - exactly the same as the third quarter. This is well below the Federal Reserve's (Fed) medium-term target of about 2.0%. Importantly, a separate report Friday from the Bureau of Labor Statistics showed that the Employment Cost Index (ECI) - among the broadest measures of US wage inflation - reflects a similar lack of upward price pressures. The ECI increased at a 0.6% annual rate in the fourth quarter, matching its third quarter performance.
The market implications of Friday's GDP numbers are not clear. The data is preliminary and subject to heavy revisions. On the positive side, for the calendar year 2015, growth came in at 2.4% - slightly above potential for the US economy (the potential growth rate being the pace at which spare capacity is neither created nor absorbed). However, we are now in a confirmed slowing pattern - the 0.7% fourth quarter GDP print contrasts with 3.9% growth in the second quarter of 2015 and 2.0% in the third quarter.
For policymakers, Friday's numbers raise new questions about whether the US economy can accelerate enough to withstand the four 2016 interest rate hikes projected by the Federal Open Market Committee (FOMC). Market participants expect fewer hikes, which means - for better or worse - a reconciliation between the FOMC's projections and the market's expectations is imminent.