It's useful for readers to have a solid disclosure about the investing choices of the analysts they follow. Seeing the choices the analyst has personally made and what plans the analyst has for their future investing choices provides other investors the opportunity to better understand the mindset of the analyst and determine how they feel about the quality of the analyst's research.
The first thing investors are likely to notice is that my holdings include a few tickers with large amounts of overlap. The reason for that is because I focus on allocation by category rather than allocation by ticker. Therefore, I will use the most convenient ticker that adds the desired allocation which results in buying different tickers at different points and in different accounts. My brokerage accounts are spread out among a few brokerages which cause certain accounts to have free trading on different tickers. For instance, the Schwab funds are all held in Schwab accounts and the Fidelity funds are all held in Fidelity accounts.
Holdings
The following list contains my current holdings and shares that I am currently considering taking a position in. The list also includes a couple placeholders as I try to pick out the fourth triple net lease REIT I'm interested in. The third mREIT slot is primarily for trading purposes rather than long-term investments.
| | |
| --- | --- |
| Ticker | Name of Fund |
| | Vanguard Total Stock Market ETF |
| | Fidelity Spartan® Total Market Index Fund Fidelity Advantage Class |
| | Fidelity Spartan® 500 Index Fund Fidelity Advantage Class |
| | Schwab U.S. Broad Market ETF |
| | Schwab U.S. Dividend Equity ETF |
| | Altria Group |
| | Exxon Mobil |
| | Wal-Mart Stores, Inc. |
| | Freeport-McMoRan |
| | Fidelity Spartan® Real Estate Index Fund Fidelity Advantage® Class |
| | Vanguard REIT Index ETF |
| | National Retail Properties |
| | STORE Capital |
| | Realty Income Corp. |
| | Triple Net #4 |
| | Schwab International Equity ETF |
| | Schwab International Small-Cap Equity ETF |
| | Fidelity Spartan® International Index Fund |
| | Philip Morris International |
| | Fidelity Spartan® U.S. Bond Index Fund |
| | Schwab U.S. Aggregate Bond ETF |
| | Dynex Capital |
| | CYS Investments |
| | mREIT #3 |
| CASH | Cash in my investment portfolios |
From that list, the ones that I'm not currently holding are:
XOM, WMT, O, Triple Net 4, SCHZ, CYS, mREIT 3
The Categories
To avoid getting too much correlation between my assets and ending up with too much risk in my portfolio, I group my investments into categories. As an American, I'm heavily invested in domestic equities and I classify all foreign investments as international.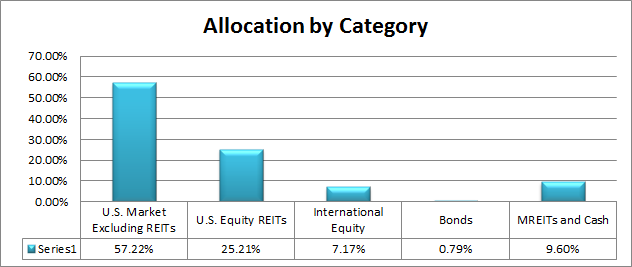 January Trades
Share prices were fairly low in January which was tempting, but most of my mREITs and Cash position was already invested in the mREITs. I did make some small allocations to grow my international exposure and bond exposure. The bonds started at 0%, but they'll be moving significantly higher over the course of the year.
Individual Companies / ETFs / Mutual Funds
The next chart breaks down the allocations by the actual ticker.

Click to enlarge
VTI / FSTVX / FUSVX / SCHB / SCHD
The first five investments offer exposure to the U.S. market while having very low expense ratios. SCHD is making my portfolio just a tiny bit overweight on the established dividend companies which makes things feel slightly less volatile in a market that has been fairly volatile. FUSVX simply puts an emphasis on the larger companies.
Over the next year I intend to materially reduce the "domestic equity fund" portion of the portfolio and funnel money into either individual companies or bond funds.
VNQ / FSRVX
The REIT ETF and mutual fund exposure give me some fairly heavy diversified exposure to the sector, but I'm reducing the weighting on the ETFs to emphasize individual companies here as well.
I expect to add some Realty Income Corporation during the year, but I'm waiting for prices to come lower. They've rallied exceptionally hard lately and left most of the sector in the dust. I'm not jumping on board just yet.
Lack of Bonds
The bond exposure is currently low, but it'll be moving up quite a bit. FSITX and SCHZ are the primary bond allocations I expect to use.
SCHF / SCHC / PM / FSIVX
SCHF and SCHC have been getting fairly cheap in January which is encouraging me to consider raising this position. Phillip Morris has held up substantially better than most international investments.
Preferred Shares
As I've been contemplating my desired changes to my investing strategy for the year, one area I wanted to add was preferred shares. I've done some preferred share coverage already, but I expect to step that up over the next year as I build more tools for looking into the preferred shares and finding bargains. Throughout the year I expect to be transitioning to a portfolio that could be considered less aggressive since it will have a higher percentage of the portfolio in bonds, cash, and preferred shares.
Conclusion
When I checked on my portfolio's comparison relative to the S&P 500 (NYSEARCA:SPY) in the middle of January, my value was down 7.82% compared to 8.80% for SPY. Beating the index went well in the second half of the month as well. Since then SPY recovered 3.15% and my portfolio went up 3.93%. Not too bad all things considered, though that still leaves me down about 4% on the month. My best performer in the second half of the month was STORE Capital. The best performer over the entire month was National Retail Properties which was up 8.13%. It wasn't a great period for most REITs. The Vanguard REIT Index ETF ended the month down about 4%.
Disclosure: I am/we are long VTI, FSTVX, FUSVX, SCHB, SCHD, MO, FCX, FSRVX, VNQ, NNN, STOR, SCHF, SCHC, FSIVX, PM, FSITX, DX.
I wrote this article myself, and it expresses my own opinions. I am not receiving compensation for it (other than from Seeking Alpha). I have no business relationship with any company whose stock is mentioned in this article.
Additional disclosure: Information in this article represents the opinion of the analyst. All statements are represented as opinions, rather than facts, and should not be construed as advice to buy or sell a security. Ratings of "outperform" and "underperform" reflect the analyst's estimation of a divergence between the market value for a security and the price that would be appropriate given the potential for risks and returns relative to other securities. The analyst does not know your particular objectives for returns or constraints upon investing. All investors are encouraged to do their own research before making any investment decision. Information is regularly obtained from Yahoo Finance, Google Finance, and SEC Database. If Yahoo, Google, or the SEC database contained faulty or old information it could be incorporated into my analysis.