In July of last year, I wrote the half-year review of what I titled my Millennial Portfolio which I developed back in 2014 as an alternative for the busy young investor who sees value in investing in certain low cost mutual funds. The thesis of my 3-Fund portfolio, which was laid out in my very first article on Seeking Alpha, was that the young investor, or any investor for that matter, does not need to invest in individual stocks for the alpha that he or she seeks when Mutual Funds are available that can do the work for you. For more details on this portfolio and its construction you can read the earlier articles.
The purpose of this article is to add the data for 2015, the first full year of existence of this portfolio and compare it to some other popular portfolios as I did last time. The purpose is also not to suggest one method is better than the next, but to present the facts as I see them, because we never know what the future will bring us in the financial markets.
Comparison Data - Total Return and Yield
Below is the table and chart that I started in the first article and the data is now current as of December 31, 2015. I don't expect anyone to conclude any long-term trends from this thirteen months' worth of data, as the journey is that of a tortoise. There has been no attempt to rebalance any of these portfolios, except for the DVK portfolio which is continually being rebalanced just by the nature of the manual dividend reinvestments and his own business plan.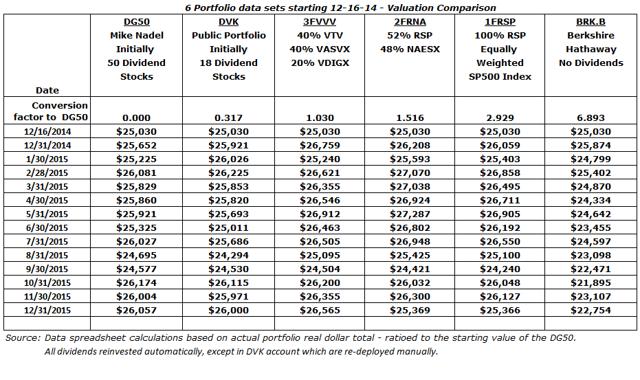 Click to enlarge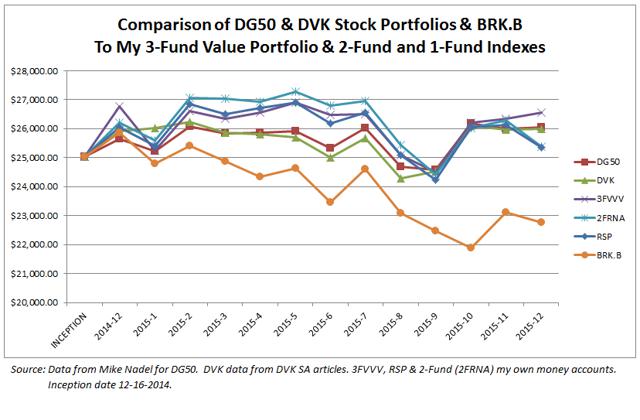 Click to enlarge
The below table displays the data as a total return percentage from the starting date of December 16, 2014, as well as the yield for the calendar year 2015 :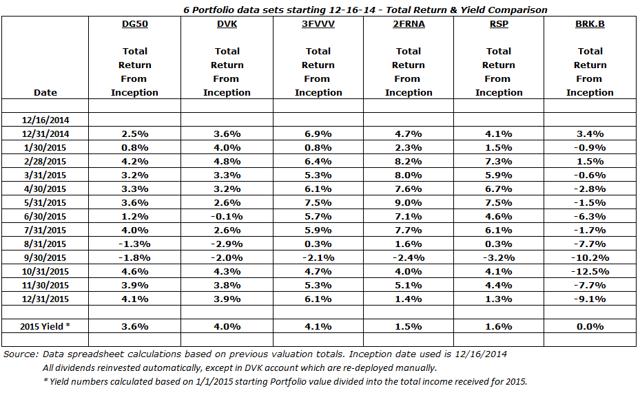 Click to enlarge
At this point in time I am not making any short-term conclusions from the above. I also leave it to each individual investor to determine if any of these investments suit their own investment plan.
One fact that surprised me again was that my simple 3 fund portfolio delivered more income in the form of dividends, long term gains, and short term gains than any of the other portfolios tracked. The main reason for this is the greater than 5% yield from the Vanguard Selected Value Fund (MUTF:VASVX), in large part due to the large capital gains distributions over the last two years.
Summary
In the total return metrics nothing really stands out in the above data other than the fact that Berkshire Hathaway (NYSE:BRK.B) really had a very bad year in 2015. Otherwise it is too early to really discern any trends.
In the income metrics my three fund portfolio still appears to be the leader in income by a small margin, even though if you look online for current yields of the funds presented it should be nowhere close. How does this happen? It comes from additional income distributed in the form of short-term and long-term capital gains from mutual funds or ETFs. In other words as turnover within a mutual fund account occurs (selling and buying of stocks) capital gains or losses are created from these sales. Due to the losses created in most of these accounts from selling in 2008, no capital gains had appeared in a number of mutual funds in the five years preceding 2013. So certainly you cannot always count on this income in the future, but to my mind, income is income, no matter where it comes from. It is however something to consider if your goal is to generate income for retirement and you try to do it from mutual funds - it can be quite inconsistent!
It must be noted that all of my personal portfolios listed here are what I call "growth" portfolios which just means, at least to me, that any income is being reinvested automatically and the goal is thus to grow the dollar value of the account. You might also wonder why I choose to compare these portfolios to two other portfolios by David Van Knapp and Mike Nadel who at least on the surface appear to have different goals than total return. The answer to that has nothing to do with the goals at all, so Dave & Mike don't get upset. It does however have everything to do with whether a portfolio is spending the income or reinvesting the income. The only way I will even attempt to compare portfolios in an accumulation type environment is if two things exist:
The portfolios have no incoming or outgoing transactions - deposits or withdrawals.
The portfolios reinvest all income.
Since these criteria are met for all portfolios above, it is certainly reasonable to make total return comparisons in all cases, just from a mathematical perspective. As I said previously, I make no claims as to whether any of these investments are appropriate for your situation.
What I don't see too often are studies of real money accounts that are spending the income. Since I have written many articles on this subject I have decided to start my own real money comparison so investors in retirement don't feel totally left out. The second in that series is located here.
Conclusion
This study is only just starting and I hope to be able to continue it, as well as my other studies, as an example of some alternate strategies to get you to your own retirement goals.
Each person must understand their needs and be able to choose the strategy that best fits their needs. Just because something works for one person does not make it suitable for the next. Often money may be tight during retirement, and which strategy you took to get there can make a difference, as just 1% increase in returns can increase your retirement nest egg by over 25% when a 35 year investing time horizon is considered. However, if the strategy is volatile beyond your tolerance level, that in itself can be more devastating than a mere 1%-2% underperformance. Market recessions however are the young investor's bonus much like buying any item that is one sale. Just remember that any money you need in the next five years should generally be kept safe and not invested in 100% equities.
You also must realize that past performance is no guarantee of the future, and in that regard all the information presented here is past performance. The information provided here is for educational purposes only. It is not intended to replace your own due diligence or professional financial advice.
Disclosure: I am/we are long VASVX, BRK.B.
I wrote this article myself, and it expresses my own opinions. I am not receiving compensation for it (other than from Seeking Alpha). I have no business relationship with any company whose stock is mentioned in this article.