Expectations about Q4 results in the energy sector were already pretty low, but Chevron Corporation's (NYSE:CVX) fourth quarter earnings released on Friday just proved that things are really, really bad right now. With crude oil prices slumping to around $30 per barrel, investors expected Chevron to post uninspiring Q4 earnings, but few analysts forecasted the energy company to report a loss.
And that's what happened. Chevron posted a quarterly loss of ~$0.6 billion, the first loss for the company since 2002. Also compare this loss to a profit of $3.5 billion in the fourth quarter of 2014, and one gets a good feeling about how much pressure low crude oil prices are really putting on Chevron and other oil companies. On a per-share basis, Chevron said it had a loss of $0.31 in Q4-15 compared against a profit of $1.85 in the year ago quarter.
And things didn't look much better for Chevron on a full-year basis either since crude oil prices slumped consistently throughout 2015. Full-year 2015 profits for Chevron were $4.6 billion which sounds like a good chunk of money to earn. But compare this to Chevron's 2014 profits of $19.2 billion and you'll get a totally different picture: Chevron's profits crashed 76% Y/Y. Ouch.
Chevron's earnings are not rocket science, but rather self-explaining.
Chevron took a painful hit from lower price realizations in 2015 that continued to hurt the company. Lower price realizations in Chevron's upstream business explained the lion share of the earnings slump: Chevron pulled in ~$17 billion less in upstream profits in 2015 thanks to the energy price rout. Some of Chevron's upstream earnings decline was offset by higher margins in its downstream business, which provides a hedge to lower oil prices for integrated oil companies, but it wasn't enough to save Chevron's day. The result was not pretty.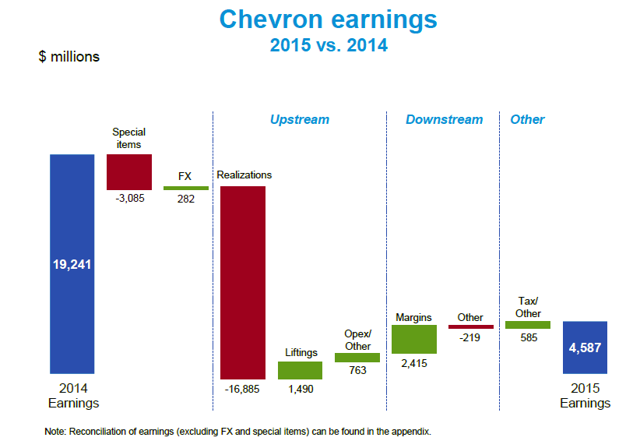 Click to enlarge
Source: Chevron
Growing net production in 2016?
The big question for 2016 is whether oil companies including Chevron are going to continue to grow their net production, and thereby continue to suppress energy prices.
Chevron said that it expects to grow its net production by 0-4% in 2016, which does not bode too well for prices if other big companies in the oil patch do the same.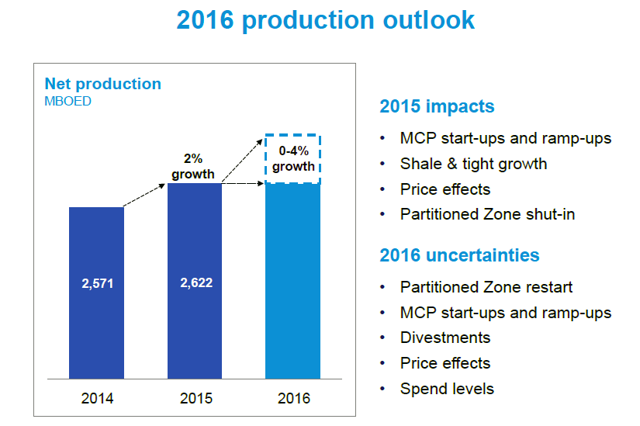 Click to enlarge
Source: Chevron
Dividend remains a priority for Chevron
Since Chevron's net production is projected to grow this year, 2016 will be another difficult year for the oil industry, especially if OPEC doesn't come around and puts supply restrictions in place. Other than slashing capital budgets and costs, though, there is not really much that Chevron can do.
Chevron is cutting its 2016 capital budget to $26.6 billion, down from $34.0 billion in 2015, and expects to further slash capital spending to $20-24 billion in 2017/8. Throw another $5-10 billion in asset sales until 2017 into the mix, and Chevron might make it through this downturn without cutting its dividend.
Your Takeaway
No question about it, there was not much to like about Chevron's earnings: 2015 and Q4-15 earnings were substantially lower than a year ago thanks to price realizations that fell off the cliff. Chevron has reacted to tailspinning prices by adjusting its capital budget, lowering its costs, and plans on selling more assets down the road. 2016 is going to be another challenging year for Chevron, especially if net production volumes continue to grow and suppress energy prices.
Disclosure: I/we have no positions in any stocks mentioned, and no plans to initiate any positions within the next 72 hours.
I wrote this article myself, and it expresses my own opinions. I am not receiving compensation for it (other than from Seeking Alpha). I have no business relationship with any company whose stock is mentioned in this article.