My previous article was an introduction to my thoughts on the oil market and simple indisputable facts that must be kept in mind when looking at the oil market. This article will provide a look at the American producer more in depth, current demand/projections, the financial options of Saudi Arabia and OPEC, and the likely implications regarding the price of crude oil. As I will discuss, the current surplus of oil is thin at approximately 1.5 million barrels per day, but a significant change in the supply of oil is unlikely to occur in the early half of this year.
American Producers
Since 2008, American producers have utilized technology and other methods to reach oil that, up to that point, was unreachable. At that time, oil was at levels that supported such expensive production techniques and American production swelled from 2008 onward. Eventually, supply started to exceed demand and the price of oil depreciated in value. Although the rig count has decreased from 1,317 last year to 510 this past week, the daily field production per day has been resilient.

Click to enlarge
Source: EIA.
On the far right of the graph, it can be seen how the production in the U.S. has been held up despite the severe decline in crude prices. What does this mean? Essentially, the American producers are not the fold-up-and-go-home producers that most thought. Something else to consider is the rigs that have been taken offline. These rigs can easily be brought back online, as the price of oil ticks higher and provides an informal ceiling. There needs to be a permanent loss of production in America on a large scale via the form of oil company bankruptcy for the situation to change. Otherwise, as the price of oil ticks up it will be hammered down by upticks in production.
Saudi Arabia and OPEC
This past week, an article on CNBC described how Saudi Arabia was willing to meet with non-OPEC and OPEC nations to implement a production cut of up to 5%, according to the Russians. Saudi Arabia quickly released a statement to the contrary and that there were no discussions taking place. There are two issues with this that make it a rumor and not a fact. First, any cut that Saudi Arabia could possibly be taken by Iran or the American producer. Additionally, there is no formal group that represents the American producer, which would make negotiating difficult and unreliable. Second, oversight of members actually abiding by the production cut would be questionable. OPEC has had mixed results with regard to making sure each nation only produces their quota. Essentially, this is a rumor and has been baked into the price of crude.
Demand and Supply
The current supply surplus is approximately 1.5 million barrels per day. According to the EIA, the surplus will work itself out through decrease in supply and increase in demand -- essentially, the market reaching its equilibrium in 2017. While I believe it could reach equilibrium in late 2016 to early 2017 if prices stay around $30. Also, if prices stay near $30 for significant portion of the first half of the year, then shale companies are going to start feeling even more pain with hedges rolling off and a breakeven of roughly $40. Below is a chart from the EIA that describes their supply and demand projection: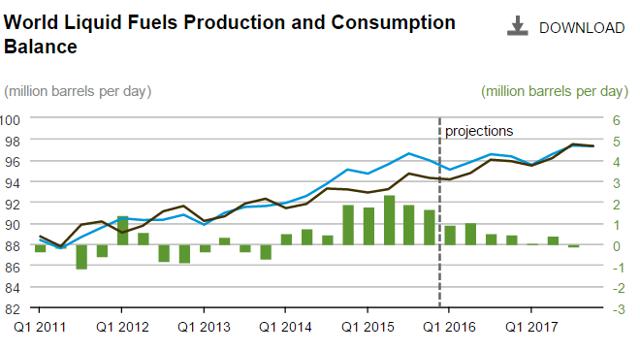 Click to enlarge
Source: EIA.
It's important to put an emphasis on the fact that the American producer has been very resilient to low prices, but with decade lows being realized it will be interesting to see how resilient they can be and for how long. America will remain a major producer of oil in the future, but will have to figure out what size in the long term they can truly be to where to it does not depress prices.
Takeaway
The oil market might have reached a bottom, but is not out of the woods. The supply situation has not changed and needs to be fixed for a true correction to be made. A cut will not be made by OPEC because they would be giving up market share to geopolitical rivals. A large-scale decrease in American production is what's going to balance this market.
Disclosure: I/we have no positions in any stocks mentioned, and no plans to initiate any positions within the next 72 hours.
I wrote this article myself, and it expresses my own opinions. I am not receiving compensation for it (other than from Seeking Alpha). I have no business relationship with any company whose stock is mentioned in this article.