The Vanguard High Dividend Yield ETF (NYSEARCA:VYM) offers investors a better yield than most domestic equity ETFs. The yield, of course, is a reflection of the stocks within the portfolio. However, it is worth noting that when things started to turn ugly in January, VYM was able to materially beat out other domestic equity funds. I believe one reason for the stronger performance is because shareholders in the underlying companies are less willing to sell their position when the market is falling. The rationale for holding onto their shares would be the strong dividend yield that supports a buy and hold strategy
Holdings
I grabbed the following chart to demonstrate the weight of the top 10 holdings: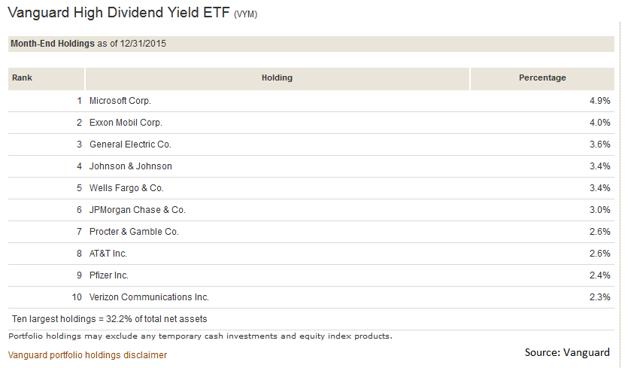 Click to enlarge
The portfolio is allocated towards companies with a long history of raising dividends. By designing a portfolio that way, VYM is grabbing companies that should see a little more resilience in the share price when concerns about the economy are strong and treasury yields are falling. Investors will still sell out of equity and move into treasuries, but they may be a little slower to do it.
Some Great Holdings
The first company I see on the list that is on my list to acquire in 2016 is Exxon Mobil (NYSE:XOM). I'm lacking in oil exposure and Exxon Mobil is exceptionally stable relative to other players in the sector. Their high degree of stability makes them more appealing to me since I'd like to limit the volatility.
Outside of the top ten, but just barely, you'll spot other familiar champions like Chevron (NYSE:CVX). I also see two of my favorite holdings in Altria Group (NYSE:MO) and Phillip Morris International (NYSE:PM) just outside the top 10. These companies offer investors solid dividends with addictive products. Big oil is struggling from increasing supply entering their market, but the lower share prices are much more attractive for a dividend growth investor willing to accept the risk of oil prices staying lower for longer. I'm not convinced that this scenario lasts indefinitely. Some of the higher cost producers should be driven out of business and the high volume of production relies on the Middle East maintaining their production.
Pepsi (NYSE:PEP) and Coke (NYSE:KO) are also high on the holdings list. I love the exposure to the consumer staples sector, but I don't love the prices on either. Their trailing P/E ratios are fairly high (in the range of 27 to 30). The forward ratios are around 20 to 21, which would be more palatable if investors are confident in those earnings estimates. I'm not confident that those marks will be hit. I see a shift away from junk food that may pressure sales. If the dollar remains strong, it signals the potential for weaker earnings coming in from foreign countries. If I wanted to benefit from a weaker dollar amplifying earnings, then I'd rather use Phillip Morris International. Their sales are entirely abroad and they offer a great dividend yield that was fully covered. Tobacco doesn't have a reputation much better than junk food, but they already have enormous taxes on their product that make them indispensable to some governments. Junk food isn't taxed in the same manner.
Losses for January
The following chart starts just before January: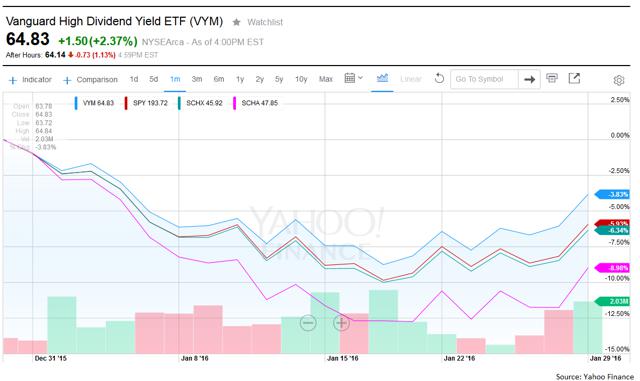 Click to enlarge
Dividends are not a factor in the returns here because the last distributions were December from around the 18th to the 21st for the different ETFs. None were in the period used for the chart.
I used the SPDR S&P 500 Trust ETF (NYSEARCA:SPY) as the default for comparisons. To check for other possible bias issues, I used the Schwab U.S. Large-Cap ETF (NYSEARCA:SCHX) and the Schwab U.S. Small-Cap ETF (NYSEARCA:SCHA). During the broad market fears in January that have seen the market retreat, the smaller cap stocks clearly underperformed the rest of the sector. That's no surprise, but the stronger performance compared to SCHX and SPY demonstrates the advantages of using companies that should be slightly more resistant to a sell off.
Expense Ratio
The expense ratio is a mere .10%. That is very appealing for the cost conscious long term investor. When it comes to investing, who wants to throw away their capital on high expenses ratios or trading costs?
Drawbacks
The biggest drawback would be the risk that a decline in corporate earnings projected for this year results in more concerns about economic stability and a continued decline in equity prices. I'm not convinced that equity prices will remain subdued, but I think the upside is limited. Without stronger corporate earnings it would be very hard to justify VYM trading over $75. If the Federal Reserve admits their mistakes and comes around to leaving rates lower for longer, it may push up equity prices as investors search for yield in other areas. As it stands the ten year treasury yield is only 1.92%. Compare to a 3.31% yield on VYM.
Macroeconomic Risk
The major risk factors that are rearing their heads are the risk of the Federal Reserve shoving short term rates higher (intentionally inverting the yield curve), a decline in corporate earnings due in large part to declines in commodity prices, and pressure on corporate earnings from higher wages in low skill positions. This seems to be the factor that the Federal Reserve is relying on to justify their assumptions of higher levels of inflation. Since the physical materials necessary for production are declining in prices (oil, copper, etc), it would be interesting to see inflation in the finished products without decent profit margins for the companies that are outside of the commodity business.
The most likely arguments for the cause of inflation will stem from either the increase in costs from higher wages or the increase in demand from low wage workers having more disposable income. In the case of the latter, it would mean growth in sales.
Absent the dollar moving to be weaker relative to foreign currencies, I would expect most international companies that report in the USD (United States Dollar) to continue reporting weak comparable sales statistics before adjusting for constant currencies and substantially stronger sales using constant currencies.
Conclusion
My expectation is for VYM to rally back as we get into the year, but for gains to remain moderately subdued and for interest rates to remain relatively low by historical measures while still demonstrating substantial volatility. A great deal of that volatility may come from uncertainty about the Federal Reserve's future actions. While I do see corporate earnings struggling a little in 2016 due to the inclusion of commodity producers, higher wages, and a stronger dollar, I don't think those issues will be strong enough to keep equity prices down.
Disclosure: I am/we are long PM, MO.
I wrote this article myself, and it expresses my own opinions. I am not receiving compensation for it (other than from Seeking Alpha). I have no business relationship with any company whose stock is mentioned in this article.
Additional disclosure: Information in this article represents the opinion of the analyst. All statements are represented as opinions, rather than facts, and should not be construed as advice to buy or sell a security. Ratings of "outperform" and "underperform" reflect the analyst's estimation of a divergence between the market value for a security and the price that would be appropriate given the potential for risks and returns relative to other securities. The analyst does not know your particular objectives for returns or constraints upon investing. All investors are encouraged to do their own research before making any investment decision. Information is regularly obtained from Yahoo Finance, Google Finance, and SEC Database. If Yahoo, Google, or the SEC database contained faulty or old information it could be incorporated into my analysis.