Market Recap: The market traded slightly lower on the day as the market was pricing in some negativity surrounding economic data on existing home sales and continuing to lack an upward catalyst. Earnings for major companies as well were weaker. Existing home sales saw an increase from December to January, but they missed expectations at 4.63M as the number came in at 4.57M. Dell (NASDAQ:DELL), Toll Brother (NYSE:TOL) and Dollar Tree (NASDAQ:DLTR) all moved more weakly on the day after their earnings were either not strong enough to continue upward trends or weak. Garmin (NASDAQ:GRMN) and Intuit (NASDAQ:INTU), however, had strong earnings.
The market to us looks to be awaiting the next big thing. What will it be? Crisis in Europe? Strong jobs data. The longer we go without bad news, the more likely this rally continues. Any big disappointments or shocking developments could bring the market down in a hurry. Here is one bullish play we like and one bearish.

On the bull side, we are a big fan of Sanderson Farms (NASDAQ:SAFM). The gap between chicken supplies and demands seem to be getting back to a normal spot, and chicken producers have been doing better. SAFM is reporting earnings next week, and we like them to run up into and out of earnings. The company is slated to jump to profitability for the first time in years. They are also looking at 18% growth in sales. We like going long with the stock into earnings and taking a smaller chunk past the report. On the bear side, we like putting a bear call spread on Ctrip.com (NASDAQ:CTRP). We like the 36/37 spread for Mar17, which is paying around 11-15% gain depending on the price. Ctrip.com had bad earnings and is falling out of favor with analysts. The company has a high valuation at 20 PE for Chinese stocks, and their growth looks to be slowing now.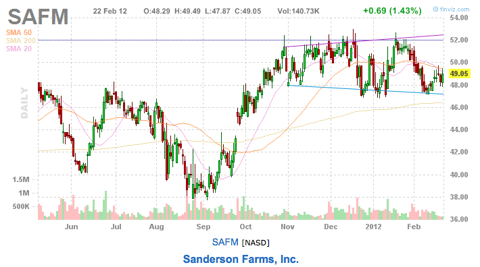 Tomorrow's Outlook
We believe that the most important things for tomorrow are the jobless claims data and crude oil inventories. Both data points will definitely have a strong impact on the market with the limited news that is hitting the streets. Crude has been on a roll, and this information about inventories should move it and the market. Additionally, jobless claims will be more scrutinized as we set up for the jobs report next Friday. Finally, we get earnings from Hewlett Packard (NYSE:HPQ), which should have a strong impact on tech tomorrow.
Analyst Action
Downgrades were key today as Longbow downgraded three steel stocks in Nucor (NYSE:NUE), Steel Dynamics (NASDAQ:STLD) and US Steel (NYSE:X). Additionally, DELL was downgraded by Needham. Goldman Sachs had diverging opinions about "Black" as they upgraded Blackstone (NYSE:BX) but downgraded BlackRock (NYSE:BLK).
Oxen Group Moves
We had a solid day here as we were able to exit our long in Monster Beverage (NASDAQ:MNST) for a 2% gain after the stock broke out leading into earnings as we had suspected. We also got a 2.25% gain in Joy Global stock we bought yesterday that was discussed in yesterday's report. Additionally, we added longs in SAFM and a bear call spread in CTRP (discussed above).
We have the following positions. In our Short-Term Equity Portfolio we are long Starbucks (NASDAQ:SBUX) and SAFM. In our Options Portfolio, we are long McDonald's (NYSE:MCD), Apple (NASDAQ:AAPL), Panera Bread (NASDAQ:PNRA), Priceline (NASDAQ:PCLN), Bed, Bath, and Beyond (NASDAQ:BBBY), and Discover Financial (NYSE:DFS). We are short CTRP. In our Earnings Portfolio, we are long Priceline, Activision Blizzard (NASDAQ:ATVI), Monster Beverage and Joy Global (NYSE:JOY).
Chart courtesy of finviz.com.
Disclosure: I am long SAFM.