Target (NYSE:TGT) has been struggling to hold its ground against older as well as newer retailers over the past ten years. Since 2006 they showed a steady increase in revenues - right through the recession, in fact - but started slipping since 2013.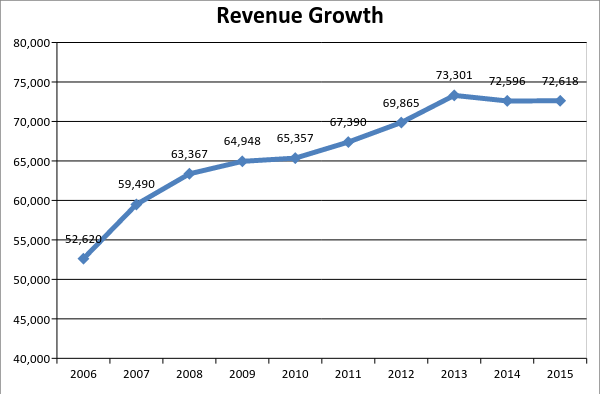 Source: Company Filings
What initiatives does Target intend to roll out over the next few years to gain traction once again and justify investor faith? That's the question I'll attempt to answer in this article.
What's in the Past?
To understand what Target is trying to do for the future, it is necessary to delve into the past. The biggest move made by the company over the past few years was the complete divestiture of its credit card portfolio.
In 2012-13, they sold their entire credit card portfolio to TD Bank. The transaction had a significant impact on the long-term price of stock, unfortunately, but it set a precedent for divesting itself of non-core operations, as we will soon see.
Current Targets
The Hispanic Courtship
Target has been working double time to increase its penetration within the Latino Community. The ad displayed below is part of the campaign the company started running in 2015.
Not a bad strategy to woo a loyal and potentially huge group of customers to the portfolio, and here's why:
According to the University of Georgia's Selig Center for Economic Growth:
"The $1.3 trillion 2014 Hispanic market shows a gain of 155 percent since 2000, which is far greater gain than the 71 percent increase in non-Hispanic buying power and the 76 percent increase in overall buying power since that time."
According to the Selig Center's estimates, by 2019, 10.6 percent of total U.S. buying power will be accounted for by Hispanics.
Let's put those numbers into perspective. Saudi Arabia's GDP is only a little more than half of $1.3 trillion and Singapore's is just about a fourth. A U.S. market segment that represents $130 billion worth of consumer spending is definitely worth the money and effort it takes to nurture it.
No wonder Target is aiming at that demographic using emotional triggers to build conversation and engagement.
The Urban Connection
The second market where Target is keeping its thrust on is the urban segment. In this respect, Target has been flexible with store design. Traditional big box stores have always been located in the suburban regions surrounding major cities, and have been extremely successful.
The front-runners of their entry into urban locations are City Target and Target Express, which are typically much smaller than their country cousins, so to speak. At sizes less than 40,000 sq. ft., they're dwarfed by the giant 100k sq. ft. Target stores outside of town.
However, the company is now rebranding the urban units to create one massive network of the Target brand. The move was announced in August 2015 and has quickly given a single, strong identity to the company.
In 2015, Target opened 15 stores - eight of them were smaller and flexible-format stores, while seven were the traditional big box stores. In 2016, the company plans to open seven smaller format stores and one large format store. Looking at the numbers, it's clear that Target intends to move to the city in a big way.

Click to enlarge
How Will These Initiatives Impact Their Bottom Line?
Both these initiatives are long-term, so you're not likely to see any immediate impact on financials or stock price. Both will take several years to yield fruit but, by the time they do, Target will have likely captured a significant portion of that $130 billion Hispanic market and entrenched itself solidly in major cities across America.
What strikes me about both these moves are that Target seems to have filled a gap left by majors like Wal-Mart (NYSE:WMT). The latter is only just getting comfortable with its Neighborhood Market format, and has a long way to go before it can penetrate the urban segment. Some might argue that there is a significant enough presence to be a threat to Target's smaller stores, but the focus on the Hispanic market will moot that in several states like California, New Mexico, Texas, Florida and so on - all of which have significant Hispanic and Latino populations.
Another significant point to be noted here is that Target is also working towards a pickup model where online orders can be picked up at urban locations. The company is attempting to create synergies between their online and store businesses but, again, until Target deeply penetrates the urban segment with aggressive unit growth, the realization of that model is still far away.
The Current E-Commerce Situation
Despite the positive tone of this article, Target e-commerce is likely to put on a poor fiscal show in 2015.
The company started 2015 with an aim to grow its digital sales channel by 40 percent, but only managed a 20% increase during the third quarter - against an expected 30% growth. They now expect fourth quarter digital sales to grow by 20%, so obviously they're going to be way off the mark on 2015's initial goal.
What worries me is that online sales still account for no more than 2.7% of overall sales. That doesn't give me any confidence that they will move quickly and fill this gaping hole in their online strategy.

Click to enlarge
Getting Leaner
Along the lines of the sale of their credit card business in 2013, Target has been shedding weight from its non-core retail operations.
At the end of 2015 they sold their pharmacy and clinic business to CVS Health (NYSE:CVS) for approximately $1.9 billion. The estimated pre-tax gain is expected to be between $575 and $775 million. However, they lost $500 million in sales during 4Q 2015 so there's not much to be said for gains from the sale.
Besides these, their Canadian expedition fizzled out last year as well - and quickly, too. Having come under tremendous pressure from earnings (or lack of them), the company's aggressive expansion in the country caused them more trouble than they considered worth handling, apparently. Their unceremonious retreat back across the border, however, was a well-cut loss. They can't afford to have their focus diverted by a messy market when they're even now struggling to climb back up to their 2013 levels of success.
I'm not qualified to say what they should or shouldn't have done in Canada, but my logic tells me that the better move would have been to cull the underperformers and work on getting things right at the rest of the outlets. Had they taken the time to get their logistics right, for instance, they may not have had to pack their bags and run.
The decision was made based on their profit projections for the Canadian market, but because they did everything wrong to begin with, the effort didn't get the time it needed to take root and bear fruit.
Investor-speak: The See-Saw before Success
I think Target has been making some very sound strategic decisions in the recent past, but I also think they've entered the intense competition quite late in the game. On the brick and mortar front they're handicapped by the number of urban stores, and in the online space they're outstripped by players much younger than themselves.
That said, their focus on the Hispanic demographic and investments towards more urban locations will reward them with no more than see-saw stock prices until they start yielding some solid earnings - and that's not going to happen for at least the next six to eight quarters at least.
Disclosure: I/we have no positions in any stocks mentioned, and no plans to initiate any positions within the next 72 hours.
I wrote this article myself, and it expresses my own opinions. I am not receiving compensation for it (other than from Seeking Alpha). I have no business relationship with any company whose stock is mentioned in this article.