Corning Incorporated (NYSE:GLW) is the most well known manufacturer of glass in the world. Since manufacturing the light bulb glass for Thomas Edison they have continued to innovate and change the world we live in. Despite groundbreaking and high quality products the performance of the share price has been lackluster and drawn the ire of many a long-term investor. The performance through 2015 was nothing to write home about, and 2016 won't be anything special either. Is a breakout on the horizon or will we be treated to the same in the coming years?
A quick look at the 2015 performance shows an overall drop in just about every meaningful metric. The core earnings per share dropped from $1.42 in 2014 to $1.40, they burned through $659M in cash, long term debt increased to $3.9B, and net income dropped to $1.3B compared to $2.4B in the prior year. Broken down into their segments we see drops in everything but optical communications and the Dow-Corning JV which they are finalizing the divestiture of. The market for glass was challenging in 2015 and being a multinational corporation the strong dollar hurt Corning, particularly when you consider they sell their display glass in yen. The global slowdown caused demand for TVs to drop considerably and an over supply of glass in the pipeline caused prices to drop off. During the conference call it was stressed that the first quarter of 2016 is expected to be more of the same with declines across most segments, particularly in display technologies which is their largest. Perhaps most disheartening is that they are estimating EPS for 2016 to be the same at $1.40. As an investor in Corning this is frustrating to say the least and a good look at Corning and its future was necessary.
In 2015 their display technologies segment netted $3.1B in sales, a drop of over $700M compared to 2014. Being their largest segment this is concerning, but there is reason to believe 2016 and 2017 will be stronger. Corning CEO Wendell Weeks had this to say in the conference call.
Stepping back and looking at 2015 as a whole, the display industry had its most challenging year in the last five years on a number of dimensions. First, it was the lowest end market growth in area terms over the last five years. Second, panel price declines were the highest they have been in five years. Finally, the year ended with the highest level of inventory in the supply chain over the past five years. Now even in this environment, we had the smallest annual price decline for glass in five years. This is important evidence that we're making significant progress on stabilizing our returns in display...
Nothing went right for this segment in 2015 or the five years before, but seems to be stabilizing. Going into 2016 Corning is anticipating that the overall size of TV displays is going to rise like it did in 2015 by just over an inch which helped offset the drop in demand. Management is also hopeful that demand for TVs will rise in the low single digits and overall screen size will increase by at least 1.5 inches. With increases in both TV demand and overall size the profits will get a double boost as volume rises and margins can improve with the larger screens. They estimate this will start in the second quarter and continue through the year. This doesn't help us in the quarter we are in where they see a drop in volume in the mid to high single digits taking place, all we can hope for is the drop is offset with estimated full year glass demand to grow in the mid single digits. The good news for patient investors is that it isn't supposed to get much worse and will get better when looking at their display technology segment. There is an immediate bright spot in the overall business, however.
In the 1970s Corning introduced fiber optic cable to the world. At the time and for decades following, the demand was very low as the need to move so much data was reserved to special cases. With "big data" growing and the developed world requiring more and more data transmission the demand for fiber optic cable and services is finally rising. In 2015 sales rose by 12% and net income rose 28%. The increase in demand for fiber-to-the-home and data center solutions was the catalyst here, and is expected to increase through the next few years. This is great news for investors as this portion of the business has great margins and is a little less cyclical as their other segments. As more of the world develops and begins to require increased data transmission Corning will be there.
One of the more negative impacts on the bottom line has been the strong US Dollar. As previously mentioned the display glass is sold in yen. The company has hedged through 2017 at an average rate of 99 and leaves the option on the table to extend hedging past that year. The strong dollar cannot be expected to last forever and Corning has taken meaningful steps to preserve profits even in this environment. Most economists are not forecasting a drop in the US Dollar for 2016 as the rest of the world seems to be slowing considerably. This issue will continue to attack the company's bottom line.
One possible area of rapid future growth for Corning will be automotive glass markets. They recently announced that the new Ford GT will be using Gorilla Glass for the windshield, rear engine cover and the acoustic separator causing a drop of 12 pounds from the weight of the car. While this is incredibly low volume it does make it very well known that Gorilla Glass has a place in the auto industry. To increase their footprint in the overall auto glass market they also entered into a JV with Saint-Gobain Sekurit to develop, manufacture and sell lightweight automotive glazing solutions. This will allow Corning to continue to market and scale Gorilla Glass but also gain access to automotive glazing solutions. As miles per gallon restrictions come into play across the industry weight reduction will be a much cheaper alternative to engineering and research into combustion technology. The use of Gorilla Glass also allows the incorporation of other tech into cars, notably in heads-up-display and low-glare touch screens. As cars become more connected to everything around them and people expect them to be continuations of their homes and phones the industry will accommodate this. As it is now, it is difficult to find a new car without a touch screen control center. As noted in the conference call though, the auto industry moves incredibly slow so investors may not want to get too excited about this yet.
The 2015 Consumer Electronics Show also gave us a glimpse into the future of Corning. The company had several different products in their exhibit, most that dealt with the connected home and "internet of things." This seems to be a very long-term view for the company but one that seems inevitable nonetheless. With the internet being "applied" to more and more things in our homes there will be a need for durable displays and Corning intends to provide that. Attendees were treated to displays for cars, homes and retail spaces. Seeing what they had on display is actually kind of exciting, although the profitability is still unknown. It is nice to know that Corning is looking many years into the future and setting themselves up as the "go-to" company when this begins to grow.
The management has acknowledged the frustration of long term investors and has pledged $10B, or half their market cap, to enhance value for shareholders through share repurchases and dividend increases. In 2015 they reduced outstanding shares by 84 million and initiated a $1.25B accelerated buyback that was wrapped up just this January. The dividend sits at 2.6% and one can expect that to increase to 3%+ with regular increases through 2019. At current levels the dividend is well covered by EPS and leaves for safe increases giving some hope to the investors who've held on through the years. It is still unknown what Corning plans to do with the $4.8B in cash it will recieve from the divestiture of Dow Corning but once that deal closes they will provide further guidance but it does provide a huge boost to the balance sheet and is anticipated to be tax free.
Corning Incorporated is a healthy business that makes very high quality and in-demand products. The pain seems to be constant though, and in the last 20 years we have seen almost no growth in the split-adjusted share price as evidenced by this chart.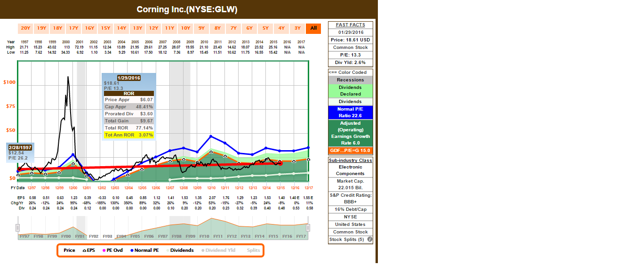 Click to enlarge
With a flat 2016 ahead investors may want to sit this one out if they don't already have a position. The good news is that 2017 is estimated to have 11% EPS growth, but that isn't guaranteed. There are many possibly catalysts for the immediate and long term, it is up to Corning to make those happen. As a current investor I will hold at the current share price range as I have a hopeful outlook for the company in the next five years. I think the additional cash from the Dow-Corning divestiture will give Corning the ability to grow the company and further enhance value for shareholders. I don't expect much in this first quarter, and if I weren't already invested I wouldn't invest at this point and would wait until maybe the second half of the year starts to flesh itself out. If the share price appreciates enough in the coming weeks I may sell and move to another company, mostly because I don't see the share price rising over $19 anytime soon and staying there unless something huge is revealed at the investor meeting February 5th. I appreciate you reading the article and look forward to the discussion in the comments. As always best of luck to all of you!
Disclosure: I am/we are long GLW.
I wrote this article myself, and it expresses my own opinions. I am not receiving compensation for it (other than from Seeking Alpha). I have no business relationship with any company whose stock is mentioned in this article.