By Hale Stewart
Oil's price drop currently dominates market coverage. While some analysts argue the net effect is positive, the majority of economists now believe the overall impact is bearish. Economist James Hamilton recently provided an explanation: the combination of job loss and declining capital purchases outweighed the benefits of potential increased consumption. While his article focused on North Dakota and Texas, its reasoning can be applied to entire countries such as Saudi Arabia and Venezuela.
However, it's possible the market could be bottoming: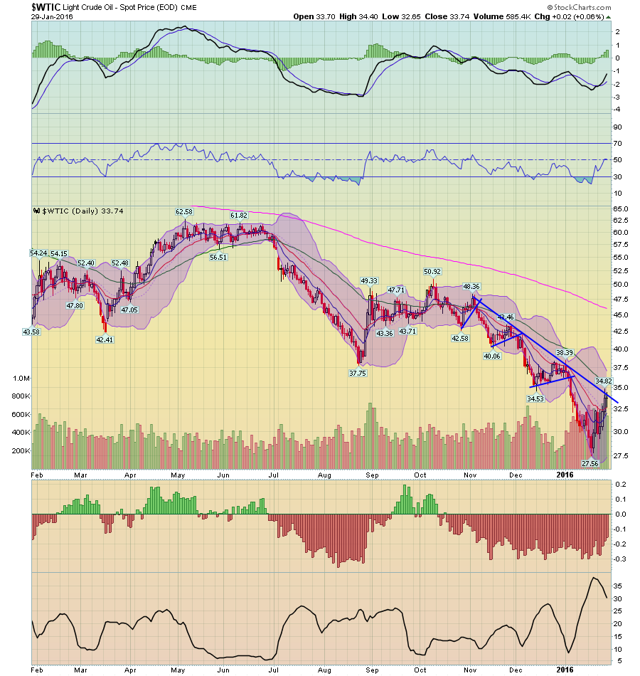 Click to enlarge
Overall volume was higher in January, possibly indicating a selling climax. And prices are right below key resistance. A move above the downward sloping trend line would indicate a reversal of the downward trend. Recent stories of potential production cuts provide bullish support:
Talk of co-ordinated production cuts has gathered pace this week, with the head of Opec calling on the world's largest producers to help stem the worst price collapse in decades. Russia's state oil pipeline monopoly, Transneft, said on Wednesday it would discuss possible output cuts with the cartel.
By Friday, Russia walked back on talk of a production cut. But with the potential fiscal problems faced by countries like Saudi Arabia and Venezuela, it's increasingly likely we'll start to see further talk along these lines.
The BOJ's announcement that they would take rates negative proved to be the most important news item this week.
The Introduction of "Quantitative and Qualitative Monetary Easing (QQE) with a Negative Interest Rate" ²

The Bank will apply a negative interest rate of minus 0.1 percent to current accounts that financial institutions hold at the Bank. It will cut the interest rate further into negative territory if judged as necessary. ²

The Bank will introduce a multiple-tier system which some central banks in Europe (e.g. the Swiss National Bank) have put in place. Specifically, it will adopt a three-tier system in which the outstanding balance of each financial institution's current account at the Bank will be divided into three tiers, to each of which a positive interest rate, a zero interest rate, or a negative interest rate will be applied, respectively.
The negative rates will only apply to new deposits, so it will take a bit of time for this decision to move through the system. Continued low inflation readings caused this move. The latest headline CPI number of .2% continued the trend: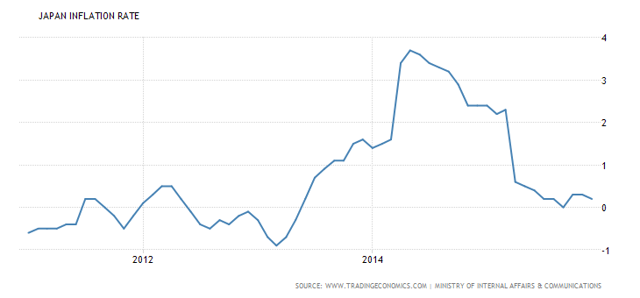 Click to enlarge
This week's 1.6% Y/Y decline in industrial production and 4.4% Y/Y drop in household purchases adds to the gloom. The only good news was the announcement that unemployment was 3.3%.
A .5% Q/Q GDP increase was the only news from the UK. Service sector growth continues to dominate that economy: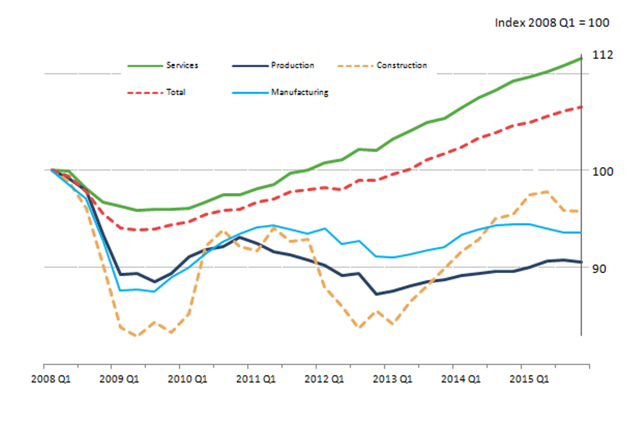 Click to enlarge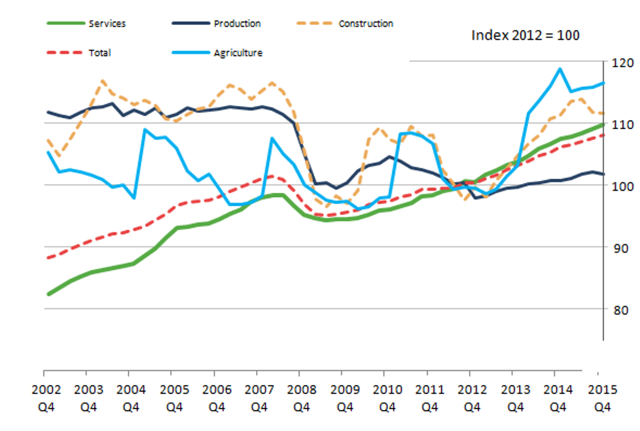 Click to enlarge
Manufacturing remains at levels fairly far below pre-recession production.
Inflation was the only number from Australia. It was 1.7% Y/Y for the 4Q14-4Q15. As shown in the following chart from Tradingeconomics.com, Australian CPI is at a very sweet 1.3%-1.7% Y/Y rate: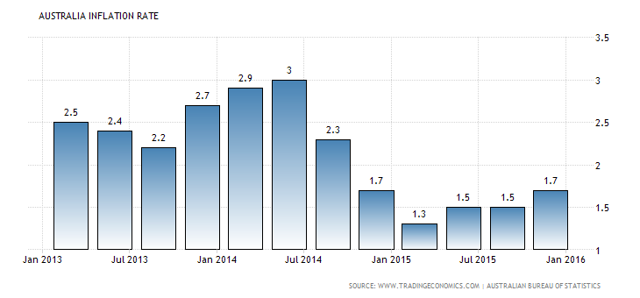 Click to enlarge
ECB head Draghi gave a speech on Monday, where he offered the following general analysis of the EU:
At home, the recovery is proceeding, with consumption as the main driver. That is being supported by our accommodative monetary policy, falling energy prices and a neutral fiscal policy. Employment is rising, up by over 2 million people compared with the trough in 2013.
EU income and consumption figures - released on Thursday - support Draghi's assessment of the EU consumer:
In the euro area, in real terms, household income per capita increased by 0.5% in the third quarter of 2015, after an increase of 0.1% in the previous quarter. Household real consumption per capita increased by 0.4% in the third quarter of 2015 and was stable in the second quarter of 2015.
This following chart from the report shows income and consumption increased since 2Q14:

Click to enlarge
Finally, on Friday, Eurostat reported inflation of .4% - the strongest reading since 2014.
Canada reported a monthly GDP increase of .3%. The release contained the following chart of Canadian GDP: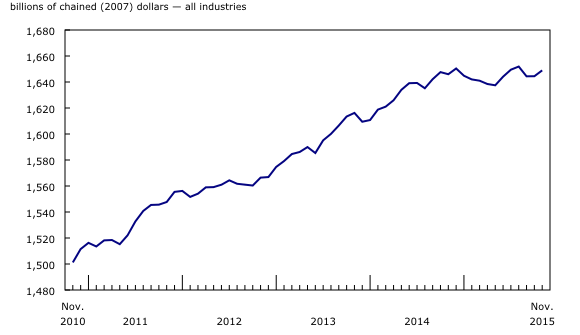 The Canadian economy experienced a technical recession in the 1H15. Growth bounced back a bit in the second half, but it's still slightly below the 2014 peak.