By Hale Stewart
Did the Fed make a mistake when it raised rates last month? Obviously, we won't know until we see more data. While the economic numbers through December confirmed the Fed's decision, post January 1 data has been troubling. Retail sales are weak, industrial production is stalling, the leading economic indicators declined .2% and the coincident numbers are rising at a slower pace. An article by Peter Coy of Bloomberg explains both sides. The bears base their argument on the following data points: 1.) weaker corporate profits, 2.) declining stock prices, 3.) weak oil, and 4.) declining import prices. In contrast, the bulls look to the following points: 1.) the low rate of initial unemployment claims, 2.) the strong employment situation, 3.) lower gas prices, and 4.) a healthier consumer. But, as I noted in the equity market review, housing data provides the ultimate tie-breaker for the bulls. Residential construction is strong, building permits are at post-recession highs, builder sentiment is strong and sales are still increasing. So long as this economic sector continues growing, the possibility of a recession is low.
On Wednesday, the Fed kept rates on hold. Their statement contained the following assessment of the macro economy:
Information received since the Federal Open Market Committee met in December suggests that labor market conditions improved further even as economic growth slowed late last year. Household spending and business fixed investment have been increasing at moderate rates in recent months, and the housing sector has improved further; however, net exports have been soft and inventory investment slowed. A range of recent labor market indicators, including strong job gains, points to some additional decline in underutilization of labor resources. Inflation has continued to run below the Committee's 2 percent longer-run objective, partly reflecting declines in energy prices and in prices of non-energy imports. Market-based measures of inflation compensation declined further; survey-based measures of longer-term inflation expectations are little changed, on balance, in recent months.
The Fed still views the economy favorably. Households and businesses are increasing activity at "moderate" rates. They also note that labor slack declined. In fact, employment news provides the foundation for the Fed's bullishness. Most important, housing continues to improve. Despite recent hand-wringing on the part of a fair number of analysts, the Fed appears calm.
As for future developments, they commented:
In determining the timing and size of future adjustments to the target range for the federal funds rate, the Committee will assess realized and expected economic conditions relative to its objectives of maximum employment and 2 percent inflation. This assessment will take into account a wide range of information, including measures of labor market conditions, indicators of inflation pressures and inflation expectations, and readings on financial and international developments.
In addition to a "variety" of labor market and price indicators, the Fed will now also consider financial and international developments. The world was much calmer in December when the Fed raised rates. But recent Chinese developments have clearly moved onto the Fed's radar screen.
Treasuries rallied in January. The 30-year declined 26 BP, 20-year was lower by 33 BP and the 2-year dropped 30 BP. The following charts of the iShares 7-10 Year Treasury Bond ETF (NYSEARCA:IEF) and the iShares 20+ Year Treasury Bond ETF (NYSEARCA:TLT) place the movements into perspective: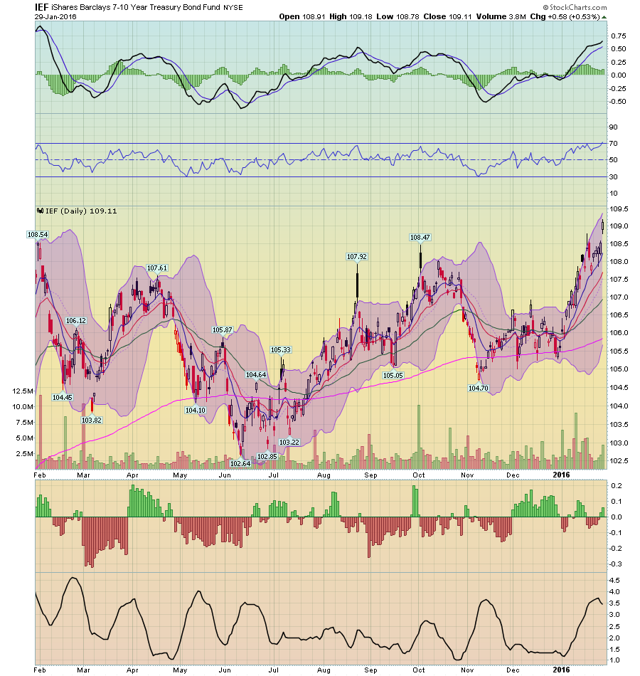 Click to enlarge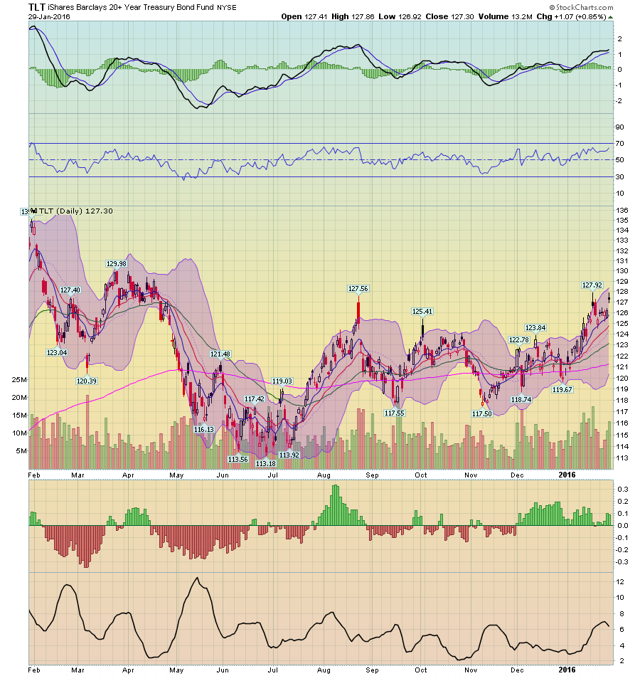 Click to enlarge
The IEF is near a 1-year high, while the TLT still has some upside room before it hits a new high, they are clearly rallying. And technically, they could continue to move up.
Because of the entire curve's near-unanimous upward movement, the 30-2 spread really hasn't moved this month: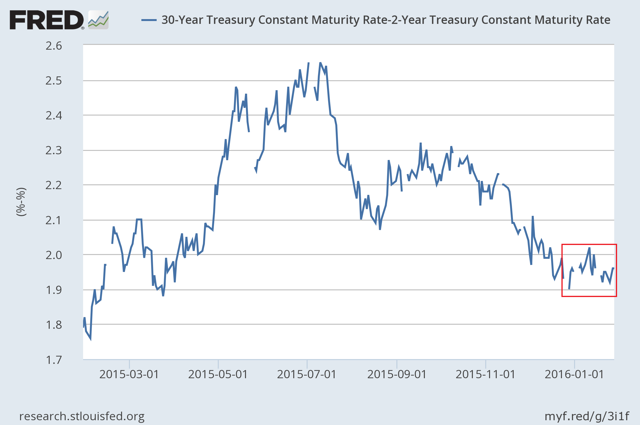 Click to enlarge