Last week the Northeast and especially the greater Washington, DC area dug out from #Blizzard2016. Unsurprisingly, it took the capital area far longer to accomplish this feat, for like many others, it seemed the plan was simply no plan at all.
From our perch, the slowdown in the DC area was reflective of the slowdown we've seen in the larger domestic economy - particularly the manufacturing and industrial economy - over the last several months. While we've talked about falling Industrial Production and Capacity Utilization, as well as weakness reflected in data published by the Institute for Supply Management, the final data point that was the tipping point for us was the December Durable Orders report, which came in with a headline of -5.1 percent, while the all important core capital goods number that excludes the volatile nondefense/nonaircraft orders fell 4.3 percent.
Despite the growing amount of data, it seems that at least some were surprised by the weaker than expected first GDP reading for 4Q 2015 of 0.7 percent. There are those out there that will paint it as modest miss to the expected figure of 0.8 percent, but let's
remember that several months ago many were calling for 4Q 2015 GDP to grow 2 percent or better!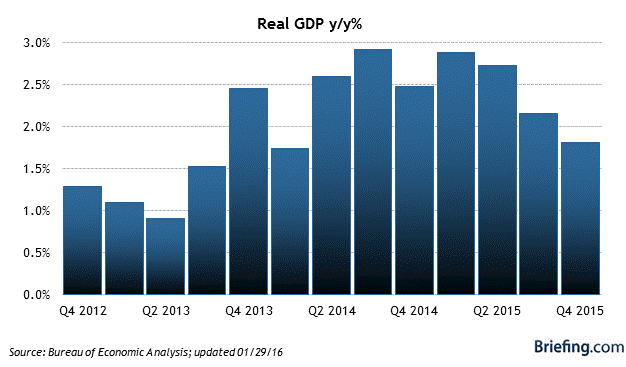 Mash the above data with the preponderance of reports from regional Federal Reserve banks that show further contraction in January - Empire Manufacturing Index, the Philly Fed Index, the Texas Manufacturing Outlook Survey, and the Kansas City Manufacturing Survey - and we were not surprised at all with the Fed's commentary following their monetary policy meeting last week.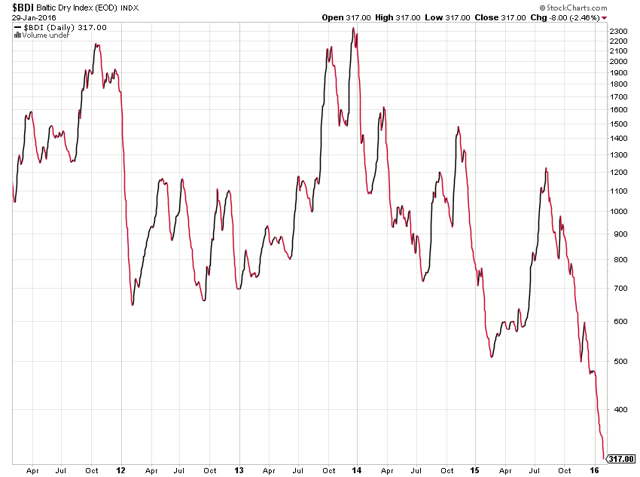 Click to enlarge
Looking at non-government published indicators, we find the sharp drop in the Baltic Dry Index (see chart above) that covers prices for transported cargo (coal, grain, iron ore and other commodities) signaling further economic weakness ahead.
Examining the BDI data and more, and again (to sound like a broken record) we were not surprised to see the likelihood of the next Fed rate hike slipping to May from March.
What did catch us off guard was the Bank of Japan's move to negative interest rates last week, which led to a sharp move higher for the market and led the S&P 500 to close the week up 1.2 percent for the week, bringing its year-to-date return to -5.6 percent.
All told, for the month of January, while the market did recover in the back half of the month, we should note it was not because of a rebound in fundamentals for the macro economy.
Rather it was yet another reminder that the stock market is still quasi addicted, if not correlated to easy monetary policies.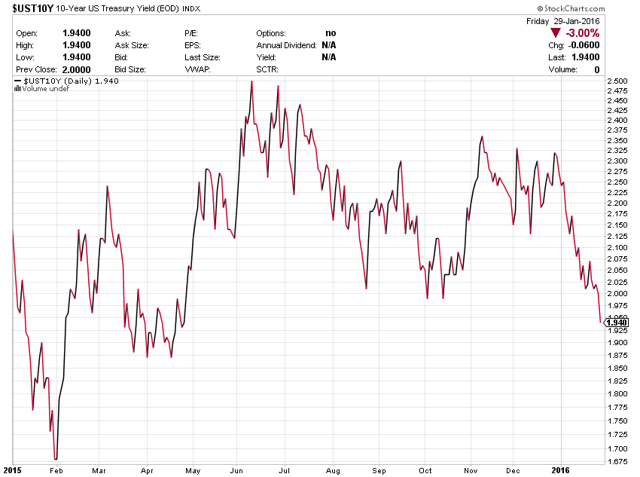 Click to enlarge
We have corroboration of the markets addiction to easy money when we look at the fall in 10-year Treasury yields (see above) as investors flock to safety. We'd note the drop in 10-year Treasury yields continued last week even though oil prices rebounded to finish last week at $33.75.
Stitching together recent economic data, the likelihood the Fed pushes off its next move to boost rates, and investors looking for safe havens, we suspect investors will have renewed favor for higher dividend yielding stocks, such as Real Estate Investment Trusts (REITS) like Physicians Realty Trust (NYSE:DOC), HCP (NYSE:HCP), American Capital Agency Corp. (NASDAQ:AGNC) and Omega Healthcare Investors (NYSE:OHI) to name a few, as well as companies with a track record for increasing dividends, such as American Water Works (NYSE:AWK), PepsiCo (NYSE:PEP), Johnson & Johnson (NYSE:JNJ), Colgate Palmolive (NYSE:CL), Kimberly Clark (NYSE:KMB) and others.
In the very near future, our focus will turn to the European Central Bank to see what lever it might pull in the coming months. Based on the findings from the January PMI data to be published by this week by Markit Economics, conjecture over another round of stimulus by China to stoke its slowing economy is likely to be had. Should that come to pass, we'd expect the US dollar to strengthen with the probability that currency headwinds could be even greater in 2016 than 2015 for companies like Visa (NYSE:V), MasterCard (NYSE:MA), Danaher (NYSE:DHR), Apple (NASDAQ:AAPL), Amazon (NASDAQ:AMZN) and many others which have already shared in the current earnings season. To us this makes certain ETFs that offer exposure to the US dollar, like the PowerShares DB US Dollar Index Bullish (NYSEARCA:UUP) and to a lesser extent the Wisdom Tree Bloomberg US Dollar Bullish Fund (NYSEARCA:USDU), attractive. Between the two, we would favor the greater liquidity that comes with UUP shares.
On tap this week
This week we have another several hundred companies reporting earnings, plus we'll be getting the usual start of the month economic data. This includes:
December Personal Income and Spending, which should offer some insight on consumers and their spending
The ISM manufacturing index as well as the global PMIs from Markit Economics
December factory orders and the usual assortment of job creation indicators.
Based on the preponderance of January regional Fed reports and January flash PMI reports that showed the slowest expansion in the domestic services economy since December 2014 and the second lowest reading for the manufacturing economy since October 2013, we should not expect a significant pickup to be had in this week's data. If this proves to be so - and we see a high probability of this being the case - we would expect to see the chatter over the Fed likely pushing out its rate hike to May from March grow, particularly if Friday's January Employment Report disappoints.
We have to be vigilant this week for, given the sheer number of companies reporting their results, there is a high probability there will be more than a few companies offering weaker than expected guidance much like Apple , Boeing (NYSE:BA), Amazon and United Rentals (NYSE:URI) have done recently.
Per FactSet, 40 percent of the companies in the S&PO 500 have reported earnings to date for 4Q 2015 with the blended earnings decline clocking in at -5.8 percent vs. the forecast of -5.0 percent on December 31, 2015. As these earnings reports and outlook revisions have digested, we've seen 2016 earnings expectations continue to slide from $130.55 per share in early October 2015 to the current $123.32 per share, which equates to 4.8 percent growth vs. 2015 earnings for the S&P 500 group of companies - that's less than half the forecasted earnings growth rate just four months ago!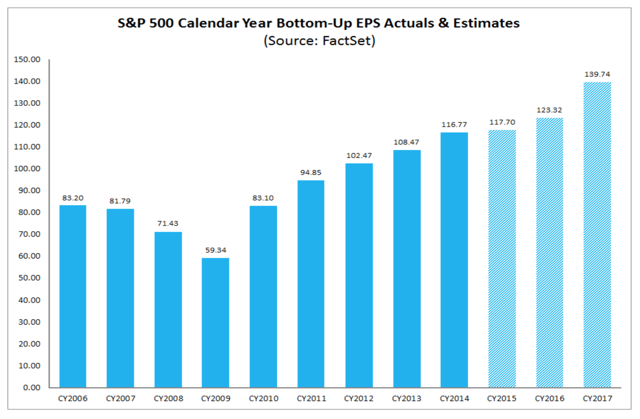 Click to enlarge
We expect 2016 expectations will come into sharper focus this week as another 24 percent of the S&P 500 companies report their results this week. As we contemplate these earnings reports and analyze the impact of updated guidance, we'll continue to differentiate between operating profit growth and net income growth compared to EPS growth given the vast number of companies that are actively buying back shares. We'd favor companies that are growing profits and buying back stock over those that are enhancing EPS comparisons with the Spanx like actions of share repurchases to hide falling profits.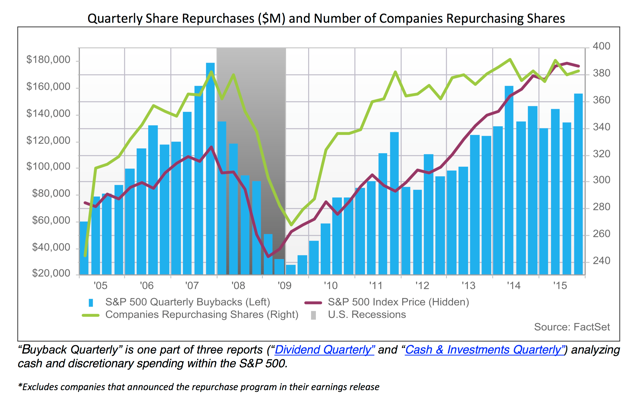 Click to enlarge
With that in mind, the following pages detail the earnings reports we'll be watching for the week:
Monday, February 1st
What's the speed of hiring in the tech sector, especially Alphabet (NASDAQ:GOOG) (NASDAQ:GOOGL) and Facebook (NASDAQ:FB)? Alexandria Real Estate Equities should shed some light on this. While many saw Fitbit (NYSE:FIT) as benefiting this past holiday shopping season, many were left wanting by the company's announcement at the 2016 Consumer Electronics Show - now we'll see what the company expects for these new products. Speaking of Alphabet, the company that includes Google reports its results after the close and we'll be looking to see how much of a drag the non-search business is on the company and if management intends to focus on profitable growth going forward.
Tuesday, February 2nd
Key reports to watch include ADT Corp.'s (NYSE:ADT) to see if consumers are adopting its Connected Home offerings. Following strong December quarter shipping results for electronics and merchandise at Amazon , United Parcel Service (NYSE:UPS) should deliver a solid quarter, but guidance for how it will improve its customer centric business will be critical. Did one-time high flier Michael Kors Holdings (NYSE:KORS) regain its mojo over the holiday shopping season? Given its product assortment, does Church & Dwight (NYSE:CHD) stand to benefit from #Blizzard2016? Finally, given all the drama at Yahoo! (NASDAQ:YHOO) of late, will the company break away for the trend of flat to down revenue to offer an upbeat 2016 outlook?
Wednesday, February 3rd
Just days away from the Super Bowl, Buffalo Wild Wings (NASDAQ:BWLD) prediction on wing prices and its menu offering for the game could be a winner. Given all the concerns over Disney's (NYSE:DIS) ESPN business, Comcast's (NASDAQ:CMCSA) results should help clarify things as well as update us on slim bundles, chord cutting trends, and theme park attendance. Was 2016 the peak year for auto sales? General Motor's (NYSE:GM) results and guidance should help determine that as well as help us understand auto demand in Europe and Asia. When could we see a turn in the mining markets? Order data from Kennametal (NYSE:KMT) will help determine that just like the results from Mueller Water (NYSE:MWA) and NXP Semiconductors will indicate if water infrastructure spending and mobile payments picked up toward the end of 2015.
Thursday, February 4th
Strong results from Nike (NYSE:NKE) and Under Armour (NYSE:UA) pave the way for solid growth for the Champion business at Hanesbrands (NYSE:HBI), and we like the inelastic demand associated with the company's underwear business. Results from Ralph Lauren (NYSE:RL) will indicate if branded apparel beyond athletic wear and footwear held up this past holiday shopping season as well as consumer spending in Asia. Given the economic outlook described above, we are not expecting strong results from engine maker Cummins (NYSE:CMI), but its forecast should help understand truck engine build levels in the coming months that we monitor as part of our Economic Acceleration Deceleration investing theme.
Friday, February 5th
We'll be looking at results from wallboard companies Domtar (NYSE:UFS) and USG (NYSE:USG) for what's next in the domestic housing markets, and listening to Alcatel Lucent (NYSE:ALU) for additional 4G LTE deployments across the globe as well as indications on when we may begin to see the start of 5G testing, something we are keeping tabs on for our Connected Society investing theme. Finally, monitoring Tyson Foods (NYSE:TSN) has provided a keen take on protein trends and what that means for both consumers as well as the restaurant sector. As such, we'll be tuning in to see what's next for beef, chicken and pork, and what that means for Chipotle Mexican Grill (NYSE:CMG) to Del Frisco's Restaurant Group (NASDAQ:DFRG) and all in between.
Disclosure: I/we have no positions in any stocks mentioned, and no plans to initiate any positions within the next 72 hours.
I wrote this article myself, and it expresses my own opinions. I am not receiving compensation for it. I have no business relationship with any company whose stock is mentioned in this article.