Last time, when I wrote an analysis piece about Exxon Mobil (NYSE:XOM) in July 2015, my cautious approach towards the world's largest publicly traded energy company was met with strong criticism. I had stated that Exxon Mobil's dividend yield could become attractive in the coming months.
Exxon Mobil was trading at $82.61 then, but, in the next one month (approx.), Exxon dropped a significant 20% to $66.55 before regaining lost ground. The previous Exxon analysis mentioned support levels of $74.30, $61.33 and $56.
Things have changed drastically since then. First, crude oil was near $50 a barrel in July; it is now closer to $30 - a steep drop of 40%. Secondly, Exxon looks set to report the lowest EPS (annual) in the last 5 years. Third, the second largest US energy company (on revenue-basis) Chevron (NYSE: CVX) recently reported a massive, shocking loss of $588 million in the fourth quarter as the oil rout continues to deepen. Exxon Mobil continues to stand firm against all these headwinds at $77.64. There is no good reason why it should.
Take a look at the infographics below: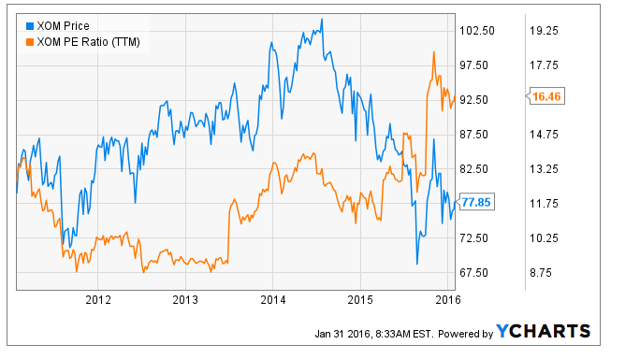 Click to enlarge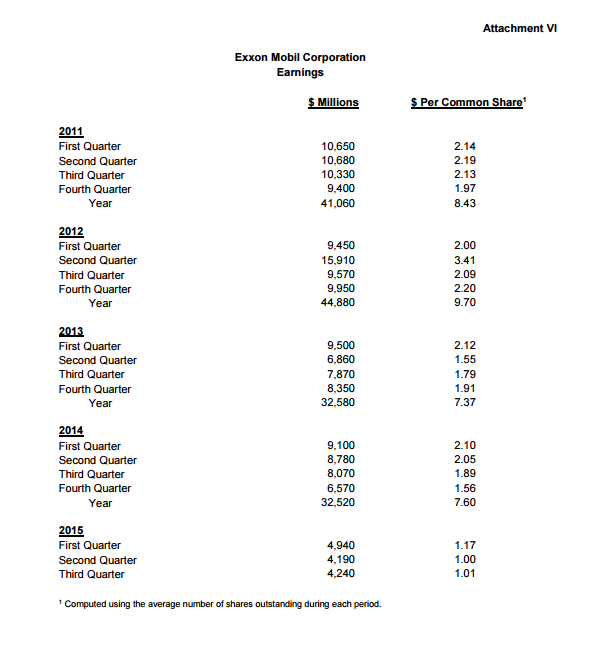 Exxon Mobil is due to report its fourth quarter results on Feb. 2, 2016. Analysts on an average estimate the energy major to report $0.65 per share and $51.36 billion in revenues. Even if Exxon manages to surprise the Street with better EPS and revenue, that may only cause short sellers to close their positions but won't merit fresh buying.
For example, if Exxon reports $0.75 in EPS, which would be 15% higher than industry estimates, it would add up to $3.93 in EPS on annual basis; for 2014, this figure stood at $7.60. The downward pressure is surely there, but investors are frighteningly focusing only on dividends and the safe haven appeal of the industry behemoth.
Another point to consider is that an investor is not making a mistake by not jumping into the bullish bandwagon. The price-to-earnings ratio ((NYSE:TTM)) for Exxon Mobil has shot from 12.40 in July to 16.46 currently. There have been no fundamental positives about the Company that demand it to trade at a higher valuation than before. Rather, the Company is battling investigations from the New York and the Californian governments over the allegations that the Company knowingly hid the adverse effects of burning fossil fuels from its shareholders and the public for past several decades.
The battle between the oil giant and the governments will be a long and hard one. But one has to wish that other governments do not enter the ring, otherwise, this will turn ugly for Exxon.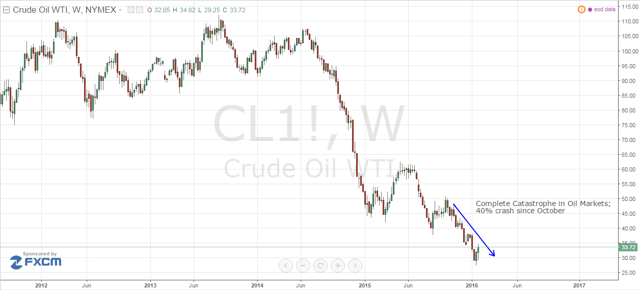 Click to enlarge
Image
From the weekly Crude Oil NYMEX price chart above, the 40% slump since October can be easily seen. This disheartening fall in oil price has pushed Chevron into the loss territory for the first time since 2002. Chevron's management is chalking out a plan to cut its expenditures and reduce the employee count as the situation deteriorates. Even the most optimistic investors don't see oil scenario improving before the second half of 2016. And companies want to preserve as much cash as they can - to finance dividend payments and battle the low price environment.
Capex plans are being postponed as oil majors fear a looming downgrade of the oil sector. Chevron's Chief Financial Officer Pat Yarrington said, such a step would have a broad effect on the sector. Chevron and Exxon Mobil will be greatly affected as they issue AAA-rated bonds to investors.
In my opinion, dividends are rewards to shareholders for keeping faith in the business. But I find it hard to understand why dividends need to be paid in dire situations. Investors are not oblivious to the global conditions, and they will understand if the Company opts to cut down on its expenses, including dividends, for the long-term benefit of the business. The money raised by issuing more bonds or selling assets to satisfy the "dividend-hunger" of investors can be better used in strengthening the balance sheet of a company.
Why I stress on this point? Because Exxon Mobil recently declared a cash dividend of $0.73 per share on the common stock, payable on March 10, 2016. While investors may be relieved that their Company is continuing with the dividends, they should be asking: At what cost?
I feel that at one point, it becomes more of a step to maintain the reputation rather than sharing success with the shareholders.
Conclusion
The stated points should be considered by every existing and potential investor before they make their next investment decision regarding Exxon Mobil. Having said this, I would also like to add that I am NOT against dividend income but would be far more satisfied if strong earnings backed the dividends.
I fail to see oil prices reaching levels comfortable to the oil majors anytime soon. I expect Saudi Arabia to go offensive if Russia or some other nation decides to lower oil production in order to grab a larger market share. It is still hard to assess what exactly oil from Iran will do to the price.
Overall, circumstances don't look good for Exxon and it is definitely 'not cheap' enough to attract your investment dollars.
Disclosure: I/we have no positions in any stocks mentioned, and no plans to initiate any positions within the next 72 hours.
I wrote this article myself, and it expresses my own opinions. I am not receiving compensation for it (other than from Seeking Alpha). I have no business relationship with any company whose stock is mentioned in this article.