What's Up?
I've discussed Gilead Sciences (NASDAQ:GILD) before. I myself have not taken the plunge in biotech. The field scares the hell out of me (Then again what isn't scary these days?). That being said, I missed out on some big opportunities in Gilead. Between 2013 and 2014 the firm more than doubled revenues to over $24 billion! Through the first 3 quarters of 2015, I have the company at $23 billion in revenues. With the next earnings report coming out on the 2nd of February, it's fair to say they're going to easily beat 2014 revenues. Net income is also going to outpace 2014. How have they accomplished this? Their wonder drug Sovaldi has an $84,000 price tag for the treatment. I am so thankful I don't have Hepatitis.
Alas, in the wake of this giant financial success, patients, insurance companies and government officials are getting perturbed by the greed. The company has had a great couple of years. Massachusetts Attorney General Mara Healey was on CNBC today (01/28/16) attacking the ethics of Gilead Sciences' pricing of it's Hepatitis C drug treatments. State governments making moves on drug prices would be great for patients, but an absolute nightmare for shareholders.
If Massachusetts pursues this, is there validity?
The attorney general sent a letter to Gilead badgering the company about its pricing and is quoted in the Boston Globe as saying that their high prices "may constitute an unfair trade practice in violation of Massachusetts law." Her office may use consumer protection laws to file a complaint against the company. Those shrugging the AG off should take note, federal and state agencies are not exactly on the medical field's side these days. I can't say that Healey is wrong when she says "this drug is priced in a way that puts it out of reach of people who need it." I think Gilead could face a real fight if Healey pursues this in a legal battle. She has firm ground to stand on in terms of how much Medicaid and state agencies are footing the bill for the low-income in Massachusetts. It stands to reason that if the bay state was successful in legally blocking Gilead's pricing structure, other states would.
The stock did not react pleasantly to the news, dropping 2.3% on top of its already lackluster month (the whole market has had a lackluster month).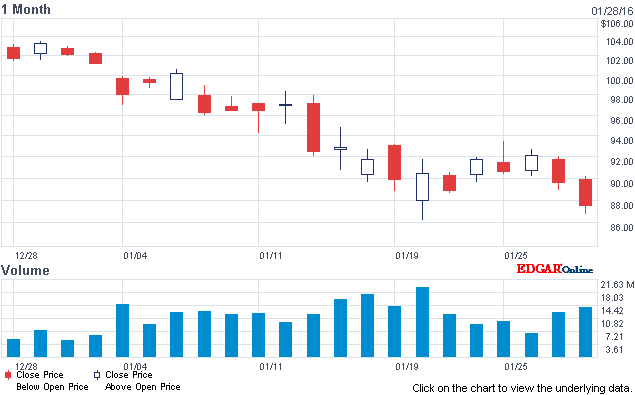 Protect your money
I still regret not buying into Gilead. That stock had an incredible climb. That being said, it's not a great time to buy. Look at the situation. The company is taking flak for the very pricing strategy that is making it such a desirable stock. Furthermore, Gilead is facing rising competition. Merk and Co. (NYSE:MRK) has just received FDA approval for its own drug for Hep C treatment. Zepatier, is expected to be priced at $54,600. This is well below Gilead's product valuations. Can you say pricing war? Let's not kid ourselves, Gilead's stock would dip big time if they lose out on their absurd pricing for Sovaldi (or the even more expensive Harvoni).
Growing competition in this field is almost a death sentence in my eyes considering the finite customer base. If you reference my previous looks at Gilead, you'll see that the company has about 3 million potential US clients. This isn't like the car industry where General Motors (NYSE:GM) and Ford (NYSE:F) compete for rebates on SUV's every year. Hepatitis C has a grim future with all the new drugs that are coming to the table. A bidding war for this infected population could prove very damaging to Gilead's financial success.
Any itch I had to buy stock during this month's dip is no longer there. Couple the possibility of the Bay State making real legal moves toward the company with the undercutting that is about to take place from new competitors and the oil field that was Hepatitis C is going to dwindle much quicker than originally planned. The company has other products in the pipeline, and $15 billion in cash laying around for acquisitions/general expenses, but a price battle within the United States has the potential to really hurt revenues in the near term. Their leaps and gains in revenue growth, such as the 37% jump year over year for Q3 will be very hard to replicate with lower pricing and market competition.
To buy this stock now, means that you have a firm belief that Gilead is going to make new strides in areas outside of Hepatitis C treatments such as their research in cancer. As I said earlier, Biotechs scare the hell out of me. One bad clinical trial and suddenly you're down 10% in an afternoon. Those who have taken the ride had a great time, but it might be time to find a new horse. Kudos to those who bought in early though. I'd like to give even more kudos to those who sold over $100.
Disclosure: I/we have no positions in any stocks mentioned, and no plans to initiate any positions within the next 72 hours.
I wrote this article myself, and it expresses my own opinions. I am not receiving compensation for it (other than from Seeking Alpha). I have no business relationship with any company whose stock is mentioned in this article.