World oil markets remain in a tailspin as supply outstrips demand despite massive cuts in capital spending by oil producers. The WTI price of oil is now below $30 and seemingly headed even lower. Pundits put much of the blame on a slowing economy in China.
There is no doubt the Chinese economy is a massive consumer of energy. The bulk of that energy comes from coal.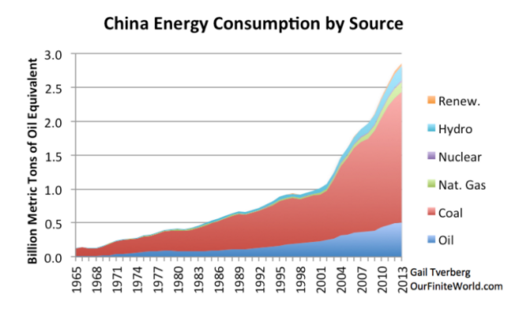 Source: resilience.org
China is making progress shifting its energy sources away from coal. In 2014, China's total energy consumption grew 2.6% while that country's coal production dropped by 2.6%. Hydro production rose 15.7% in 2014 and, importantly, China's net oil imports grew by 8.4% to 7 million barrels a day.
China's oil imports are the key figure to watch when considering the likely impact China is having on the supply demand balance for oil and ultimately for the price of oil. In my opinion, China's imports of oil will continue to grow even as China's economy makes the painful shift from one that is infrastructure driven to one that is consumer driven.
My view flows from the fact that China has become the world's largest market for motor vehicles. Growth in per capita income has given rise to rapid growth in car sales.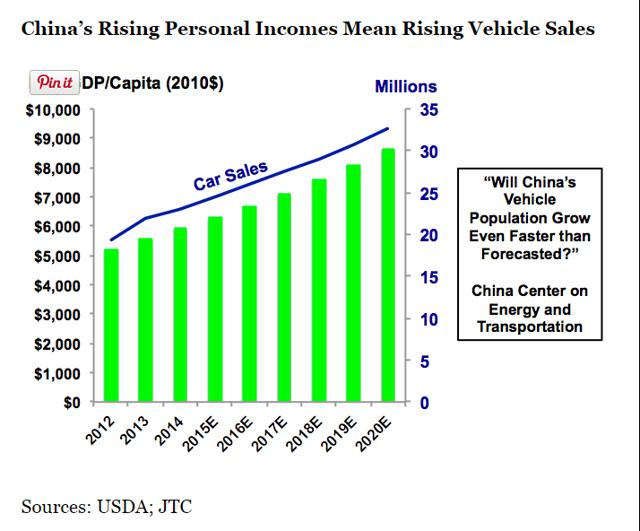 Click to enlarge
Source: Forbes.com
That growth inevitably leads to higher gasoline consumption.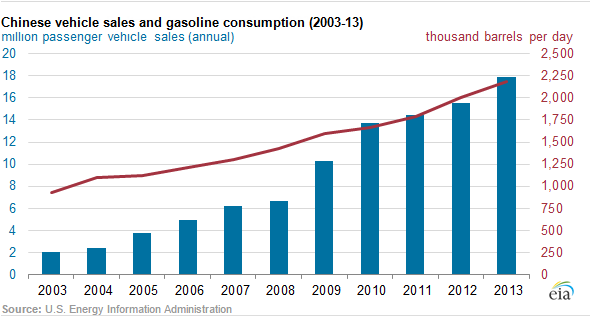 Source: EIA.gov
Roughly, parsing the data, the addition of about 90 million vehicles between 2003 and 2013 added 1.5 million barrels per day to gasoline consumption. China is now adding about 20 million vehicles annually to its fleet even with slowing demand. That translates into an additional 300,000 barrels per day of gasoline demand each year.
Vehicle sales in China have been sluggish in 2015 in part due to the softer economy. Nonetheless, vehicle sales remain at elevated levels by historical standards.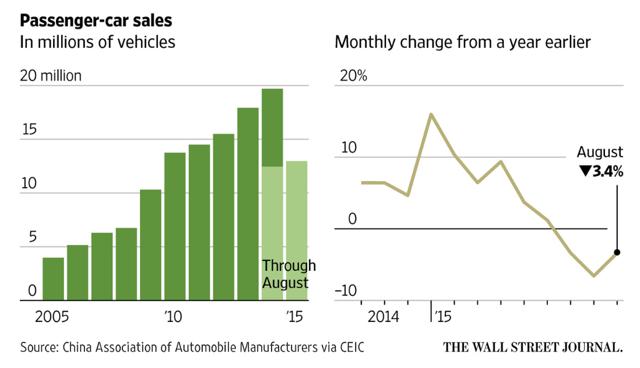 Click to enlarge
Source: Wall Street Journal
Growth in China as a consumer market implies growth in demand for vehicles. In comparison to developed markets, China's auto market is in its infancy with only 75 cars per 1,000 population leading to gasoline consumption per capita a tiny fraction of that in the United States.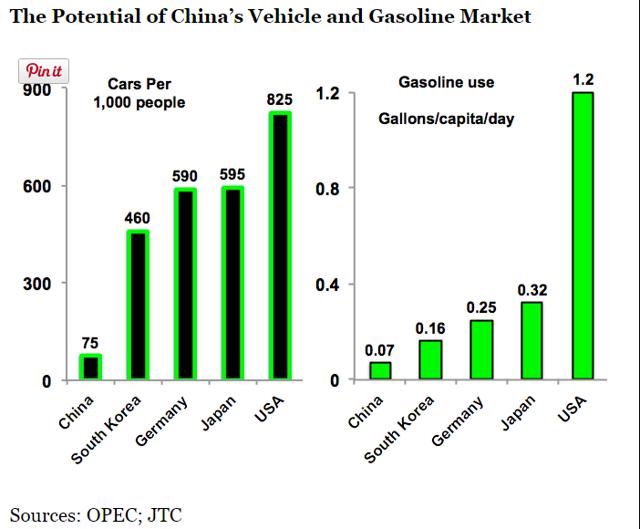 Click to enlarge
Source: Forbes.com
China's massive investment in infrastructure in the past decade or so points to a surge in car ownership and the vast size of the country will ultimately lead to more driving and more gasoline use per capita per day. There are over 10 times as many cars per person in the United States as China, and over 15 times as much gasoline usage per capita. Over the next 3 or 4 decades, these statistics will move much closer together leading to much higher oil consumption for gasoline. China will literally drive the world towards higher oil prices over time.
By 2020, I expect we will see 100 million more vehicles on the roads in China and perhaps as much as 1 to 2 million barrels per day more gasoline and diesel fuel usage. Every barrel of oil produces about 12 gallons of diesel fuel and 19 gallons of gasoline with the residue of the refinery process used elsewhere. To my way of thinking, there is little doubt that China will consume a lot more oil over the coming 5 years and that growth in consumption, when combined with the dramatic drop in drilling activity that has accompanied lower prices, will turn the current oversupply into a shortage.
The shortage might come earlier than many think. The mere suggestion that Russia might cooperate with Saudi Arabia to reduce output by 5% drove prices up 10% in just one day last week.
Russia produces over 10 million barrels a day. At $30 per barrel, Russia's oil revenues are over $300 million day. If a cut of 5% in output by Russia and Saudi Arabia (who also produces over 10 million barrels a day, the resulting reduction of supply by 1 million barrels a day might see enough of a supply-demand balance to push oil prices into the $45 per barrel range. Supposing that it did, Russia's daily revenue would surge to over $400 million a day as would that of Saudi Arabia despite their lower output, and bring much needed relief to their struggling budgets.
I think the drought in prices has gone on long enough to persuade the oil industry to temper its expansion, particularly U.S. shale oil producers. Saudi Arabia has made its point. Now it is time for an orderly market, which will benefit all oil companies.
Investors should begin to take small positions and keep an eye on headlines. The shift from oversupply to a balance of supply and demand can take place with the stroke of a pen, and if it does, beaten up oil stocks will fly.
Suncor (NYSE:SU) is one of the best bets for medium-term gains. Producing well over 500,000 barrels a day and well diversified among conventional oil, oil sands and refining, Suncor is the premiere Canadian oil company in my opinion. At its current price of just below $24 a share, Suncor stock pays a roughly 3.5% dividend and can be expected to demonstrate meaningful price appreciation on any recovery in oil prices.
Disclosure: I/we have no positions in any stocks mentioned, and no plans to initiate any positions within the next 72 hours.
I wrote this article myself, and it expresses my own opinions. I am not receiving compensation for it (other than from Seeking Alpha). I have no business relationship with any company whose stock is mentioned in this article.