Business Description
Berkshire Hathaway (BRK.B/BRK.A) is a diversified holding company. It has exposure to a vast array of industries, including insurance, manufacturing, rail, retail, energy/utilities, financial services and products, and food distribution. Through a highly specific and time-tested acquisition strategy, Berkshire has managed to achieve outsized returns, produce strong cash flows, and grow the Company's book value by investing in businesses to attain minority, majority, and sometimes controlling shares. This is accomplished through cash investment and debt assumption.
Corporate Strategy: Acquisitions
Berkshire prides itself on a highly specific acquisition strategy. This strategy considers size of the business, both in infrastructure and market share, revenues, intrinsic value, and the newly added industry positioning. It has worked for a long time, and shows no sign of slowing down. Past performance doesn't dictate future performance, but now that Berkshire has reached such a massive size ($341B EV), it has outright pledged to stick to the strategy that got it to this point and add to it where necessary.
By starting the investment early through the open market, they are able to acquire shares and slowly move in on companies worth owning. GEICO is a perfect example of this. Their acquisition of this company took a long time, but has been immensely profitable for two reasons. One, costs were low by the time they attained a controlling share. Two, once GEICO had the Berkshire name, it was altered and made more efficient, which helped produce additional returns.
Management Team
The management team for this company needs no introduction, but one thing to keep in mind is the succession of Warren Buffett. At this point, the plan is to split investment responsibility into two roles, and give the corporate responsibility to one person. Once that announcement has been made, it could have market moving implications based on who is selected. There have been numerous articles evaluating the probability of a significant drop in share price once the Oracle from Omaha steps down, and they have merit, so the main hurdle in this investment is stomaching that possibility.
From what I've seen, the more probable outcome is either Greg Abel or Ajit Jain take over as Chairman. They're currently CEOs of two of Berkshire's top performing businesses: Energy and Reinsurance, respectively. After that, an unraveling of the industry giant may be necessary. I'll speak to this more later in the article, but at a quick glance, shareholders would like to see spinoffs and divestitures in order to make the decline quick and limited, while also gaining share in any spinoffs.
If you're looking for more information on this, see here and here.
Industry Analysis
Berkshire is a diversified conglomerate with exposure to multiple industries. Their portfolio includes holdings in insurance, manufacturing, rail, retail, energy, financial services and products, and food distribution (noted below in detail). While this presents comfort for the risk averse, the likelihood of outperformance decreases as their scope of business increases, following the idea of economies of scale. Mr. Warren Buffett even commented on this in his most recent letter to shareholders, saying that once the succession takes place, it is likely that the company will find itself in that very position. That being said, I believe that operations should continue to deliver strong results, given strategic positioning in a select few industries despite poor industry trends in others. In an effort to normalize the performance of each individual segment, I utilized contributions to revenues and percent of CAPEX contributions. On average, Berkshire contributes 5.5% of revenues to CAPEX. In 2014, that number increased to 7.8% at just under $16B.
Insurance/Reinsurance -
Berkshire's insurance and reinsurance segments operate globally in the property and casualty businesses, additionally reinsuring life, accident, and health, which contributed 23.4% to FY2014 Revenue. Reinsurance assumes the risk of a liable occurrence in addition to the victim's already existing insurance policy. The insurance business is relatively free of barriers to entry, putting aside regulatory constraints. Globally, the insurance industry is not without risk.
Uncertain global markets and increasing interest rates support the view that profitability spreads will tighten into 2016 and 2017. Insurers' investment income is likely to increase marginally, given better yields, but also be dampened by a lower expected market return. In addition, their balance sheets are expected to take a hit, given the inverse relationship between prices and yields.
Finally, following a few years of premium price increases, the industry is now at an inflection point. Historically, premium prices have been known to increase as rates do, given their correlation with inflation. However, premium prices are already high. This is the case because insurers needed to increase their prices due to the low yield environment. Moving forward, premium prices could either increase as they have historically, or be forced to decrease to a reasonable level.
For these reasons, I was pleased to see only 1% of 2014 CAPEX contributed to this segment. It has performed extremely well in recent years, increasing revenues on average over 7% for the past three years. The recent lack of CAPEX to this segment tells me that Berkshire is ready to expand other profitable components of the business.
Manufacturing -
Berkshire's manufacturing operations are segmented into the three categories: industrial and end-user, building products, and apparel. Industrial and end-user products include chemical and engineering components used by the average consumer, like products you'd find at Home Depot (NYSE:HD) or Lowe's (NYSE:LOW) in their home improvement sections. Building products includes one of Berkshire's first businesses, carpet manufacturing, in addition to newly added businesses like portable power sources, paint, and brick products.
Apparel operates mainly through three types of apparel companies: high margin luxury brand jewelry, low margin staples like Fruit of the Loom, and moderately priced performance apparel. Outlook for this segment is moderate. The industry has been performing well, and while the specific businesses are susceptible to economic cycles, this segment is diversified enough to absorb most adverse economic effects.
In addition, both the end-user and building products businesses of this segment are expected to benefit from available financing for homes and apartments, and apparel is expected to improve as the economy does. However, no one business in this segment is expected to outperform, given the tight margins and low volume in the industries. Fortunately, this segment contributed a hefty 19% to FY2014 Revenues, while receiving 13% of CAPEX. These metrics support the view that this segment is crucial to Berkshire's portfolio, definitely earning the Cash Cow title.
As of Jan. 29, 2016, Berkshire Hathaway completed an all cash purchase of Precision Castparts (NYSE:PCP), an industrial manufacturer. It services aerospace, power, and general industrial markets by producing a diverse array of machine components.
Rail -
Rail accounts for a marginal portion of Berkshire's profitability, while controlling a significant part of the United States railroad infrastructure. This sector is expected to fare well in 2016. This is because it has a number of positive factors expected to drive top line revenues and margins. These factors are: increasing global trade, increasing rail car volumes, lower fuel costs, and their lack of correlation to volatility in commodity markets. While Berkshire's rail operations revolve around commodities (oil, agriculture, and metals), there is very little liability in the transportation business.
Most railroad companies are at this point overvalued. This is because they committed a significant portion of CAPEX to expanding margins and increasing capacity in the low rate environment. Now that rates are expected to rise, forecasted returns are expected to decrease, even though industry fundamentals have been solid and are still improving. Moving forward, this sector is expected to have healthy profits, but are still at risk of breaking even on committed CAPEX.
That being said, the Rail segment contributed a modest 11.9% to FY2014 Revenues and received a sizable 35% of FY2014 CAPEX. I'm interested to see if Berkshire limits its FY2015 contribution, only because of the rate hike. If they were to use more of their cash on this segment, they could create a serious control in an already large enterprise.
In his most recent letter to shareholders, Mr. Warren Buffett had some disappointing news about this valued segment of the business. Without shedding too much light on operating performance, he noted that customers have been disappointed with the service, which explains the sizeable CAPEX commitment. Fortunately, he also noted that there has been a material improvement in operating efficiencies in the first few months of 2015. That being said, it is extremely important to hear good news on improved operations when the 2015 annual report comes out. If it requires increased CAPEX or has remained unimproved, that could present difficulties in maintaining revenues.
Utilities and Energy -
Berkshire currently operates in energy segments that generate, transmit, store, distribute, and supply energy. Through their majority share in MidAmerican Energy Holdings Co., Berkshire owns four regulated utility companies, two interstate natural gas pipeline companies, an electric distribution company in Great Britain, and a transmission-only company in Canada.
Berkshire's energy revenue could be negative going into 2016. Due to the low oil prices that many of its other businesses are benefiting from, its transportation business could be materially hindered. The good news in this segment is that it accounts for an extremely small part of total revenue (9% FY2014), so even in the worst-case scenario, Berkshire may not be materially affected.
Publicly traded energy utility companies have experienced a massive selloff, due to their unsustainable investment inflows in the near zero interest rate environment. Now that rates are beginning to rise, investors are pulling out of their utility positions in search of a safer, now increasing, yield. However, industry fundamentals remain strong due mainly to companies and governments trying to take advantage of low cost fuel.
This has spurred investments to replace some infrastructure, which is beneficial for a utility business. Up-to-date infrastructure means higher operating efficiencies and increased demand. Rising rates may not present a problem for financing these investments, mainly due to the fact that financing has been committed for a long time. Future investments may dwindle, but the entire utilities sector should benefit from contracts being secured at low oil prices before. The main headwind for the US market will be the continued shutdown of coal plants.
European markets, however, have seen tough times and are expected to continue to see tough times given immense regulatory oversight. The European government's aim is to move almost entirely to renewable energy. In order to accomplish that, coal plants are expected to be shut down. The distinction here is the fact that American companies were more ahead of the renewable energy market, and have prepared for that loss of market share in coal burning power companies.
Financial Services and Products -
Berkshire operates in consumer and commercial financial services through businesses that specialize in financing for homes, rental properties, renting agreements, and leasing agreements. Basically, they act as the middleman between businesses that have the machinery and businesses that need to rent the machinery. In addition, Berkshire owns the second largest real estate brokerage franchise in the US. The outlook on this sector is positive, which reflects the view of a strongly recovering housing market, and expanding commercial needs for equipment that Berkshire is responsible for underwriting lease agreements for.
In addition, the limited overhead and liability in these agreements is expected to significantly benefit profitability. However, due to the "middle man" structure of this business, Berkshire's businesses in this area could be susceptible to a bigger competitor that offers a "one stop shop" business model. While this segment only contributed 3.4% to FY2014 Revenue, CAPEX has increased 353% since last year and 111% on average for the past three years to be 35% of CAPEX in FY2014.
While this contribution is extremely heavy, I support it. The key to real estate is being at a location first, and if you can't do that, help in developing the real estate. The fact that their franchise is so big creates an enormous barrier to entry. They already have brand equity, location, and benefits of scale to lower cost for the consumer. There are inherent problems in the business model, but I think Berkshire has a valuable hold on this market.
Service -
Berkshire's services operations are comprised of aviation and electromechanical services. In its aviation operations, Berkshire runs businesses specializing in flight training for individuals and businesses, and fractional ownership for aircraft. In its electromechanical services, Berkshire caters to producers of mechanical products like computers, office equipment, telecom, aerospace, automotive, and consumer electronics by providing services that specialize in covering the design and production stages for high volume products.
The outlook for these industries is positive. With the only headwinds in the aviation industry being the looming threat of global instability and bad weather, this segment is expected to benefit from the recent economic progress and low oil prices. In addition, it's not the same exposure that an airline has. This business is more long term because they're actually training pilots, not flying people.
The airline industry has entered a period of growth following massive investments in aircraft due to historically low interest rates. Now that they have the aircraft, they just need pilots to fill them. The benefits of an increase in net worth due to low oil prices and higher take home earnings should fuel demand for flight services in the next year or two. The outlook for mechanical services is also positive, given the longstanding technology boom. Sustainability in tech investments looks strong, given increasing consumer demand for tech and integration into other industries, like automotive and apparel. Therefore, this segment is expected to fare very well in 2016, despite its small contribution to FY2014 Revenue.
Food Distribution -
Berkshire's wholly owned subsidiary, McLane, controls a food distribution service operating in all 50 states that caters to name brand discount, drug, and convenience stores like Wal-Mart (NYSE:WMT), 7-Eleven, and Yum! Brands (NYSE:YUM) (KFC, Pizza Hut, Taco Bell). This business is expected to benefit in 2016 and 2017, because the high turnover and sales volume restaurants it caters to have been successfully gaining market share against traditional restaurants. This should support top line revenues, and the recent drop in oil prices should increase profitability moving forward. This segment contributed a healthy 23.9% to FY2014 Revenues, while only receiving 2% of CAPEX. It was good to see another Cash Cow in a portfolio of cyclic and economically reliant industries.
Opportunities for Further Growth
Insurance and Reinsurance -
There is opportunity in the insurance industry for M&A. The industry itself has numerous separated underwriters and investment businesses. Pair this with the fact that insurers are looking to optimize operations, and acquisitions seem intuitive. If Berkshire can leverage its size to illustrate that being acquired will help operations by streamlining processes, there could be some lucrative acquisitions in the next two years. In addition, acquiring a small underwriting firm would be a very low cost to Berkshire. This is because the business is bound to have low debt, and a low valuation due to its relative size. The search for making smart acquisitions that will produce a material increase in profit should start in the insurance industry for this reason.
Energy and Utilities -
At this point, Berkshire doesn't operate directly in oil exploration, drilling, or refining. This has done well for profitability in recent years, but after the massive selloff, Berkshire could be poised to make some great deals. Not only does it have $526B in assets to leverage, it owns a great deal of transportation infrastructure. Their pipeline lies in the American Midwest, which is also expected to have oil. Acquiring an energy company in mid-late 2016 that is based out of that region could be a great step in producing outsized returns. This is because by that time, the price of oil is expected to stabilize, and once the acquisition takes place, Berkshire would be able to integrate the company into its operations.
This may be slowly coming into fruition, given a resumed stock purchasing plan in Phillips 66 (NYSE:PSX), which is an international refining company. Buffett purchased 72.29M shares total, and now owns just over 13% of the company.
The volatility in Europe could also be an entry point for Berkshire. They could pick up on the trend of replacing coal plants with renewable energy because they're already operating in that business. All it would take is some extra CAPEX to its America Energy/Utility interests to fuel that expansion.
Food Distribution -
Berkshire has a controlling handle on the food distribution business. Because they bought McLane as a fully developed company, they assumed very little debt for the transaction and based the valuation mainly on the assets already in place. Now that consumers are starting to prefer businesses that McLane caters to, this segment should be able to increase market share with demand. This is because there is already an efficient infrastructure in place. As these businesses grow and develop real estate, McLane will only need to increase capacity, which should prove to be somewhat easy with Berkshire's relationships with commercial transportation and cash positioning.
Financials
Revenues -
Revenues are growing, and that is expected to continue. Total revenues for 2014 were $198M for 2014, up 35% over three years, and 9% from 2013. This is mainly due to the increased focus on developing the energy, financial, and insurance businesses that Berkshire runs. Out of those three, financial services has outperformed, with energy following, and insurance trailing both. Since 2013, these segments have increased revenues by 52%, 38%, and 10%, respectively. This is most likely due to industry trends and CAPEX in each segment.
CAPEX -
CAPEX is important in any business, but especially important in Berkshire's business model. This is because it can show which businesses management is committed to developing in the near future. Since 2013, Berkshire has increased CAPEX to the financial products and services, energy, and apparel/services segments by 353%, 52%, and 32% to $7M, $1M, and almost $2M, respectively. This is positive, given the aforementioned industry outlook.
Operating Margins -
Margins have been growing slowly and unevenly. This is mainly due to Berkshire's business being extremely susceptible to a wide array of macroeconomic changes. Maintaining margins within a conglomerate is difficult. For instance, their operating margin from 2012-2014 were 13%, 15%, and 14%. This was mainly due to their distribution, insurance, and apparel/services. In distribution, the business incurred growth in revenues and costs. In insurance, the company managed to grow revenues and cut costs. However, in apparel/services, revenues and costs are extremely susceptible to consumer demand, which is a function of a number of volatile economic indicators. The point here is that because Berkshire is so large, consistently growing margins remains difficult.
Investment Income -
Investment income is the main way insurers make money. It makes up the income part of an insurance company's operating margin, and at Berkshire, this metric has been volatile for years. It is expected to continue that way for the reasons noted in the "Industry Analysis" section. The investment income from 2010-2014 was $261M, -$2104M, $1963M, $2608M, and $506M.
Operating Cash Flow -
Operating cash flows have been increasing steadily since 2008, totaling $32,010M in 2013. This is due mainly to Berkshire's acquisitions, because non-cash expenses and changes in (non-cash) current assets will increase as more are acquired. While this isn't an internal efficiency, it helps in determining intrinsic value. Because acquisitions have so steadily increased operating cash flows, residual income has been steadily increasing as well.
Debt -
Long-term debt has been growing steadily since 2010, totaling $80,209M in 2014 with an interest expense of $3,253M. This is a result of the nature of Berkshire's business. When they attain a controlling share in any company, they assume their debt obligations. However, Debt/Equity is very manageable at .33, but financial leverage is high at 2.19. Both ratios haven't changed much since 2009.
The Model
In order to value a company as big as Berkshire Hathaway, I used a segmented Residual Income model. It ignores the effects of leverage, and concentrates on the forecasted performance of each business segment to create a share price based on a sum of the parts. The table below contains a very conservative estimate of a long-term price.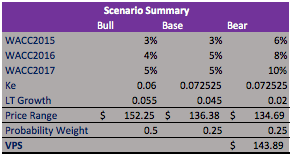 It should be noted that in this table, the following growth estimates were used. They are reflective of Berkshire's current market positioning and improving macroeconomic conditions.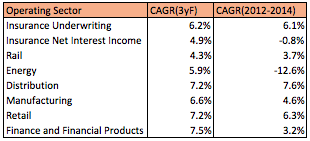 These growth rates are not reflective of the best possible case scenario, only the most probable best-case scenario. If Berkshire's managers seize some of the impending opportunities in the current marketplace, growth rates could end up being much larger than this. But for the purpose of conservatism in light of the amount of risk inherent in some of these businesses, estimations were kept to the lower end.
P/CFO Over Time
In order to assess the validity of these estimations, I've included a chart of P/OCF over the last 5 years and compared the proposed valuation multiples.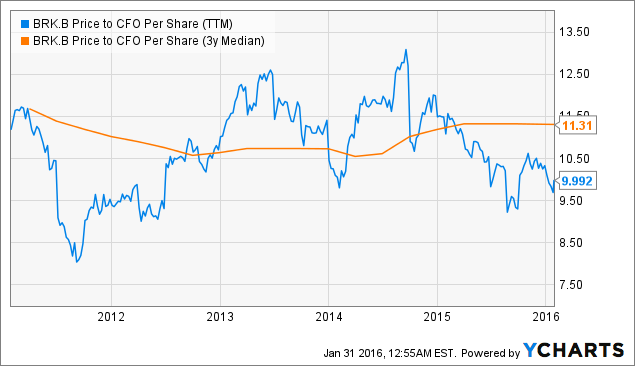 BRK.B Price to CFO Per Share (TTM) data by YCharts
As you can see, based purely on a high-level valuation method, its current levels are attractive. My model predicts a forward P/CFO value of 8.99x for 2016 and 8.46x for 2017, suggesting a serious current undervaluation.
P/BV Over Time
Before wrapping up, I thought I'd look at the metric that Mr. Warren Buffett himself valued Berkshire stock with (noted in his most recent letter to shareholders). This multiple cements my view that this stock is currently undervalued. Trading at ~1.3x BV is attractive to say the least, being that Berkshire is committed to buying back shares if the price drops below 1.2x BV.
The reason for this discount, and according to Mr. Warren Buffett, the reason for an even larger intangible discount, would be incomplete if the insurance businesses' float were not delved into more detail. In his most recent letter to shareholders, he noted that float, which is a metric in the industry used to record the liability form of funds acquired from premiums, is at an all-time high of $84B. The good thing about float is that the insurance company is paid to hold that liability by investing it - thus contributing investment income as well as capital gains. So when looking at the chart below, be sure to consider the implications of intangible value contributed by recording an income producing "asset" as a liability in computing BV.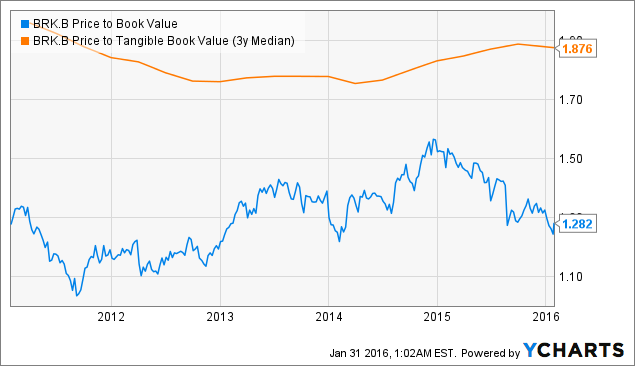 BRK.B Price to Book Value data by YCharts
Summary
Because of the inherent value present in the model, as well as financial performance and multiples valuation, this stock is attractive at current levels. Pair that with outstanding performance across multiple business segments, improving macroeconomic conditions, favorably allocated CAPEX, and major industry presence, and I can easily rate Berkshire Hathaway's stock as a Buy.
One could make the argument that because of its size, it can't manage each segment well. But management has done exceptionally well in decentralizing the organization and hiring stellar lower level managers to run and acquire smaller companies. This is evident in its business portfolio. It doesn't just dabble in insurance - through GEICO, Berkshire (Re)Insurance, General Re, and many others, it holds a formidable position in the industry.
The story is similar with each of its other industries - from owning Benjamin Moore, Acme Brick, and MiTek in materials to Brooks and Russell in clothing/apparel (and countless others, see here), Berkshire Hathaway can stomach industry trends based on the scale of diversification it has. Not only has it been investing in profitable enterprises and slowly decreasing exposure to more risky ones, it has enough diversification within each industry to limit firm-specific risk. For these reasons, I see Berkshire Hathaway stock as a solid buy, especially if management seizes some of the opportunities present in 2016.
In closing, I suggest any investor considering investing in this great company read the letter to shareholders). It's written extremely well and contains an excessive amount of useful information. In addition, I believe that reading it is the only way to develop an accurate understanding of this company. Mr. Buffett takes you through Berkshire Hathaway's past, present, and future, provides clear organizational objectives, and reaffirms his commitment to shareholders.
Disclosure: I/we have no positions in any stocks mentioned, and no plans to initiate any positions within the next 72 hours.
I wrote this article myself, and it expresses my own opinions. I am not receiving compensation for it (other than from Seeking Alpha). I have no business relationship with any company whose stock is mentioned in this article.