As interest rates have started to move up, I have decided to rotate a portion of my portfolio from municipal bonds to equity, provided the equity pays a decent yield and I feel there is opportunity for capital appreciation upside. In an earlier post, I argued that Proctor & Gamble was a safe bet, and added it as my first position in this sub-portfolio that I am creating. The community provided excellent commentary and opened my eyes to alternative investments that I had not considered. Thanks! In this post, I will provide my second position, Genuine Parts (NYSE:GPC), and the rationale behind its selection.
Auto companies in the US have had a great run lately, and have seen sales of cars and light trucks hit record levels. The chart below from the Wall St. Journal shows the sales over the last 15 years. With sinking oil prices bringing gasoline prices lower, sales have shifted from smaller cars to larger SUVs and light trucks. The larger cars and trucks have over-sized margins for the auto companies as well. Yet, General Motors (NYSE:GM) and Ford (NYSE:F) have seen shares drop over the last 12 months by 12% and 21%, respectively. This, along with recent dividend boosts by both, has made dividend yields perk up, to about 5% for either.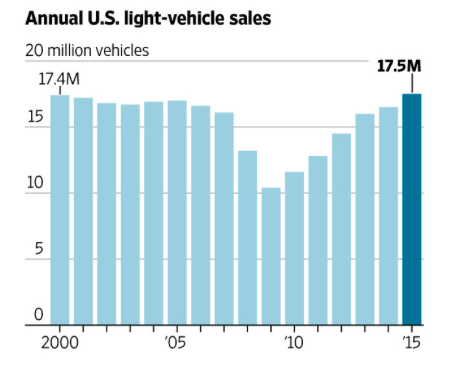 Auto bulls will argue that with share prices down so far, while sales are up, there is nowhere for share prices to move but up. I disagree, and feel that any slowdown in sales will leave the automakers with unused capacity that will keep costs high as revenues shrink. Therefore, while the yield is attractive, I don't see the opportunity for capital appreciation in the short-medium term. I believe the market for new automobiles is at or near saturation, and thus sales will turn down affecting stock prices negatively. My rationale is 1) the chart below from the USDOT shows the average age of a car on the road in the US has increased from 8.9 yrs. to 11.4 yrs. from 2000 to 2014. 2) Annual sales of new cars have increased every year since 2009 and reached a record 17.5M units in 2015. 3) Interest rates are rising, which will make financing more expensive for many buyers, and 4) the strong dollar will hurt used car exports, hurting used prices, driving trade-in values lower. I agree there is more population becoming driving eligible, but a lower percentage of those people are opting for getting driver's license. Also, ride sharing and car sharing companies are affecting car ownership levels. New technologies (i.e. better hybrids or electrics, driver-less features, safety features) will help spur demand, but I forecast a sales downturn before these technologies make the market.
From point one above, I decided that with the higher population of cars on the road, and the fleet aging, auto parts suppliers could be a worthy investment. The table below shows the four companies I investigated; (AutoZone (NYSE:AZO), Advanced Auto Parts (NYSE:AAP), O'Reilly Automotive (NASDAQ:ORLY) and Genuine Parts Company), and some of the metrics I used to reach a conclusion. Data collected at marketwatch.com on 1/29/2016.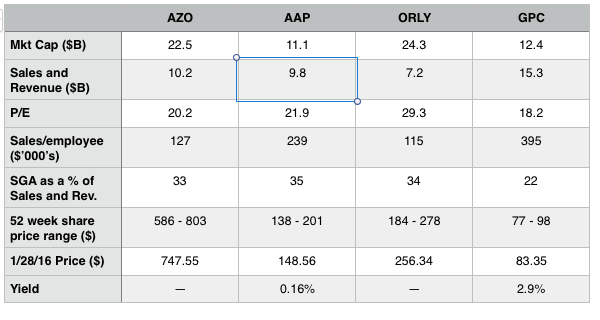 For my money, I am investing in GPC. My primary reason is that GPC provides a reasonable dividend yield to mostly offset the loss of muni-bond interest per the model for this portfolio. In addition, I like the diversification (only about half of GPC's sales come from auto parts, the balance is diversified parts to other industries). Sales per employee and SG&A as a percent of sales are also attractive, but to be fair, with the diversification, this is a difficult number to compare. Lastly, GPC has 59 years of dividend increases.
The portfolio I am building out now has two holdings; Procter & Gamble (NYSE:PG) and GPC. The goal of this portfolio is to beat the total return, after tax, of my municipal bond portfolio. All dividends will be reinvested in the shares of the company paying the dividend.

Disclosure: I am/we are long GPC.
I wrote this article myself, and it expresses my own opinions. I am not receiving compensation for it (other than from Seeking Alpha). I have no business relationship with any company whose stock is mentioned in this article.