In his opening statement to the Chevron's (CVX) Q4'15 Earning Call Mr. Watson, Chairman and CEO, said: "Our number one financial priority is to maintain and grow the dividend. We have a strong balance sheet for precisely transition times like this."
In other words the company is messaging that after exhausting the Capital Expenditure cuts and spending reduction the next place to look for cash within the balance sheet is through growing its long term debt in favor of paying out dividends to its shareholders.
In the Q&A session Mr. Watson indicated that the company is working with the rating agencies, sharing their forecasts to prove that its high grading should be kept. This is another indicator that the path the company chose is to increase the debt to allow it to maintain dividends throughout the time of low oil price and therefore low cash generation from its core business.
Chevron's debt grew in the recent year by $11.1B, going from $27.8B to $35.9B. When looking at the percent of the Debt to Equity we can see that it went up by 7 points year over year, from 18% to 25%. This is before the additional debt the CEO alluded to in the call.
The Debt to Equity indicator went up due to two reasons. The higher debt and the lower equity value due to its stock price.
The low oil prices impacted the business of all Oil/Gas sector companies. Big and small. Here is a comparison of Chevron's Debt to Equity in the recent three years compared to ConocoPhillips (COP) and Exxon Mobil Corporation (XOM).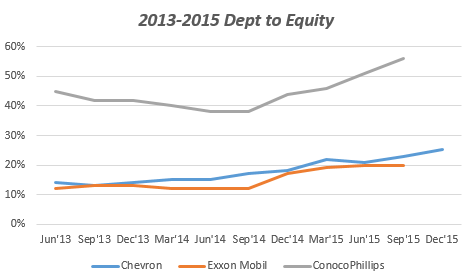 While Chevron's Debt to Equity situation is not as severe as COP it is still constantly going upwards.
In order to get things in a better perspective here is a broader look at the oil price and the company's dept to equity. The high swings in oil price are not a new thing for Chevron. Here is a graph that illustrates Oil price behavior during the recent ten years taken from Nasdaq.com.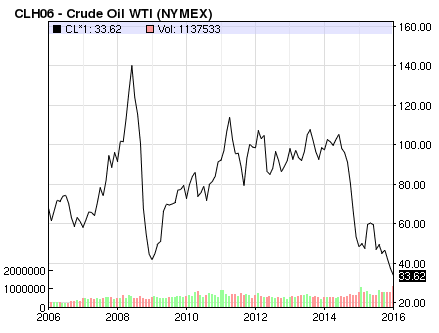 While the Oil price dropped significantly during the days of the 2008-09 financial crisis so did the Debt to Equity curve trend has changed for Chevron. The indicator went up from 9% in 2007 to 11% in 2009 and remained in these levels throughout 2010. Based on the current rate of 25% Debt to Equity it seems like the 2008-09 situation was a walk in the park compared to the current crisis. And one needs to remember that this crisis was relatively short in time until oil price recovered again.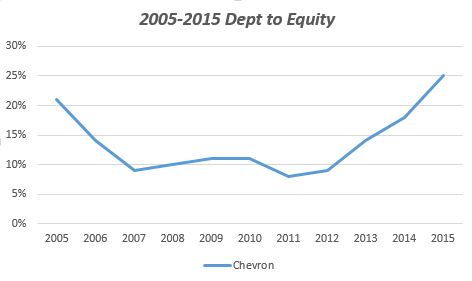 If Chevron's management decides to take the yearly dividend as an incremental debt, if assuming that the company's equity value remains as is, and if assuming that the yearly dividend remains at eight billion dollars in total we can easily see the graph shooting up to the levels of 30% Debt per Equity in the year 2016.
Is that sustainable?
"We've told you, we got 3,000 locations that we think meet economic threshold at $50.", John S. Watson, Chairman & CEO
If oil price will recover to a higher equilibrium it would have a significant impact on both the equity value as well as on the cash flow, but what if it would take it a couple of more years to recover and in the meanwhile it would swings between $25-35?
As a stock holder I will continue to monitor this indicator as aggressive financing growth using debt could lead to a volatile future earnings as the interest expenses will impact future cash flow. The Debt to Equity indicator is a signal that is currently blinking in front of Chevron's management and its stock holders. Investors should monitor next actions that the company is taking in this front of the business alongside the core business actions.
Disclosure: I am/we are long CVX, COP.
I wrote this article myself, and it expresses my own opinions. I am not receiving compensation for it (other than from Seeking Alpha). I have no business relationship with any company whose stock is mentioned in this article.