Wabtec (WAB) has declined 39% since peaking in July. In the process it lost nearly 28 percentage points relative to the Standard & Poor's 500 Index, after having left it so embarrassingly in the dust over the last fifteen years: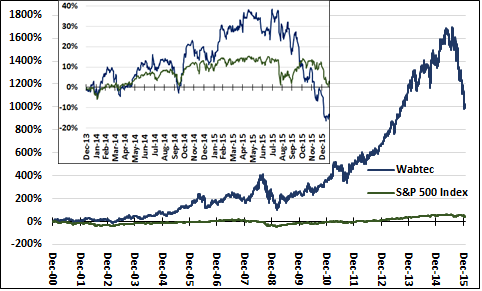 Source: Yahoo! Finance
Clearly, investors are questioning Wabtec's ability to continue to maintain its extraordinary performance record. Yet, its fundamentals have yet to deteriorate in such a way as to justify this ungenerous treatment: the company can expect to record its sixth consecutive year of increasing revenue, income and margins in 2015 ─ the sort of performance that is precisely the reason that it had become popular with investors in the first place.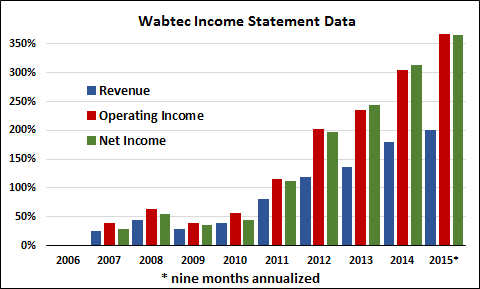 Data Source: Wabtec
Analysts expect a 3.0% increase in revenue and a 7.1% earnings per share increase in 2016 ─ solid figures, although admittedly not as strong as Wabtec's recent growth. Wabtec is unquestionably a cyclical company, and while investors have not experienced the implications of its cyclicality since 2009, market reaction to a reminder of the company's basic facts of life seems extreme. However, at its peak it was trading at 24.9x expected 2015 earnings, which is unrealistically generous for a cyclical company, even one with foreign exposure. A retrenchment was overdue, and it's now trading at 13.9x 2016 forecasts.
The catalyst for Wabtec's revaluation was the release of quarterly railcar order data. The 2015 figures declined precipitously from 2014, and while the market shrugged off the Q1 figure, by the October 20 release the situation could no longer be ignored. Orders had fallen to the lowest level since records began: this was no blip.

Source: Bloomberg
The burst bubble in tank car demand and declining orders for coal hoppers accounted for the drop: orders for other types of railcars held steady. Although the Q3 order backlog declined 1.5% YOY to 122,591, it remains considerable: railcar builders will have no shortage of work at least through H1 2017.
On the traction front, 2015 started with U.S. orders for 868 locomotives ─ quite a large number, stimulated by tougher emissions standards.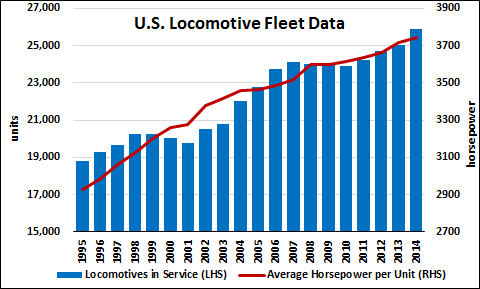 Source: Progressive Railroading
Over the last twenty years, the U.S. fleet has expanded by 37.8% and the average locomotive has grown 27.9% more powerful, trends that suggest U.S. railroads' long-term planning is for traffic growth, which of course requires railcars. It is likely that the decline in railcar orders will prove a temporary artifact of recent order patterns, which will change as demand moves away from tankers and coal hoppers.
But, as important as sales to equipment manufacturers are, the aftermarket accounts for 62% of Wabtec's revenue. Mechanical components wear out, safety standards are continually raised, engines require periodic rebuilding (as well as retrofitting to meet tougher emissions standards) and locomotives are increasingly being fitted with electronics, such as Positive Train Control (collision avoidance systems mandated by law in 2008). The need for traditional maintenance is determined by wear and tear, which thanks to a sub-par economic recovery, and the unique problems of the coal industry, has been comparatively light: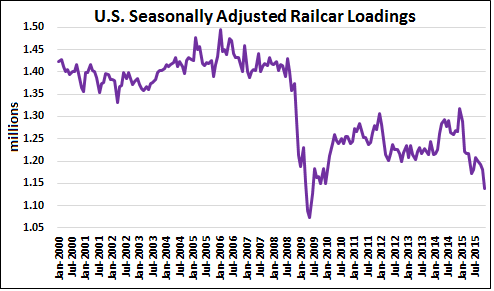 Source: U.S. Department of Transportation
However, this has not affected Wabtec's aftermarket business, which has seen revenue increase at a compound rate of 19.8% since the depths of the recession in 2009. This is because its aftermarket business has progressed far beyond servicing brakes and bogies: environmental and safety mandates from regulators, as well as the increased opportunities for signaling, fleet monitoring and fleet management offered by electronics, have moved this business a considerable distance from its more obviously cyclical roots.
Wabtec is primarily a North American business, but it has expanded successfully abroad, and sales outside NAFTA now account for 36% of revenue. They're broadly distributed, but Europe is its largest market. Here it encounters a different environment: rail is primarily a passenger service; it's entirely electrified; light rail is common; and few customers are commercial entities. In July, Wabtec announced that it would acquire France's Faiveley Transport, a specialist in precisely these markets with sales of $1.2 billion. Wabtec will transfer its passenger transport activities to Faiveley, which will become its center of excellence in these businesses. Assuming the deal goes through without regulatory interference, it is a coup for Wabtec: it increases its size by 40%, establishes a strong global position in passenger transit systems, and cements an already solid position in Europe, where the passenger transit market is four times larger than NAFTA's. The implications for Wabtec's position in the U.S., if light rail continues to be politically fashionable (and the highway bill signed in December added to funding), are clear.
So, fallen or not, Wabtec is still an angel, with a lot going for it. The question is whether it is an attractive one to own. At current prices it's reasonably valued, and analysts' expectations may be on the pessimistic side, over-influenced by order developments that won't affect Wabtec's revenue for a year and a half at least. The Faiveley acquisition is transformative, and substantially increases the company's exposure to the less cyclical side of rail transport. Stocks that have experienced such sudden revaluations can be risky, and it is highly unlikely that it will return to the premium valuation it carried last summer, but Wabtec is probably a risk worth taking.
Disclosure: I/we have no positions in any stocks mentioned, and no plans to initiate any positions within the next 72 hours.
I wrote this article myself, and it expresses my own opinions. I am not receiving compensation for it (other than from Seeking Alpha). I have no business relationship with any company whose stock is mentioned in this article.