Renewable oils and food ingredients specialist, Solazyme (SZYM), has had a long journey towards becoming a profitable business. From operating in a garage as an innovative start-up company to now producing at an industrial biotechnology fermentation plant in the sugar fields of Brazil, the company currently finds itself on the home stretch as it begins to ramp up its initial large-scale production. Yet the number of obstacles along the way have been abundant, and the historic fall in global commodity prices has only been the latest barrier to hinder an evolution in manufacturing.
All along the way, Solazyme has faced the rapid need to adapt to its changing market environment. Originally billed to Wall Street as an advanced biofuel play to counter the trend of high-priced crude oil, the company has since been coerced into withdrawing back to the high-margin industries in which it can reasonably and profitably pursue at scale regardless of market circumstances. This transition has come at significant expense. It has already resulted in the closing of the Clinton production facility in Iowa and a first round of employee cuts. Yet in each of these measures, a calculated reduction remained the necessary action to moving forward.
Today, the need to reduce overhead continued down the path of tough choices in order pause future ambitions in light of practical market realities. In a little-publicized Form 8-K that was filed with the SEC on January 29, the company announced its intentions to once again reduce headcount. The company noted that the number of employees that were expected to be laid off would represent more than 20% when completed. Yet doing so would further narrow the company's focus onto its operations revolving around higher-valued product categories.
Combined with the closing of the Clinton manufacturing plant and the expanded joint development agreement with partner Bunge (BG), Solazyme noted that it anticipates saving approximately $40 million annually. This represents a significant boon to the company's pursuit of being cash flow positive. As I show in the chart below, the company's use of its cash and short-term investments has been slowly improving over the past year. Much of this has been due to its focus on higher margin products and the winding down of Clinton. The company also noted in its filed Form 8-K that its cash balance at the end of December 2015 was approximately $98 million. As also shown in the chart below, this would represent one of the quarters with the least amount of cash on hand used.
(Figures below shown in $millions)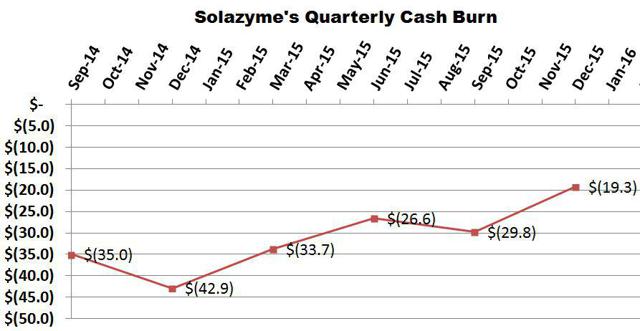 Because much of this reduced use of cash already incorporates a winding down of Clinton, it remains unlikely for this latest overhead reduction to result in a $10 million per quarter reduction. However, the employee cut should inevitably result in a more disciplined use of cash going forward. The closing of Clinton was anticipated to result in $12-$15 million in annual operating expenses. Therefore this latest action of narrowing focus could result in another $6-$7 million of cash saved per quarter when fully implemented.
While it remains to be explained which areas were reduced, the company continues to push towards food with its partner Bunge through its Solazyme Bunge Joint Venture. In company's latest quarterly report, it was noted that the SB JV would provide research funding to Solazyme through December 2018. Through this meaningful expansion of the existing joint development agreement, new foods would be marketed by Bunge and its sales network. The resumption of R&D funding remains a welcome component of the latest JDA expansion. It also marks one of the longest terms for an agreement between the two companies.
New foods, including the company's oleic oils and algae butter, has inevitably taken the front seat for the company. Yet ironically, food only makes up a very small portion of the current overall revenue mix. Much of this is derived from sales of foods outside of the SB JV. Due to the non-consolidated state of its joint venture, Solazyme currently derives the bulk of its revenue from its profitable skin-care line of Algenist.
This high-margin product line remains the bread and butter of the company's current revenue profile. As such, it remains promising to see that growth is still anticipated for this high-end product line. In early 2016, Algenist made its first move into makeup having already established itself in skincare. As summarized in the article found here, the company's REVEAL line is being marketed as a makeup line that combines the color spectrum of natural algae with the algae-derived oils made by Solazyme.
Outside of the SB JV which is not anticipated to be consolidated in 2016, it is expected that sales of the company's whole algal powders and Thrive will continue to play a progressive role in food sales. Yet in both of these markets, a considerable amount of time is needed in order for market penetration. Over the next year, it is likely that these lines will play a small role in shaping the company's income statement.
One positive note that is left for investors to ponder is the following note in the Form 8-K:
"These sequential steps have been undertaken to leverage Solazyme's assets to focus on higher-value products and markets, and Solazyme expects to follow them up with the announcement of additional growth-focused activities in these areas."
Over the near-term there would appear to be few catalysts as the company settles into its key high-valued product lines with a reduced workforce. Yet as this note suggests, growth continues in each of these avenues. The possibility of additional announcements raises the question of whether or not the full growth story over the near-term is yet known.
Final Thoughts
While the sound of an employee workforce reduction may sound intimidating for investors, ironically this is the only group that benefits from its implementation. The company has signaled its continued pursuit to run leaner operations and to be an efficient steward of the cash it has on hand. While this does not eliminate the possibility of raising additional capital in the near future, today's news reflects a strong action by management to delay that very need (if not eliminate it altogether).
More so, the action also places a greater commitment by the company to focus on its high-margin product lines. These are channels which can be profitable and which will not be easily deterred by the low-priced commodity environment. More clarification will be needed as to what areas of focus were included in this shift. However, with a fresh focus on the SB JV and its move into food, investors should internally begin to align the company more fairly with its food and consumer product focus. As it stands now, the market continues to unfairly associate Solazyme with the volatile price action of commodity crude oil.
Disclosure: I am/we are long BG, SZYM.
I wrote this article myself, and it expresses my own opinions. I am not receiving compensation for it (other than from Seeking Alpha). I have no business relationship with any company whose stock is mentioned in this article.