I'm a frugal Jew, and I LOVE buying on sale, the bigger the better.
My first Staples (NASDAQ:SPLS) article, "Staples: Were Shareholders Sold A Bill Of Goods? Office Depot Shareholders Are The Real Winners," was written about 11 months ago. I was critical of the proposed buyout orchestrated by an activist investor who owned both, Office Depot (NASDAQ:ODP), the company they wanted bought out, and Staples, the company they wanted to be the purchaser.
Like many investment professionals, I have a certain company or a certain investment that I hold dearly or care just a little bit more about. For me, Staples is that company.
It was the first company I worked at where I felt invested in its success. It was the second job I had during high school, and the company I worked at throughout parts of college. It was the first company where I participated in the employee stock purchase plan. It was the first place where I learned to network and the power of business relationships. It was where I first built my sales skills that eventually led me to where I am today, as the founder of my Registered Investment Advisory practice.
Today, a number of our clients are former Staples employees, and I consider a number of employees there my friends.
I LOVE Staples... but I HATED it as an investment.
Since my first article, the stock has lost 45.6% on a total return basis.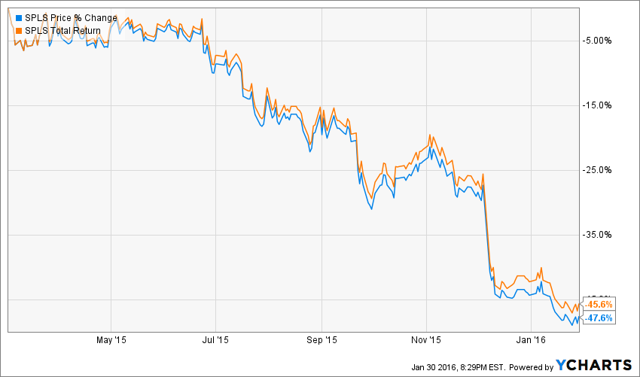 Click to enlarge
It fell 7.28% from my last article on the company written a month ago, "Staples: That Wasn't Easy... For The Shareholders."
Since then, investors have learned a number of things that may make this "clearance" item worthy of a pickup.
First, let's be honest with ourselves. Staples has fundamental business problems - declining revenues, shrinking gross margins, miniscule profit margins, declining store sales, and questionable acquisitions. The one bright spot in the company is its growing commercial contracts business.
Even with all of these problems, Staples is currently still profitable and has a decent distribution. Where I lost respect for the company, perhaps the management or just as an investment is when the Office Depot buyout was pushed through and sold to investors.
The issues with the proposed buyout were: 1.) The excessive price for Office Depot (and its shareholders), especially at today's prices, that can be looked at as a financial bailout for a poor investment; 2.) It would burden Staples with more debt in a questionable business and economic cycle; and 3.) The acquisition would likely not get approved due to the virtual monopoly it would create in the key commercial contract business. As such, the breakup would further burden Staples and the shareholders with a hefty breakup fee - $250 million - equal to roughly 10% of today's Office Depot market cap.
The proposed transaction would cost Staples approximately $7.3 billion - nearly 3 times what Office Depot is worth today, and well above Staples' own market cap of $5.6 billion. Quite frankly, it would be an insult if the buyout takes place today at those prices.
The good news is... the transaction has seemingly hit a brick wall with the FTC, and will likely not happen. Better yet, the activist investor who orchestrated this transaction has liquidated their position, only holding onto stock options.
Why did they close out their position? It could be that they have seen the writing on the wall, or more than likely, they decided to harvest that massive loss on their investment. As per the 13F fillings, they do still have, and have increased their position in Office Depot, where the investment would be a true jackpot if the buyout occurs.
The Way Forward
Staples is the leader in its space. While the company does have problems, I don't believe they are insurmountable. Management will have to roll up their sleeves and get to work, they way they grew the company in the 1980s.
Over the last year or two, Staples has closed a number of unprofitable stores, exited a number of leases and downsized the overall store footprints. Most recently, it has cut a number of positions. All together, this puts the company in a better position going forward, hopefully without Office Depot.
Staples also has to stop over distributing to the shareholders. Quite frankly, stop buying back shares all the way to the bottom as Bed Bath & Beyond (NASDAQ:BBBY) has, and instead, reinvest the money into the stores and into growing your business. The shareholders would be much more appreciative of increasing margins and sustainable revenue, rather than milking the company's coffers that are already fragile.
Yes... you may irritate a number of investors, the majority of whom are institutional investors, and a number of them may dump shares... but you will gain more investors who care about company beyond the next quarterly report and dividend.
Take a Page Out of Apple's (NASDAQ:AAPL) Playbook
Or maybe it was Apple who looked at Staples?
Back in the late '90s and early 2000s, when I worked at Staples, the primary focus of the store was on quality customer service, business outreach, and add-on sales. As soon as the customer walked into the store, you were expected to promptly greet the customer and assist them. This applied from the time they walk in, to every department that they visit. This was strictly enforced from corporate down to the store level, and was the center of focus for the mystery shoppers.
There was also a big focus on cell phones, computer services, and computer add-ons such as cables, ink, paper and extended warranties. A number of the items also paid additional compensation - and let's be honest, sales incentives work.
Most importantly, there was high employee morale and the overall pride of working at Staples. This culture was exhibited in every store I have either worked at or visited over that time frame.
Ten years later, now that I walk into a Staples store as a customer and not as an employee, it is tough to find anything that resembles the place where I had worked.
What we had before was an environment you would find today at an Apple store - friendly and helpful employees who are there to assist you from the moment you walk in the door. Today, you can walk into the majority of the stores, at least here in the North East, walk around the store for half an hour and not have one employee come to assist you. Simply put, the focus on customer service is no longer there, and therefore, I am not surprised that Staples' store revenues are down year over year.
The good news, though, is that after years of cutting back computer service centers and cell phone sales, the company has reintroduced these services over the last few years.
Is Staples Worthy of Going Into Your Shopping Cart?
As imperfect as Staples is, the current share price is too low to ignore as long as the Office Depot deal does not go through.
If, and once, the deal is squashed, it may put more pressure on the share price; however, it would provide an attractive entry point, under $9 per share.
The game plan would then be to ride it until the stock price stabilizes and quickly cash in your gains, as long term, Staples is broken.
IF - and that is a big IF - Staples' management comes out with a plan that includes a better use of free cash flows to be invested in the retail experience, smart growth plans for expanding retail locations to where it makes sense, continued partnerships to expand business offerings and smart marketing, similar to the Easy Button... IF that happens, I would gladly place the stock in my long-term investment bucket.
Disclosure: I/we have no positions in any stocks mentioned, and no plans to initiate any positions within the next 72 hours.
I wrote this article myself, and it expresses my own opinions. I am not receiving compensation for it (other than from Seeking Alpha). I have no business relationship with any company whose stock is mentioned in this article.
Additional disclosure: Additional disclosure: Nothing in this article should be construed as investment advice. Please consult your financial professional to see how anything discussed here applies to you. This is not a solicitation to buy or sell any securities. This is not Tax Advice. Please consult your tax professional.