In 2014, D.R. Horton (NYSE:DHI) introduced their Express Homes brand. The goal of the brand was to capture the entry-level home market with an average selling price of less than $200,000 per home and it appears to be working. For the first quarter of D.R. Horton's fiscal 2016 (that's the fourth quarter of 2015 to the rest of us), Express Homes accounted for 25% of DHI's homes sold, 22% of homes closed, and 15% of revenue with an average selling price of $199,000 per home, meeting their goal for a sub $200,000 price point.
It's part of an effort to catch a secular trend that's taking place. Demographics could bolster the US housing market for years to come, particularly at the low end as millennials age and begin to purchase their first homes. According to Zillow, the average first-time homebuyer is 33 years old and there is a population swell set to hit this age over the next decade. D.R. Horton has positioned itself to ride this wave as millennials transition from renters to owners.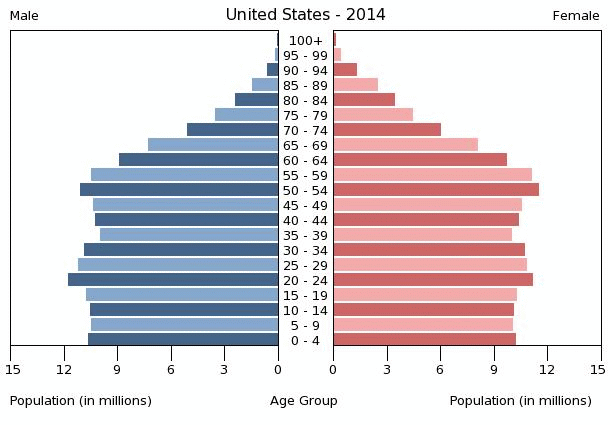 Prior to the debut of Express Homes, we saw the Emerald Homes brand come into existence as part of an effort to target the high-end market. For the fiscal first quarter, Emerald Homes was responsible for 4% of homes sold, 4% of homes closed, and 8% of D.R. Horton's revenue. It achieved this with an average selling price of $592,000 per home, more than twice the average selling price for the entire D.R. Horton family of brands.
As for the original D.R. Horton brand, they were left with 71% of homes sold, 74% of closings, and 74% of revenue with an average selling price of $302,000 per home, up from $283,500 one year ago. If there was any concern that this expansion into the low-cost market would bring down the average selling price, that doesn't appear to be the case. Across the entire business, the average price increased to $290,400 from $281,000 and profit margins grew.
It appears Emerald Homes has effectively acted as a counterweight to the lower-priced homes sold by Express. The results are an 11% increase in quarterly net income for the first quarter, with net sales orders up 12% measured by value, 9% by number of homes, and a backlog that has grown 16% in value and 1% in number of homes.
D.R. Horton has seen strength in the South East and South Central regions of operation. This is good news for investors as these two regions combine to provide DHI with 54% of its revenue and account for 51% of its inventory. The South East in particular had a strong quarter compared to a year ago. The number of homes sold in the region increased 21.5% causing the total value of sales to surge 24.2%.
This strength is expected to continue into the future as well. Backlogged homes in the South East region grew 28.3% in number and 30.8% in value while the South Central region's backlog expanded 16.9% by number and 22.3% by value. There is no apparent dilution of the average selling price to be seen in the coming quarters as the value of the backlog is growing faster than the number of homes backlogged, not just for these two regions but across the business as a whole.
The slew of data released last week supports the price increases seen by D.R. Horton. The FHFA House Price Index reported a 5.9% increase year over year for November and the latest Case-Shiller 20 City Index reading confirmed this with a 5.8% home price increase over the same period. With Pending Home Sales up 4.2% for December from the prior year, strength can be seen across the housing market.
The underlying causes of this strength can be seen elsewhere in the economic data as well. Mortgage rates remain low, home affordability is still high, employment is strong, and consumers remain confident. Until this changes, there's no reason D.R. Horton shouldn't continue to post solid results. Currently trading at 13.4 times earnings for the trailing 12-month period and 10.5 times forward earnings with a price to sales ratio of less than one, value investors may have reason to keep their eye on D.R. Horton.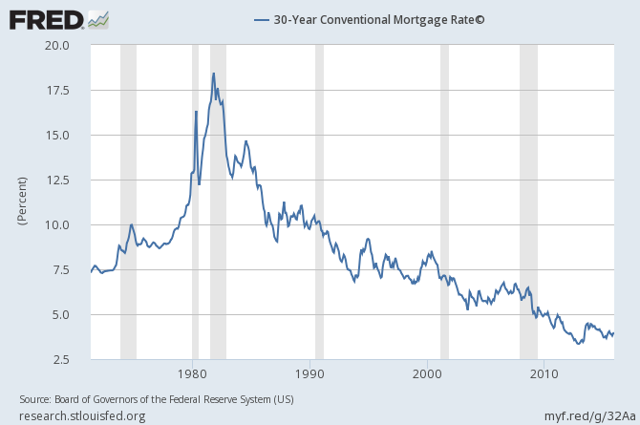 Click to enlarge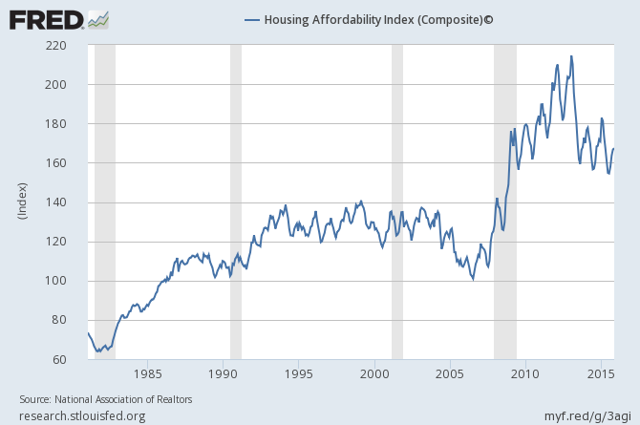 Click to enlarge
Looking to the future, here's what management expects to see for fiscal 2016: 39,500 to 41,500 homes closed, compared to 36,736 for the 12 months ended December 31st, 2015. Revenue is anticipated to fall between $12 billion and $12.5 billion with gross home sale margins around 20%. The housing market is cyclical however, and the current expansion is getting a little long in the tooth. There are concerns about where we are in the current cycle and where the economy might be heading.
No matter how much reassurance the Federal Reserve gives that the pace of interest rate hikes will be gradual, the fact remains rates are set to rise. Initial Jobless Claims are still under 300,000 for the latest release, but there are concerns they may be starting to trend up and while consumer confidence remains high, some are worried it has topped out as it continues sideways.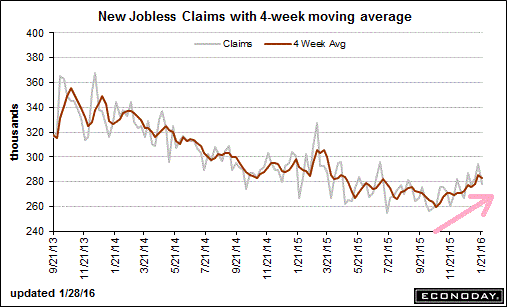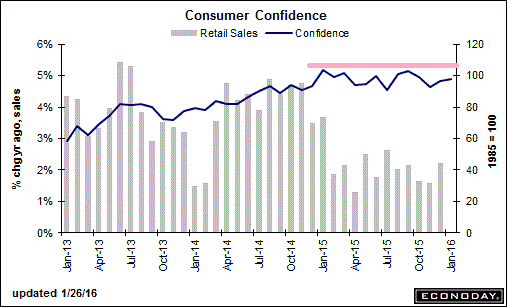 If there is a deterioration in employment and consumer confidence and sentiment, the effects can be expected to spill over into the housing market and consequently into D.R. Horton's financial results. However, even though there is always a next recession waiting for us in the future, no one expects it to last as long as the secular trend presented by aging millennials. This demographic feature could boost the housing market for years to come and D.R. Horton expects to catch the tailwind provided by millennial homebuyers with the Express Homes brand acting as their sail.
Disclosure: I/we have no positions in any stocks mentioned, and no plans to initiate any positions within the next 72 hours.
I wrote this article myself, and it expresses my own opinions. I am not receiving compensation for it (other than from Seeking Alpha). I have no business relationship with any company whose stock is mentioned in this article.