Back in October, I posited that regional financial juggernaut M&T (NYSE:MTB) was expensive due a variety of factors, chief of which was the then-pending merger with Hudson City Bancorp. Shares chopped around in 2015 without making much ground in either direction and at the time, I said that investors were ignoring the massive challenges that occur when a bank buys another bank, particularly one the size of HCBK. The market-wide selloff that began 2016 took MTB with it and shares bottomed at $101 in January. But with earnings out and MTB on the move higher, is it finally time to jump in?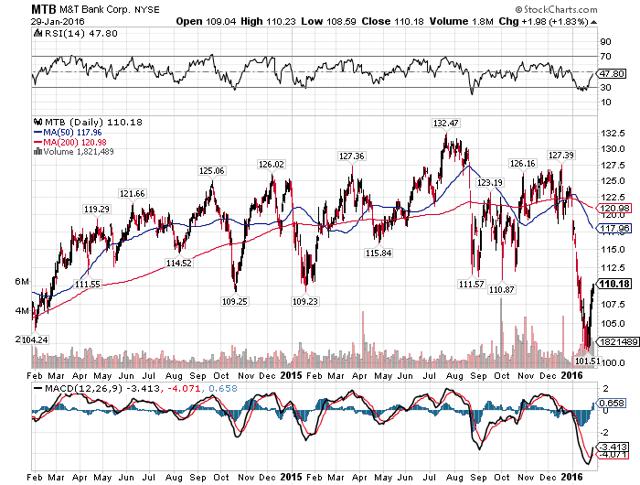 Click to enlarge
After the Q3 report I said a major headwind for MTB's earnings would be the integration of the HCBK merger. Anytime a bank buys another bank there are untold costs and integration activities that must occur before the acquired bank is truly part of the acquiring bank. If you don't believe me, just ask serial acquirer BB&T, who is experiencing some of those pains now. Be that as it may, MTB's Q4 surprised me in some ways.
The company's revenue was up slightly as the HCBK merger begins to become part of MTB's consolidated results. The HCBK purchase was large and will continue to contribute to MTB's revenue growth until it is anniversaried in Q4 of this year. In addition, tangible book value rose against last year's Q4 from $57.06 to $64.28, representing 13% growth. The HCBK merger is almost entirely responsible for the gains in both and that is great but remember that those gains will only happen one time.
On the operating side, MTB's Q4 was much less rosy. The company's earnings were impacted by 40 cents in Q4 due to costs related to the HCBK merger. While Q4 should have likely been the worst quarter for expenses directly related to the merger, the costs to integrate HCBK are far from over. MTB will be paying sizable expenses for HCBK likely for much of 2016 and that will put some downward pressure on earnings. I doubt we'll see 40 cents in one quarter again but this is something to certainly keep a close eye on as MTB reports throughout 2016.
In addition, virtually all of MTB's major expenses rose markedly during Q4. The company's total other expenses, which include things like occupancy and personnel costs, rose 18% during Q4. The company will likely see similar increases in Q1 through Q3 of this year as HCBK is integrated. The biggest line item in that group - personnel costs - rose a whopping 26% during the quarter. This number will gradually come down over time as the inevitable layoffs occur but keep in mind that layoffs are expensive and generate lots of severance costs. The bottom line is that MTB's expenses are likely to post significant gains over 2015 levels and that will eat into earnings and the longer MTB waits to perform layoffs, the more expensive it will be.
Another thing to keep in mind is that the HCBK merger was partially paid for with stock as MTB saw its end of period share count rise 21% in Q4 over last year's Q4. That a is a tremendous headwind for earnings to make up simply to get to flat against MTB's pre-merger levels and this is why I don't like companies issuing stock to buy other companies. MTB has put itself in a hole in terms of generating EPS growth because it has to hit 21% from the HCBK merger simply to make up for the dilution of the purchase.
This is something that analyst estimates don't seem to be fully appreciating as MTB is supposed to hit 18% EPS growth in 2016 and 12% in 2017, lofty goals indeed. That is why I think MTB is still expensive and why at $110, I'm still not bullish.
The company's metrics aren't terrible but they aren't great either. Yes, the loan book grew substantially with the HCBK integration but NIM is still flat, as it has been for some time now. I'm curious where analysts think all of this growth is going to come from because I don't see it; I just see a bloated bank that will need to fire lots of people this year and try to integrate an enormous purchase. That doesn't sound like a formula for high-teens earnings growth to me.
Then there is the recently announced business of Wilmington Trust apparently concealing problematic loans during the crisis. The company - which was purchased by MTB in 2011 - received TARP money and while the alleged improprieties were before the MTB purchase, we all know from recent history that this fact matters not. Just ask JPMorgan about its Bear Stearns purchase or Bank of America about its Countrywide purchase; the fact that MTB didn't own Wilmington Trust during the improprieties doesn't matter at all, just that it does now and that it has deep pockets. If found guilty, MTB will be penalized heavily and that will undoubtedly weigh on earnings as well. This is not my opinion; this is fact based upon numerous cases in recent years that set precedence on the matter.
At 13 times 2016 earnings estimates, MTB is very expensive. In fact, it is the most expensive financial I've personally looked at in the new year. This is a group I watch very closely and when I look across the landscape for financials, there is no reason to pay that much for any of them. Premium franchises that aren't trying to integrate a massive purchase are trading well below 10 times this year's earnings and under tangible book value, not at 170%+ of that number. MTB has a great long term track record of share price appreciation but of late, that track record has unequivocally stalled and I think that is the base case going forward this year.
MTB is going to have a tough integration ahead of it that will cost a lot of money and time to complete. The valuation is ludicrous at this point as it trades at massive premiums to virtually every other bank in this country and for what? MTB isn't special and shouldn't be treated as such so for that reason, I'm maintaining my bearish stance here. I think MTB is going to have a much tougher 2016 than analysts think and that should lead to some downside from its very lofty valuation.
Disclosure: I/we have no positions in any stocks mentioned, but may initiate a short position in MTB over the next 72 hours.
I wrote this article myself, and it expresses my own opinions. I am not receiving compensation for it (other than from Seeking Alpha). I have no business relationship with any company whose stock is mentioned in this article.