Iconix Brand Group, Inc. (NASDAQ:ICON) has a $321.34M market cap with annual revenue of $373.77M. Based on one or more measures of stock valuation, this stock may be a potential winner in the long-run. This is especially true given the enterprise value of the company at $1.66 billion. The market cap of the company is currently less than 20% of this value.
The company's primary business is Textile - Apparel Footwear & Accessories. With a market cap between $300 million and $2 billion, this stock is considered a Small Cap. Within the company's brand portfolio are names like Umbro, Mudd, Sharper Image, Starter, Peanuts, and Joe Boxer (and others).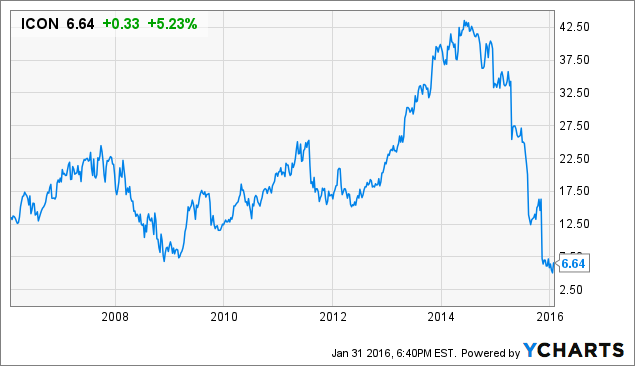 Valuation
When looking at the trailing P/E ratio, keep in mind, it is simply the price of the stock divided by the past 12 months of earnings. The lowest possible P/E is preferred by value investors. Stocks with a low trailing PE ratio present an opportunity to maximize value, which is evident from this stock's PE of 3.53. The proposition for value is evident due to the low forward PE of 4.31. Forward P/E ratios are simply the current price divided by expected earnings. Some investors prefer this measure when valuing a stock.

Some investors with an eye for value will first look to the Price to Book ratio, which measure the stock's price versus equity book value per share. Value investors prefer lower P/B ratios. The company's stock currently has $19.88 in book value per share. With a P/B ratio of 0.32, this stock appears significantly undervalued.
Other investors like to look at the Price to Earnings Growth (NYSE:PEG) ratio. This ratio shows valuation versus growth rates by dividing the PE ratio by expected growth. Very few companies have a PEG ratio as low as 0.27 and this would indicate an underappreciated stock.
Technical Perspective
Looking at the stock's trading range can help you to understand it's recent price movement and momentum. The current price of $6.31 is 35.11% above the 52 week low at $4.67 per share. The stock has dropped 83.07% from the recent high at $37.29. With the current price below the 50 DMA($6.33) and 200 DMA ($16.46), there has been a large sell-off beyond technical support levels in the past few months. A 52 week range for stocks says little by itself. One must look at this information as part of a holistic picture of valuation.
Intangible Value Drivers
Two intangible value drivers include the recent adoption of a poison pill and a possible deal to refinance 2016 Convertible Notes. The company appears to be acknowledging that market weakness in the stock is making them a hostile takeover candidate. And if a deal is made to refinance debt expiring in 2016, then there is an overhang that can be removed within the next few months. Each of these items should unlock some value.
Price Target
A simple valuation target might be a multiple of trailing earnings at 10x, which would produce a $17 price target. Another valuation could be based on book value, where 1.0x book value would be appropriate. At that multiple, the stock is worth $18. In either case, unlocking this value will be dependent upon tying up loose ends, such as the debt refinance mentioned above. Investors should move cautiously into stocks in this market environment and consider averaging into positions.
Disclosure: I/we have no positions in any stocks mentioned, and no plans to initiate any positions within the next 72 hours.
I wrote this article myself, and it expresses my own opinions. I am not receiving compensation for it (other than from Seeking Alpha). I have no business relationship with any company whose stock is mentioned in this article.