As I predicted a few weeks ago, Tractor Supply (NASDAQ:TSCO) posted a relatively weak fourth quarter report, with the warm winter having a significant negative impact on sales and profits. But it appears that prediction wasn't particularly brilliant, as (most of) the market already had lowered expectations: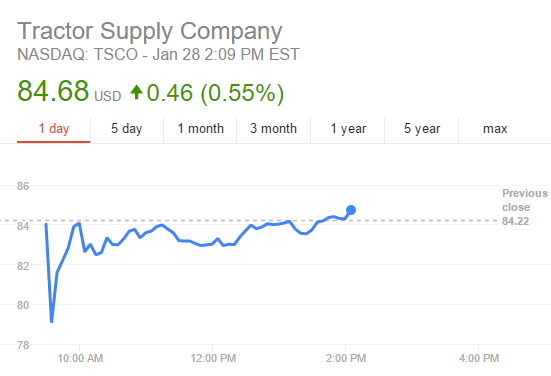 Source: Google Finance
One could argue that the action itself is long-term bullish for TSCO, in that the company has built up enough trust with investors that they are willing to accept management's explanation for the disappointing quarter and simply look forward. In this jittery market, and in the challenged retail space, one imagines there are many retailers who wouldn't get that benefit of the doubt.
But with the stock back around $84, I still think the price is a bit too expensive to be compelling. This is a great company, to be sure, and growth has been impressive. 2016 guidance looks solid, and store count expansion continues. Still, 29x earnings is a high multiple, and TSCO is exposed to a still-weak rural economy (even if its exposure is concentrated in the higher end of that demographic). I'd still love to see the stock below $80 but, beyond the irrational post-earnings drop this morning, it's difficult to see what might get the stock to those levels.
Q4 Earnings
Tractor Supply saw comps fall 1.4% in Q4, which amazingly was its first negative comp for a quarter since 2008. There were two key culprits behind the decline. The first was the unseasonably warm weather, primarily in the Northeast and Midwest, which slowed sales of both outerwear and heating stoves and fuel. On the Q4 conference call, CFO Tony Crudele attributed nearly 400 basis points of weakness to cold weather seasonal categories alone. In fact, transaction count actually increased for the quarter (0.6%), but was offset by a smaller average ticket. That ticket appears to have come from lower 'big ticket' items - which fell 6% - and seasonal weakness as well.
The second driver was oil patch weakness, with Texas stores (over 10% of the total) seeing comps about 350 basis points below Southern stores as a whole (which were far less impacted by seasonality than were their Northern and Midwestern counterparts). In addition, the gap between oil patch stores (which are only a portion of the Texas locations) and the chain as a whole widened, implying that pressure in those markets is growing. Here, too, however, transaction count stayed positive, with Crudele citing "products specific to the oil industry business" as the driver of the comp weakness.
It does appear that the quarter was just a blip, with the warm weather and sub-$30 crude providing a near-term headwind. Western stores - largely unaffected by either trend - saw high single-digit comps, although given that most of those stores are newer than the base as a whole, more growth is expected. Still, there's little reason to see the comp decline as the sign of any long-term concerns, or any execution problems; rather, it seems external events got the best of Tractor Supply for the quarter.
Below the top line, gross margin held flat at 34.1%, and SG&A deleveraged about 71 basis points. Roughly, half of the decline came from the lower comps, and a new distribution center in Arizona to support Western stores (and future stores) added costs as well. Operating income was down modestly, but diluted EPS rose a penny thanks to share repurchases and a lower tax rate. Despite the disappointing quarter, TSCO still managed to drive nearly 13% EPS growth for the year, and expects that growth to continue.
Looking To 2016
TSCO is guiding for 2016 EPS of $3.40-$3.48, up 13-16% from 2015's $3.00, and in line with its long-term goals of mid double-digit bottom line growth. 115-120 new stores should be opened, an ~8% increase in store count from the current 1,488, as Tractor Supply moves towards its long-term goal of 2,500 (or more). Comps are guided to 3.5-5%, above the usual range, which appears in large part due to the weakness in Q4, which thus provides a very easy comparable next year.
The good news is that, per management, 2016 already is off to a strong start, with seasonal categories normalizing along with the northern winter. The only possible point of concern is relative to the western expansion, which one analyst pointed in the Q&A seems a bit behind past regions in terms of new store productivity. Crudele highlighted Utah as a market that has shown slower growth out of the gate, and it's possible that the statewide Intermountain Farmers co-op is providing some tough competition. But Tractor Supply long has competed with farm and feed stores, and its long track record suggests that growth will come at some point.
TSCO did tap its revolver, closing the year with net debt of about $87 million against net cash of $51 million. Incremental interest expense seems a minimal headwind - about $0.02 after-tax assuming the current gross $150 million was carried at the current 3.25% interest rate - but that could change going forward. The reason for the use of the revolver is to repurchase shares - which Tractor Supply intends to do at the same 2-3% pace annually - but those repurchases may require additional borrowings.
Capex is guided at $230-$250 million for next year, and $230-$280 million annually over the next few years. But TSCO simply can't cover $240 million in capex, $100 million-plus in dividends, and $250-$350 million in share repurchases with operating cash flow, which was $429 million in 2015. The company expects to add about $50-$100 million in debt next year, and should that continue, interest expense may be a slightly larger (though still small) impact on the P&L.
Valuation
Still, the concerns surrounding Tractor Supply seem modest at worst, and the opportunity much larger. The market's response to Q4 shows the respect the company has with investors - so does the fact that short interest, even though it rose into the report (perhaps from traders betting on the warm weather impact) remains less than 5% of the float. For a retailer - any retailer - in this market to have that level of short interest shows that even bears don't expect much downside.
As I wrote earlier this month, there is a long-term case for TSCO; even solid execution of its plans to grow store count to ~2500 and drive 3-5% annual growth leads shares to double by 2024 in a conservative scenario. Customers are loyal and sticky; many of the items TSCO sells aren't desired, but needed for the rural lifestyle (and often unavailable or too difficult to acquire through e-commerce channels).
Still, I can't quite get excited around $84. I still think e-commerce is a growing threat, even if TSCO has a reasonable moat around many of its categories. (Tractor Supply also is expanding its omnichannel and dropship capabilities, if cautiously so. That's a wise decision, in my opinion; fellow rural purveyor Stage Stores (NYSE:SSI) has more aggressively targeted the space, but the effort hasn't driven anywhere near the expected the returns.) Oil patch weakness isn't going away; job losses are going to accelerate, as the pace of drilling hasn't slowed at a rate nearly matching the decline of the price of crude.
That provides a potential headwind to comp growth, even it's likely in the 20-40 bps range on an overall basis. Macro concerns persist, and the rural economy is lagging the nation as a whole. That looks more like a demographic than cyclical shift, and while TSCO's customers are in the higher end of that demographic (particularly its stickiest feed and supply shoppers), there's a potential longer-term issue there.
I admit my concerns are largely modest and around the edges, but TSCO's premium valuation still doesn't leave much room for error. That premium valuation is paying for quality, admittedly, and on an absolute basis, I'd expect TSCO shares to rise over the long term. On a relative basis, however, in the mid-80s, the price simply isn't quite exciting enough.
Disclosure: I/we have no positions in any stocks mentioned, and no plans to initiate any positions within the next 72 hours.
I wrote this article myself, and it expresses my own opinions. I am not receiving compensation for it (other than from Seeking Alpha). I have no business relationship with any company whose stock is mentioned in this article.